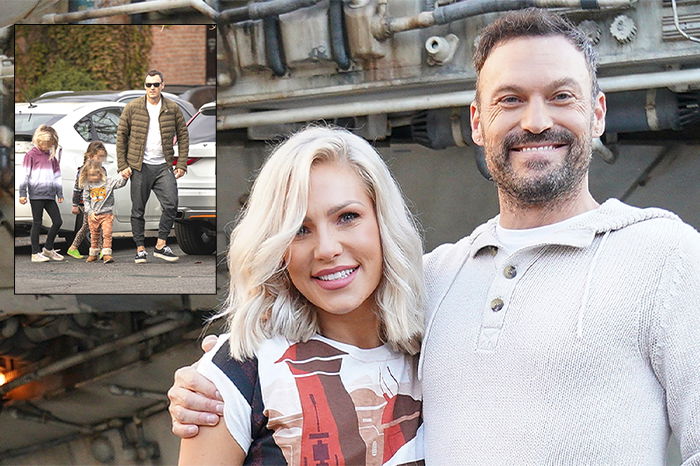 Actor Brian Austin Green and girlfriend Sharna Burgess are expecting a baby boy.
Actor Brian Austin Green and girlfriend Sharna Burgess who announced two weeks ago that they are expecting their first baby together have now revealed the sex of the baby in an Instagram post. Brian Austin Green said, "We want to thank everyone for the amazingly kind well wishes. We are really excited to be welcoming a baby boy on or around the 4th of July. @sharnaburgess, I cannot wait to see you hold your/our baby."
Sharna Burgess also wrote on her Instagram post, "And suddenly my world would never be the same. Forever greater, forever expanded and deeper. Forever abundant and unconditional 💙. Baby Boy July 4th (ish) 2022. @brianaustingreen I love our family, I love that it's growing and I love you. How did we get so lucky." "@kassius_marcil_green we are doing this photo again with you in it so we can hang it up at home. We love you xx," she added.
A source close to the couple added, "Brian never expected to be a dad again. He is excited. Sharna makes him very happy. Their relationship is fun. Sharna has always been very good with his boys too. It was never a problem for her that he already had kids. She has really made an effort to get to know them."
The couple started dating five months after Brian Austin Green confirmed his split from actress and ex-wife Megan Fox. Brian Austin Green confirmed during a podcast that the couple had split in 2019 December and said, "She said, 'I realized when I was out of the country working alone that I feel more like myself and I liked myself better during that experience and I think that might be something worth trying for me.' I was shocked and I was upset about it, but I can't be upset at her because she didn't ask to feel that way. It wasn't a choice she made, that's the way she honestly felt."
At the same time, Sharna Burgess first hinted her romance in early December 2020 when she revealed to US Weekly that she is seeing someone new. Sharna said at that time, "It's been really awesome. I actually am not on the market anymore. But it's very new and very, you know, it's dating, essentially. No one's calling us a relationship yet."
Brian Austin Green shared about Sharna Burgess during an interview with Access Hollywood in January 2021, "She's super responsible and she's super sweet and caring, passionate, fun to be around, so I feel blessed right now." The couple went Instagram official the same month and in February, Brian Austin Green during life on Instagram shared about his feelings towards Sharna Burgess; "This has been kind of a weird year for me so what an amazing Valentine's Day this has been. Sharna is a really amazing, considerate, loving, kind person. I kind of feel like when you put yourself in a space where you on some level decide that you're gonna surround yourself with people that help you move forward on a path instead of pulling you back, that they do that."
Sharna Burgess' co-star Keo Motsepe mentioned to US Weekly in April 2021 that the Dancing With the Stars dancer has been very happy and she has had this glow. In June 2021, the actor told Entertainment Tonight about his girlfriend, "I'm excited for this time in life ... and I'm excited that she's in my life. I think she's amazing. My kids love her. It's a win-win right now. I totally love her. That's without any question at all." Sharna Burgess added, "I second it, I mirror it. I love him. Honestly, eight months have gone really, really fast. It feels like the blink of an eye, but I also feel like I've known him my whole life. So it's one of those." The same month, the actor spoke to People about how the couple actually met, "We met at a coffee shop, then had a few dates and then we were locked in a house together. I was grateful for that because it allowed us to really take our time and it was really awesome.... On our first date, we just completely lost track of time and the same thing happened the next time. It became something noticeably different from anything I'd ever experienced before. I wasn't sure what that meant until the first time we kissed and then it was the attraction and a whole bunch more. It was really cool. And we really have the same moral compass."
In July, Brian Austin Green took to his social media to clarify that he and Megan get along well and are not sending petty digs to each other and are working perfectly to co-parent their children.
Soon to be mom, Sharna Burgess appreciated Brian Austin Green's parenting skills and how he has been great with his kids. She added, "He is an amazing dad, I can tell you that. He's one of the best I've ever known or witnessed. He's incredible. I love spending time with the boys. I love having them in my life. They're amazing kids, so it's not a hard gig. I've always loved kids. A lot of my friends have kids now and I'm obsessed with them, so it was really wonderful for me to be able to connect with them."
According to sources, the ex-wife of Brian Austin Green and actress Megan Fox is very happy for her former partner and believes that he will be a great dad to his son as he has been to their kids. Brain Austin Green shares three boys, Journey River, Bodhi Ransom, and Noah Shannon, 9, with ex Megan Fox and Kassius, 19, with ex-girlfriend Vanessa Marcil.
Congratulations to the couple!