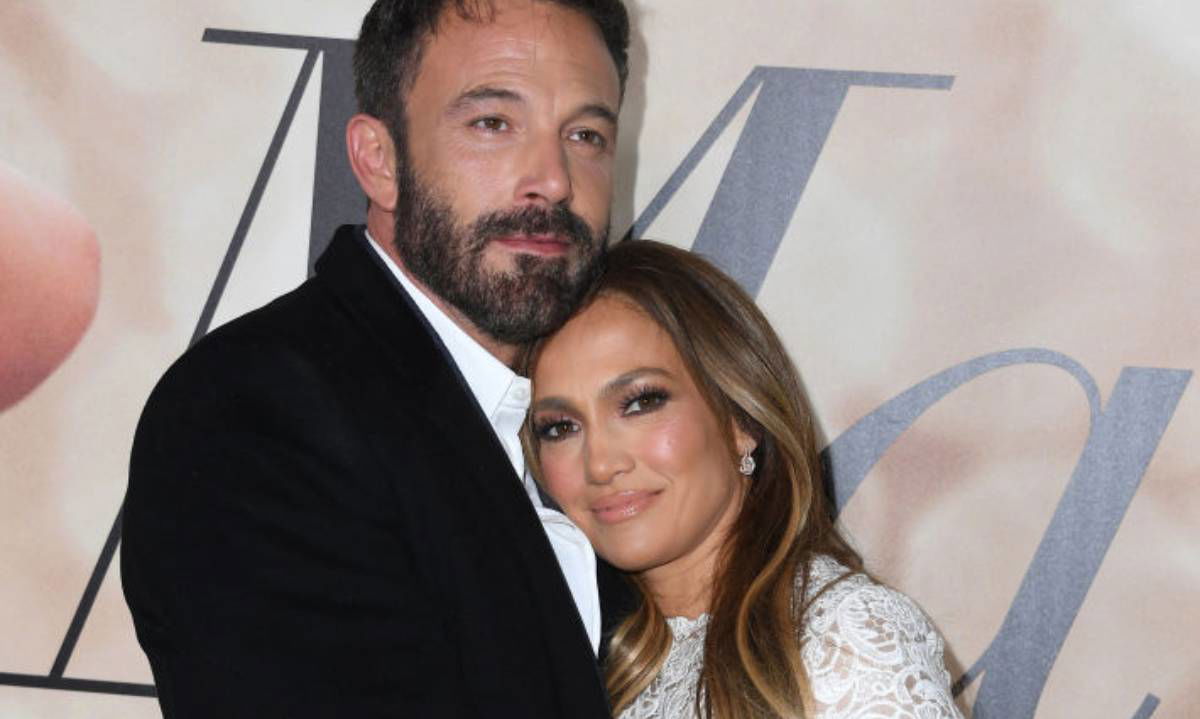 It's the season of engagements, and Ben Affleck and Jennifer Lopez have made their way onto the list.
According to reports, Ben Affleck and Jennifer Lopez have become engaged, and a representative for Jennifer Lopez confirmed the news to People magazine. Jennifer Lopez was spotted with a probable engagement ring on her ring finger and later shared the news in her "On the JLo" newsletter via a short video in which Jennifer can be seen admiring her giant green ring and Ben Affleck can be heard saying, "You're perfect", in the background.
Jennifer Lopez's "On the JLo" newsletter is for her "inner circle," but she did tease the ones who are not in her "inner circle" by posting a teaser of the same on her social media with the caption "MAJOR ANNOUNCEMENT".
An insider shared that people should not and won't be surprised if the couple is engaged because they have been going strong, putting in the effort, and trying not to make the same mistakes they made when they were engaged years ago. Jennifer Lopez spoke to People about her life with Ben Affleck sometime back and shared that the couple is now mature, smarter, and experienced in terms of life and relationships, and they certainly have kids in different places as they have to be conscious about a lot of things for the sake of them.
The singer-actress added that despite all of that, they are grateful that they have got a second chance at love and can appreciate and celebrate each other in the utmost respectful manner. Jennifer shared that they have been in the public eye long enough to know and understand what matters to them and who they are as people, and added that both Ben and she have kids and responsibilities, and they highly respect each other. Jennifer added that both of them are currently operating from a place of love and respect for everyone in their lives right now, which is very important for them.
Speaking of Ben Affleck, he told the Wall Street Journal Magazine in December that he is very private about his personal life and prefers to keep it that way to maintain their intimacy.
The Deep Water actor added that although he'd like to add that the relationship is very beautiful to him, his life now reflects not just the person he wanted to be but the person he is right now, someone who wants to try very hard and cares very much about being authentic, honest, and accountable. In the end, Ben said that he is in a very healthy space right now and that is what makes him happy.
Ben Affleck also reflected that not everyone receives a second chance at love, and he feels grateful that he has had second chances in his career, as a human being, and now with love. He added that individuals learn from their failures and should take this second chance as an opportunity to grow, and he has tried to make his second chance count.
Recently, Ben Affleck was praised for being an absolute hype for Jennifer Lopez as she received the Icon Award at the iHeart Radio Music Awards 2022 in March. Ben Affleck's son, Samuel, and JLo's daughter, Emme, also accompanied them to the ceremony and were seen cheering for the icon.
An insider shared in December 2021 that both Ben Affleck and Jennifer Lopez desire to have a wedding that is an elaborate statement of their love story with their family and friends. The couple aims to have a good time with their loved ones but the ceremony is going to be an intimate one but immaculate.
The newly engaged couple were previously engaged in 2002 before postponing their wedding in 2003 and calling it off in 2004. The couple's wedding back in 2003 caught a lot of attention from the media, after which they released a statement saying that due to excessive media attention, they had decided to postpone the date. After they called off their engagement in 2004, Jennifer Lopez got married to singer Marc Anthony and they have two kids, Max and Emme, whereas Ben Affleck married actress Jennifer Garner and they have three kids, Violet, Seraphina, and Samuel.
Unfortunately, both of their marriages ended in divorce: Jennifer Lopez and Marc Anthony's divorce was finalized in 2014, while Ben Affleck and Jennifer Garner's divorce was finalized in 2018.
Ben Affleck and Jennifer Lopez rekindled their romance in May after JLo broke up with Alex Rodriguez and they were spotted enjoying a getaway to Montana. The insiders mentioned at the time that the couple has been spending a lot of time together and trying to know each other's kids as well. Bennifer made their official red carpet debut after rekindling their romance at the Venice Film Festival 2021 and have recently purchased a $50 million Bel Air mansion.
Congratulations to the happy couple!