Brian Petsos, a writer, actor, and performer, is now ready to make his first directorial feature with Big Gold Brick that stars Emory Cohen, Andy Garcia, Megan Fox, Lucy Hale, and Oscar Isaac. The story follows a middle-aged father of two, who takes the help of Samuel Liston to write his biography.
Brian Petsos started his interview with Screen Rant, explaining how the idea for the film emerged. "Someone very close to me suffered a pretty serious head injury," he began when sharing the "initial idea" for the film.
Not many people get inspired to write a film when someone close to them suffers from an injury, but Brian Petsos oddly find the injury inspirational. However, he did clarify that the person he is talking about is fine now.
He explained that watching the injury and events unfold laid a platform for him to construct a story. He then took that and created a new film that would become his maiden attempt at directing.
He also revealed how the story inspired him to try his hands at directing with Big Gold Brick. He initially saw himself as an actor in the film, but later on, realized that he did have all it needed to become a director. So, instead of waiting till when he was older, he decided to try his hands at directing right then.
The actor is also known for his love for performing arts but he has now decided to distance himself from that for a while and expand on his potential for directing and writing. He had already worked with Oscar Isaac in Ticky Tacky and then later on the Lightning face.
He had worked on the script of Ticky Tacky, which was not his first script, but he did help pull that film together. With people flocking to him as he worked on Lighting face, he said that he got lucky and drew the right kind of attention. Soon, he was shooting with them in Toronto.
Explaining how his background as a performer helped him helm the course of his film with his actors, the director shared that he is an "improviser," and hence, he utilized his traditional learnings to the best in his directorial film debut.
The director has done improv work earlier. Hence, it came in handy when he started writing. He finds it easy to write his characters when he imagines the scenes and the conversations they are going through and singlehandedly brings them into being.
Additionally, his years as a performer on sets had already prepared him with enough talent to know how to deal with his actors when on set. He knew the perfect kind of settings and the world he could create to bring his vision to life.
He also added that different people would approach it from different perspectives But he as a director aimed to be more "in tune" with what people might think in their particular positions. This was an aided benefit when it came to working with his actors.
Being a first-time director, Brian Petsos secured the jackpot when it came to securing his cast for the film. Big Gold Brick stars famous names like Oscar Isaac, who happens to be a frequent figure alongside the director, apart from others like Andy Garcia, Lucy Hale, and Megan Fox. And when one has to utilize so much talent, there is a bit of "intimidation factor" that comes into play.
Sharing what it was like to work with the cast that he commanded, the director shared that he was already a friend of Emory before they had begun their shoots. In fact, they had already built a brotherly connection amongst the two. Having a working history with Oscar Isaac, he had a similar connection with him as with Emory.
On the other hand, he was particularly star-struck by Andy Garcia when the actor made it to the sets of Big Gold Brick. Petsos had greatly admired the actor when he was younger, which led to a little inconvenience to set up a work dynamic with him. However, they got over it soon enough.
Sharing his reasons for why he felt intimidated in Garcia's presence, Petsos detailed that the actor is also a director and had "worked with some of the best directors of all time." His presence in person was gigantic making Petsos feel "very aware" of the fact that he was directing him.
The director also appreciated the work put into the film, saying that he loves everything in it ranging from the music to the cinematography and the characters in it.
Brian Petsos was also asked if he could name a personal favorite film director, but he revealed that he does not have an individual favorite director, but there are works that he adores.
The director also talked about the respective characters played by Emory Cohen and Andy Garcia. In Big Gold Brick, Cohen plays Sam and Garcia plays Floyd.
Petsos shared that the two characters are distinct gentlemen coming from different histories and having lived different lives. The experience of meeting the old man is what draws them together.
The characters seem to almost depict a father-son bond, as the two act on their urge to have a genuine bond in their life. The story is almost a found family tale as the character choose the people they wish to bond with as one does with family.
Hence, the two characters build a friendship, son and fatherly of a sort, and established a familiar connection for themselves.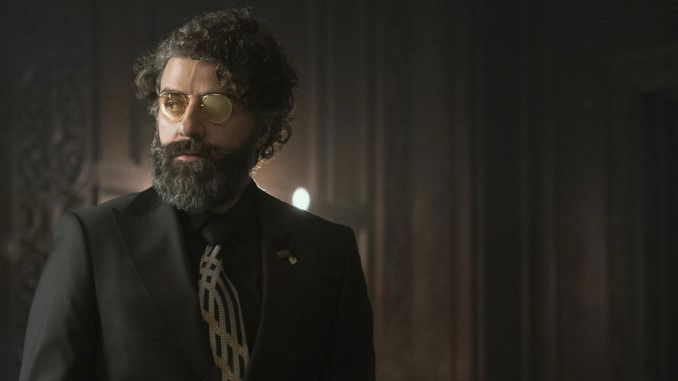 After Big Gold Brick, Petsos is working on another feature script, which he believes will be even better than his first directorial feature. The film will be released on February 25.