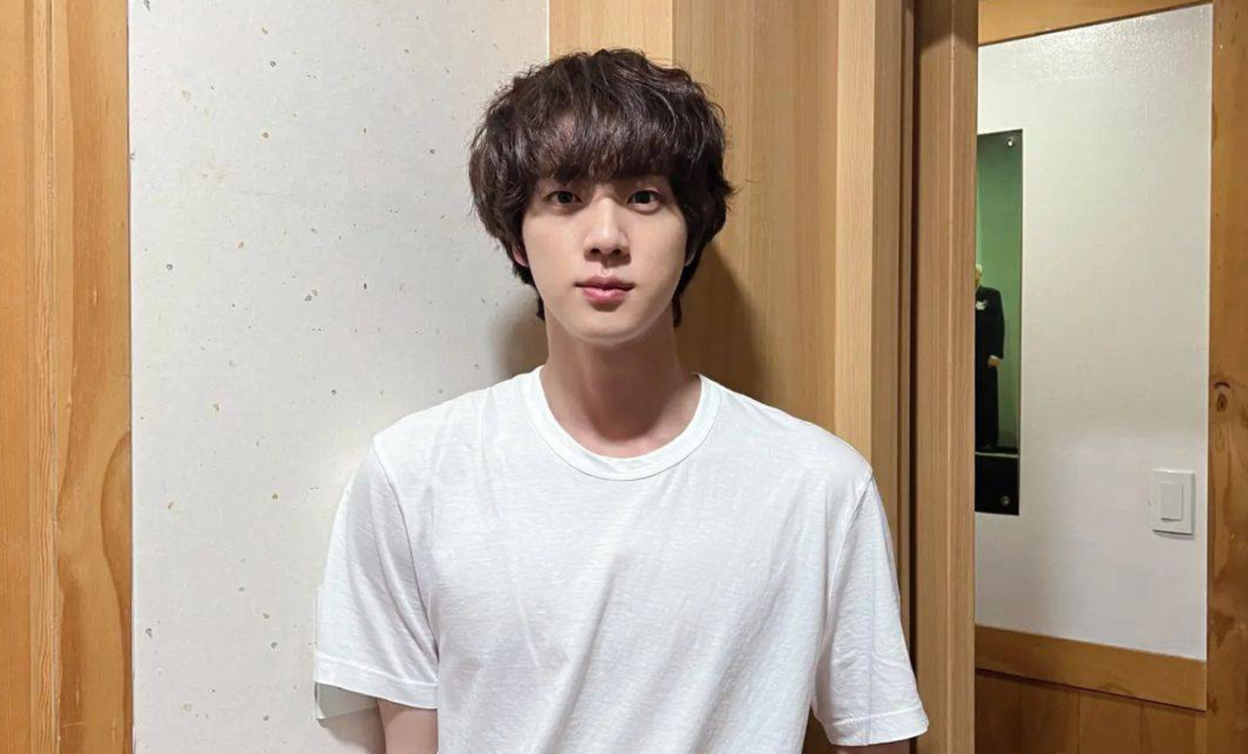 BTS fans were asked to maintain a distance from the military site.
According to reports, BTS fans have asked to stay away from the military site ahead of Jin's army enlistment. The music label has stated via fan community app Weverse that the fans as 30-year-old Jin prepares to fulfill his required time with the military in South Korea.
The statement from Big Hit Music stated that Jin will fulfill his required time with the military by enlisting in the army and that no official event will be held on the day of Jin's recruitment. The statement continued that the entrance ceremony is a time to be observed by military personnel and their families only.
To prevent any issues caused by crowding, the Big Hit Music label asked the BTS army to refrain from visiting the site and instead to keep their heart-touching words of encouragement and goodbye in their hearts. According to the music label's statement, fans should not be negatively affected by having purchased unapproved tours or merchandise parcels that illegally use artist IP, and their corporation will take appropriate steps against any attempts at advertising activity that makes unpermitted use of such IP.
Finally, the statement found that the company will keep striving to provide Jin with the help he requires throughout this time and asked fans to keep supporting and loving Jin until he completes his service in the military and returns. The label confirmed in October that the members of the group would fulfill their mandated by-law military service prerequisites, with Jin being the first to enlist.
The lable announced at the time that group member Jin will take on the task as soon as his solo release schedule is completed at the end of October. They added that Jin would then follow the Korean government's enlistment procedures. Big Hit Music stated at the time that other members of the group plan to undertake out their military service based on their plans adding that both the company and the members of BTS anticipate reuniting as a group around 2025, following their service obligation. All able-bodied men in South Korea are required by law to serve in the military for between 18 and 21 months before reaching the age of 30.
BTS was thought to be exempt from military service under plans proposed by South Korea's Culture, Sports, and Tourism Minister Hwang Hee, because the K-Pop superstars already have served the nation through their massive global success. South Korea's Defense Minister Lee Jong-sup decided to weigh in on the dispute in late September, declaring it would be "desirable" for the group to complete their service in the military.
J-Hope, who showed up to accept a MAMA Platinum award on behalf of BTS for having won all four Daesangs at once, summoned Jin before his enlistment. He said that it would have been great if the members could have come up and expressed their gratitude as well, and it's unfortunate they couldn't. J-Hope then informed the audience that he had planned something and that Jin had informed him that he had things important to say, so he quickly called him.

J-Hope told Jin over the phone that he is currently giving the award acceptance speech, but that he could just say one thing to tell him that numerous fans want to see him. To this, Jin responded via phone call, "Hello everyone, it's BTS Jin, and I'm sincerely grateful for bestowing this honor onto them and the army!" Jin stated that their armies are appreciative of them, and he adores everybody and their members, stating that they have always worked hard adding that their members adore them as well. Jin went on to say that he would return soon with more good music.
He could be heard telling that the weather is getting chillier, and everybody should be careful not to catch a cold, get sick, or neglect their health. He stated that he will not be able to see anyone at official events for the time being, but that he will return with good music the next time. He said addressing everyone that he will go to the military and safely return! Thank you very much! Many fans were delighted and moved to hear Jin's voice at the award ceremony, and they expressed their gratitude to both J-Hope and Jin, who left a heartwarming message for fans.
South Korean media outlets reported details about the date and location of Jin's entry gate ceremony in late November, though the agency said the information was "difficult to confirm" at the time. Jin later did respond to these reports on Weverse, asserting that he did not want the specific details of his enrollment to be publicly disclosed. ARMYs (BTS fans) really shouldn't attend the training center, he wrote. There will be additional people besides him, and it could be dangerous if it becomes too crowded adding that he adores everyone, ARMY.