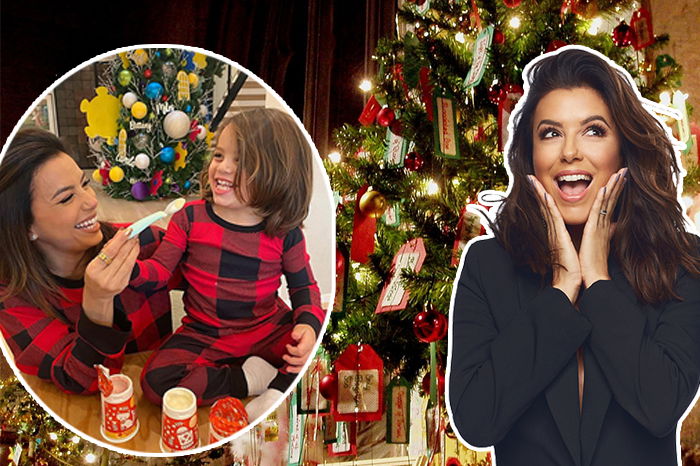 Christmas is just around the corner, and it is so fun to know what our beloved celebrities like to do around the holiday season, right? Each family has its own traditions and rules when it comes to the festive season. Here are a few from the very families that we adore on TV and film screens!
Eva Longoria, an actress of Mexican descent shared with Us Weekly on December 10, "I'm Mexican, so we celebrate on Christmas Eve," and added, "We don't really do the Christmas morning, like, wait for Santa or, like, somehow Santa came at 2:00 p.m. and here are all the presents."
Hence, the celeb's family gets into the Christmas spirit an evening ahead of the actual day. "We do the huge meal and presents and all of that the night of the 24th. And then we usually go to mass at midnight. And that's tradition."
Veronica Rodriguez, the director of Let's Get Married shared her own family tradition for Xmas, saying that the eve before Christmas "is a big night and then midnight mass. I know Eva's family does tamales as well, and we always have Grandma Olga's tamales."
Eva Longoria talked about her own tamales, saying they are in "Ralph's plastic bag, and if you divvy it up — if Tia Edna got something more than Tia Elsa — it's a war. So you gotta count out the tamales. It's a big deal."
Wells Adams and Sarah Hyland, who got engaged in 2019 had shared their Xmas tradition last year with Adams telling,
"Our only tradition — because we're so new, like we've just finished a year dating — for Christmas we wear onesies, which is what everyone does." The Bachelor Nation alum said, "It's fun because you're hungover on Christmas Day, and it's comfy."
ForMike Conseuelos and Kelly Ripa, Christmas is an intimate family event where they spend time exclusively with three kids: Michael, Lola, and Joaquin. The family takes a Christmas card photo together and also attends mass on Christmas Eve. Sharing her Christmas day meal plans with SheKnows digital edition for December 2020, Kelly had said, "I will make the feast of the singular fish — the feast of the mollusk. I'm not a chef, but I can make delicious linguine and clams."
The mother of three also shared her underwhelming plans for making a Christmas cookie tradition where she envisioned her kids helping her. But kids being kids, they couldn't bother less, and now Kelly does it alone. She revealed, "I used to labor under this belief that my children would join me and this would be such a family event, and everybody would love doing it … and I think the kids maybe twice made cookies with me and the rest of the time they could not be bothered." She added, "So it's really just something I do."
Kate Hudson, who is of Jewish descent, also revealed how her family goes around the tradition making the day their very own family affair. She didn't particularly know what it means to celebrate the Christian festival, but she has come around the festive spirit just nicely.
"I love a party, and I love the tradition of Christmas, and I'm Jewish, so I don't know how that worked out," said the actress back in 2016. "I think I just love gathering people together and seeing people happy. It's the time where everybody needs to gather, do a big group hug, and enjoy the festivities." "I look forward to the holiday season because it's a time that I get to spend with my family that's uninterrupted. And it's filled with traditions that make me feel comfortable and cozy," continued the actress.
For Miley Cyrus, Christmas is about connecting with her dad and having a good football match. "My favorite thing to do when I go home is we go, and we throw the ball around outside on my dad's farm," said the singer in December 2020. "Some of my greatest memories are playing football with my dad."
For Reese Witherspoon, the days leading to Christmas are all about baking gingerbreads as she said, "One of my favorite things about this time of year is decorating gingerbread houses with my kids." She continued, "Well... ok... we mostly just eat the candy. 🍬 🤪 ."
Just like all other families, stars also enjoy putting on the Christmas tree and decorating it with their kids. Carrie Underwood revealed, "I enjoy decorating with my oldest son, Isaiah. He loves helping and he loves doing the tree." Unlike Kelly Ripa's kids, the singer's son loves baking cookies.
The iconic singer added, "He loves helping me in the kitchen and making cookies. His great-grandmother passed away not too, too long ago, and we have her ginger cookies that she would always make. We have that recipe, and we do that and talk about her, and just things like that are really, really sweet."
Courtney Cox and Laura Dern from Friends and Big Little Lies come together to celebrate Xmas eve together and recently celebrated 14 years of marking the tradition together. "I love this family and our Christmas Eve tradition. Some things never change...much. 🎄♥️🎄 #family," wrote Courtney about spending time with the star!