Celebrities react to Kanye West's anti-semitic remarks.
Kanye West said in a now-deleted post earlier this week that he wants to go 'death con 3 on Jewish people,' and celebrities have reacted to his anti-semitic remarks.
Kim Kardashian has recently spoken up against her ex-husband's anti-Semitic remarks and an uptick in anti-Semitic incidents in the Los Angeles area over the weekend. She wrote on her social media that hate speech is never OK or excusable, adding that she stands with the Jewish community and calls on the terrible violence and hateful rhetoric towards them to come to an immediate end.
Kim's reaction to Kanye West's anti-Semitic speech comes after Boy George chastised her on social media for failing to speak out against Kanye, writing that he is "appalled" that Kim has not come out and added her voice to the debate. Boy George explained that because Kim Kardashian has four children with Kanye West, she must understand as a mother what it's like for little Jewish children to hear these demoralizing and terrifying comments. He also expressed surprise that not many artists have spoken out against Kanye's recent remarks about the Jewish community, stating that as a gay man who has experienced years of prejudice, the idea of doing that to someone else based on their race, color, sexuality, or gender is just fucking appalling to him, and it should be to everyone else.
Over the weekend, banners with anti-Semitic messages and the words "Kanye is right about the Jews" were unfurled on a 405 freeway overpass. Other white supremacist signs have popped up a few times this year over the 101 Highway overpasses in Ventura County, according to KTLA. All of this is part of an increment in antisemitic vitriol.
Malynda Hale shared images of the banner, writing that those who said Ye's comments should be ignored should explain how and why they should ignore him now that his words have galvanized the white supremacist group even more. Malynda went on to say that this is no longer a laughing matter and that it is time for everyone to stand up and defend their Jewish friends.
Celebrities such as Kim Kardashian's sister, Khloe Kardashian, Reese Witherspoon, and Amy Schumer spoke out against the anti-Jewish remarks. The celebrities are rallying behind Jessica Seinfeld's recent social media post, which reads, "I support my Jewish friends and the Jewish people," and writes that if people don't know what to say, they can just say this on their feed.
Reese Witherspoon stated on social media that antisemitism in any form is abhorrent, whether in person or online, as it is hate speech and is unacceptable. She went on to say that she completely understands why her Jewish colleagues and friends are worried about their families. This is a terrifying time. Amy Schumer, the actress, urged her followers to pay attention while providing context for the recent incidents. "Do people realize what the Jewish community is extremely fearful this will lead to?" she wrote. One in every two people is oblivious that the Holocaust happened. Take a seat. #neveragain
Hailey Bieber also shared a post on her social media story that read that one cannot believe in God and be anti-semitic. One cannot love God and support or condone hate speech. She added that to love God is to love people, All people. It was reported that after Kanye West called Hailey Bieber a 'nose job Hailey Baldloose', and asked Justin Bieber to stop her from making comments, Justin Bieber felt that Kanye West had crossed a line and he was upset about the way he spoke about Hailey. Justin Beiber has been distancing himself from Kanye West since then.
Earlier, John Legend responded to the comments by saying, that it's peculiar how all these 'free independent thinkers' always end up on the same old anti-blackness and anti-Semitism. Some of Kanye West's supporters have tried to blame his hatred on his bipolar disorder, but others, including Endeavor CEO Ari Emanuel, said in a Financial Times op-ed that mental disorder is not a justification for intolerance.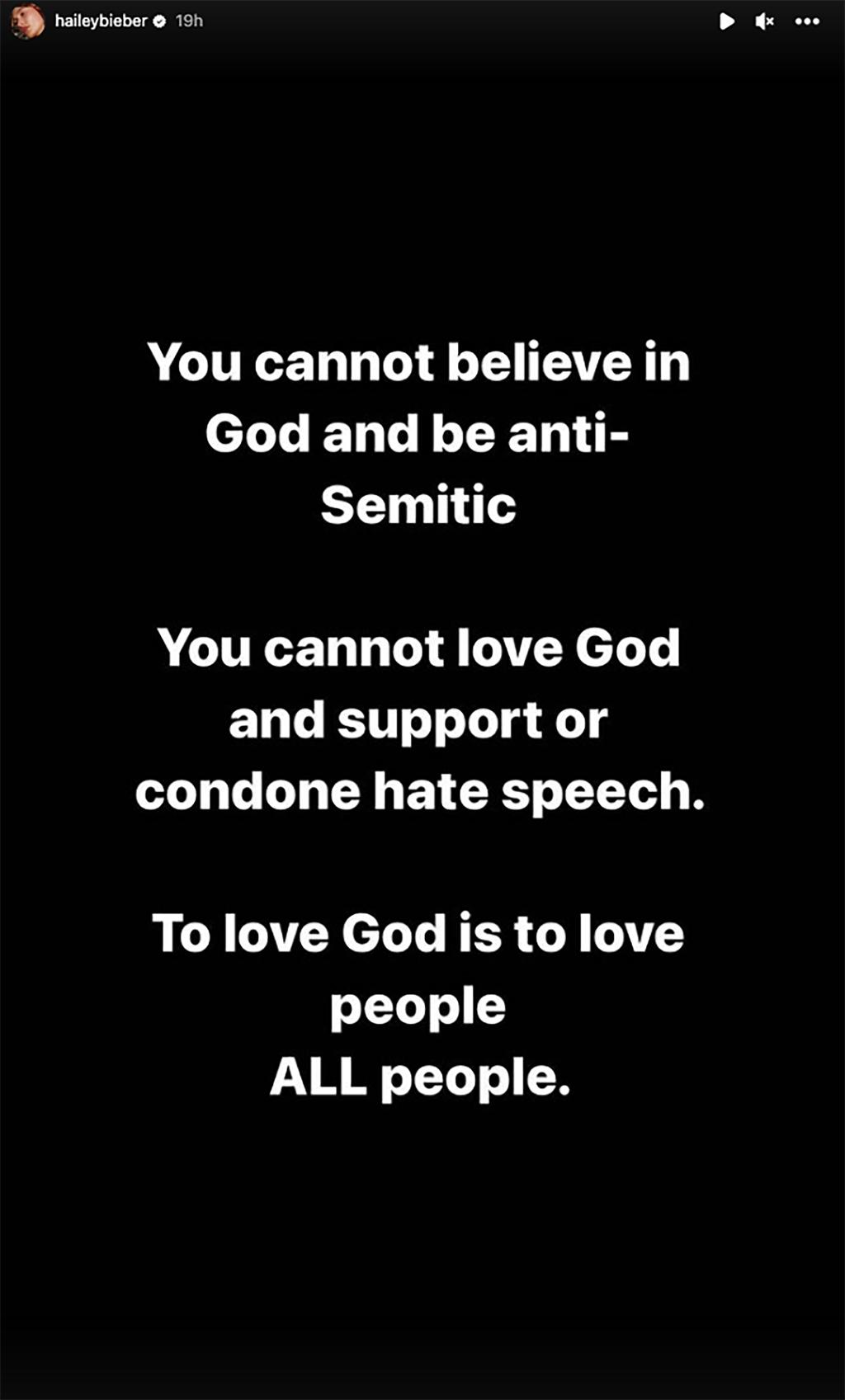 Ari added that those who continue to do business with Kanye West feed his misguided hatred. There should be no tolerance anywhere for the West's anti-Semitism adding that the stakes are high at this point in history, and being open about our values and living them is critical. Inaction and silence are not options.
During an interview with Piers Morgan on Wednesday, Kanye West stated that he is "absolutely not" sorry for the threatening tweet. He stated that he had fought fire with fire and was not here to be hosed down. That's a different kind of liberator.