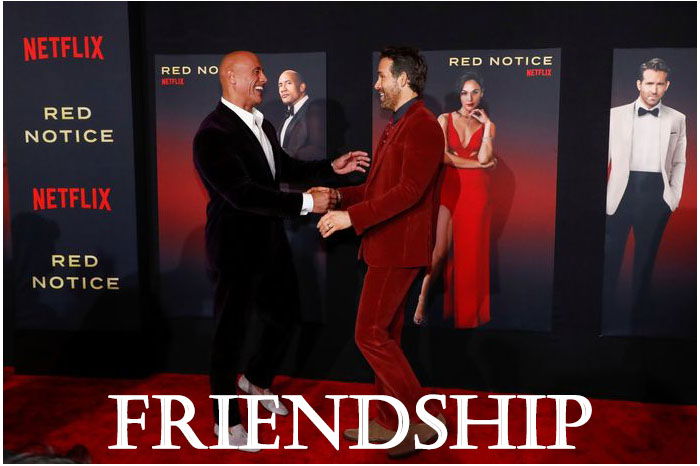 Actors Dwayne Johnson and Ryan Reynolds made their on-screen debut in Netflix's recently released, 'Red Notice' alongside actress Gal Gadot but the two actors have been friends since the early 2000s and Dwayne Johnson is opening about their friendship and how he helped him after his father's passing.
Dwayne Johnson in a recent interview with IMDb's Burning Questions shared how he and Ryan Reynolds met. He shared, "I have not known any actor in Hollywood longer than I've known Ryan Reynolds. We started our careers together. I had 'The Scorpion King come out. He had 'Van Wilder' come out. We were crisscrossing promotions. We wound up in Cancun on 'MTV Spring Break' promoting your movies. Not only that, but we're like an old couple who bicker and fight. And of course, we love and respect each other."
The wrestler-turned-actor further in the interview acknowledged that he is mystified by Ryan Reynolds' obsession with sneakers and mentioned, "He has so many sneakers, racks and racks and stacks and stacks of sneakers. And when he shared this with me, I looked at him and said, 'Man, you know, I got to tell you. I couldn't give an s**t any more than right now at this moment with the information you're telling me. And if you ever waste my time again with your obsession with sneakers…'"
Dwayne Johnson had also shared about the time when Ryan Reynolds and Gal Gadot stuck by his side on the first day of filming of 'Red Notice' after he received the news of his father's passing away. Dwayne Johnson said that on receiving the news, he had to walk away from the first day of filming but both Ryan and Gal had his back and when he came back they both welcomed him with open arms.
During an interview with PEOPLE, Dwayne Johnson said, "On the first day of filming, my dad died. The moment I walked in the door, Ryan gave me a big hug and said, 'I got you, man'. The love, bond, and brotherhood are there."
Dwayne Johnson also shared about his work experience with Gal Gadot, "Gal is always taking care of the people around her and has the most positive presence. Gal would get the giggles, then I would get the giggles, and then we would all go. I've never laughed as hard as I did on this film." 'Red Notice', includes Ritu Arya and Chris Diamantopoulos as well. It has been co-produced by Beau Flynn for FlynnPictureCo, Dwayne Johnson, Dany Garcia, and Hiram Garcia for Seven Bucks Productions, and Rawson Marshall Thurber.
Dwayne Johnson is going to star in the upcoming DC movie 'Black Adam' for which he is excited and recently opened up about his stunt-double Tanoai Reed who has been with Dwayne Johnson for almost two decades. Dwayne mentioned to the Hollywood Reporter recently that the character of Black Adam was the toughest role ever which required both the actor and the stunt-double to be in their best shape and Johnson said, "He is right there with me, shoulder to shoulder. Training just as hard, just as committed, just as disciplined." Both of them followed the same routine of workouts and diet for their body required for the character.
Rawson Marshall Thurber, who has worked with Tanoai Reed on Red Notice as well as Central Intelligence and Skyscraper, calls him "the greatest living stuntman." He added, "There is no world [in which] we could have made Red Notice without him. We had him run down a bridge and get yanked 150 feet through the air to the other side and the bridge was exploding behind him. Pretty good for a day's work."
Tanoai Reed put in a lot of effort on Dwayne Johnson's debut movie, 'Scorpion King,' where he was his stunt double, but he was met with skepticism from his stunt peers, who felt he won the job solely because of his likeness to Dwayne Johnson, not because of his acting talent. So Tanoai Reed set out to disprove skeptics in the hopes of landing additional business with Dwayne Johnson. The Rundown, a 2003 action-comedy starring Seann William Scott, was Johnson and Reed's next project.
Tanoai Reed, who was still relatively new at the time, took on what he still believes to be the most difficult stunt of his career, rolling down a mountain for many days after Johnson and Scott's characters drove a Jeep off the road. Tanoai Reed ended up in a wheelchair and even injured his ankle on another stunt, prompting the crew to reschedule the filming to give him time to recover. "When you consider the level of danger, yet the accuracy that had to be accomplished on that roll, keeping your eyes open, your head on a swivel, getting a sense of that mountainside before you went down it," Dwayne Johnson added during the interview.
Following that, Dwayne Johnson popularly known as The Rock starred in 'The Gridiron Gang', a drama in which he portrays a football coach trying to heal wayward teenagers. Because there was no cash for a stuntman, Tanoai Reed figured that he would be on the sidelines but Dwayne Johnson, on the other hand, paid Reed's stunt fee directly. "He said to me, 'You're more than a stunt double, you're like family,'" Reed recounts.
Talking about Tanoai Reed, Dwayne Johnson said, "Tanoai is a very calm and cool man in the pocket when it comes to doing stunts. And when he got up, and I'm kind of looking, and I see in his eyes that there is just something that's just a hint in his eyes of concern. "Is he a risk-taker? Yes. But very calculated. He's a very smart man, and he doesn't approach stunts like a bat out of hell and throwing caution to the wind."
DC's new upcoming movie, 'Black Adam' is an American superhero film based on the same-named DC Comics character. It is a spin-off from Shazam! and the eleventh film in the DC Extended Universe, produced by New Line Cinema, DC Films, Seven Bucks Productions, and FlynnPictureCo., and set for distribution by Warner Bros. Pictures (DCEU). The film is directed by Jaume Collet-Serra and written by Adam Sztykiel and Rory Haines & Sohrab Noshirvani.