Dakota Johnson and Gwyneth Paltrow graced the red carpet of the 2021 Gucci Love Parade in Los Angeles on Tuesday night, hosted by Alessandro Michele. The two stunning actresses were seen greeting each other and posing for the cameras.
Dakota Johnson is currently dating Coldplay lead singer and Gwyneth Paltrow's ex-husband, Chris Martin. Gwyneth and Chris were married from 2003 to 2016 and the two share two children, daughter Apple, 17, and son Moses, 15. Where things usually tend to get awkward between the exes and their current partners, Gwyneth and Dakota seemed pretty chill about each other.
According to the video posted by Variety, the Goop founder, Gwyneth Paltrow and Dakota Johnson were seen smiling and posing for the cameras. Gwyneth Paltrow was seen rocking a Gucci red velvet pantsuit for the occasion, while the "Fifty Shades of Grey" actress donned a sparkly mini-dress with black pantyhose.
In January 2020, Gwyneth Paltrow, who is now happily married to producer Brad Falchuk, shared that she is close with Dakota Johnson. In her interview with Harper's Bazaar, she said, "I love her. I can see how it would seem weird because it's sort of unconventional. But I think, in this case, just having passed through it iteratively, I just adore her. I always start to think of the ampersand sign—what else can you bring in, instead have being resistant to or being made insecure by? There's so much juice in leaning into something like that."
A source had previously mentioned to PEOPLE that it is very important for Gwyneth Paltrow to be on good terms with Chris Martin's girlfriend. The source added, "She's not at all threatened by Dakota and loves that Chris is happy — she's very secure about sex and relationships and is not competitive in that way." In April 2019, Paltrow was seen hanging with Dakota Johnson at a birthday party in LA, and in December that same year, Dakota Johnson joined Gwyneth Paltrow and Martin on their family trip to Aspen where Dakota Johnson spent quality time with the exes' two kids Apple and Moses Martin.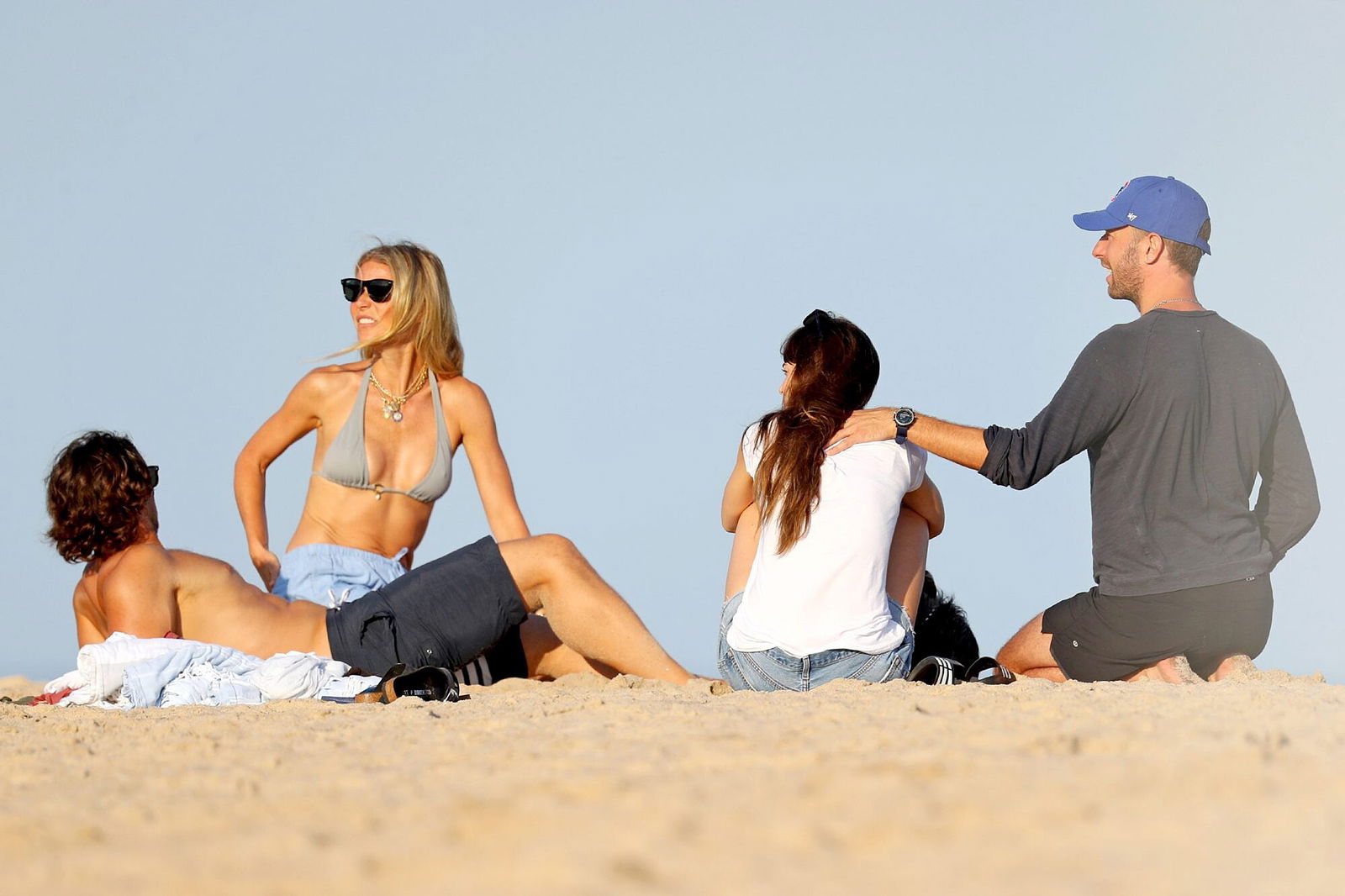 The sources have mentioned that all four of them get along together which is a great thing for the couple as well as for the kids.
Dakota Johnson and Chris Martin started dating on and off in January 2018. After a brief breakup in June 2019, the couple has been spotted together at several celebrity-favored locations, including the Hamptons, where they displayed plenty of PDA. When Dakota Johnson was seen wearing a large emerald ring on her left ring finger in December 2020, it prompted engagement rumors. The musician, who dubbed her his "world", recently honored Johnson in a song. The couple had already officially moved into a huge, $15.5 million Malibu home, according to The Post.
The actress, who recently starred in Maggie Gyllenhaal's The Lost Daughter, told Variety that the storyline for the film caught her off guard "I've never read anything quite like it," she admits. "At times, raw, to the point of discomfort, yet still so human." The Lost Daughter is a film version of Elena Ferrante's novel of the same name. Johnson plays Nina in "The Lost Daughter," a young lady overwhelmed by motherhood's responsibilities and the poison of her relationship with her daughter's father.
Gwyneth Paltrow is known for her wellness platform, Goop, and has recently released a new six-part Netflix series, "Sex, Love, and Goop," which follows the stories of five couples as they try all kinds of strange and wonderful sex positions, tricks, and techniques to increase both the intimacy and connection in their relationship, under the guidance of a variety of sex and wellness experts.
"I don't think I've ever encountered a woman who feels entirely terrific about her body, and that's a real pity," Gwyneth Paltrow says to one couple that explains their lack of intimacy due to body image issues. She further adds, "That means that we're holding ourselves to some other standard that's been prescribed to us, and it's very external as opposed to internal. At this point in my life, I'm definitely not a perfect person, but I'm always on a journey toward self-improvement. I really like myself. I know my faults. Furthermore, I don't think I have blind spots anymore, and I'm trying to sort of cultivate that same feeling about my body."
Through its content and products, Goop hopes to stimulate curiosity and "remove the guilt that surrounds female sexuality." Gwyneth Paltrow believes that talking about sex and allowing people to ask for what they want in the bedroom is the best way to accomplish this. "Female pleasure is still taboo, and I believe that if you look back through history, you can see how limiting women's pleasure or lack thereof, or separating pleasure from morality, is a method to make women not feel fully themselves," she added. The Netflix show's experts include a Sexological Bodyworker, a Tantra and Sacred Intimacy coach, and an Erotic Wellness coach — help couples through deep discussions and physical exercises.