Dixie D'Amelio, the elder sister of Charlie D'Amelio, has stirred a lot of buzz, especially with being invited to the Met Gala while so many other celebrities didn't receive the coveted invitation. Now that she is a household name with the coming of Hulu's The D'Amelio show, it only makes sense that everyone wants to know about her love life.
If you have been keeping tabs on TikTok for a while now, you must know that one thing that always features along TikTok relationships is Drama. Like, how do the kids manage to stir so much tea in no time in the first place?
Dixie, these days is quite busy with her family's reality show, and yet she finds enough time to spend with her boyfriend, Noah Beck. Noah himself has had his fair share of controversies, many of which weren't fair. He is regularly seen on Dixie's show, but otherwise, both of them have kept their relationship quite low profile.
But of course, Noah isn't Dixie's first boo. Here is the timeline to all of Dixie's previous romantic attachments:-
Griffin Johnson: Feb to July 2020
Their relationship begins on February 26, 2020, with a cute TikTok caption:
"I keep it real @dixiedamelio."
https://www.tiktok.com/@imgriffinjohnson/video/6797907862363458821?lang=en
Soon, Griffin starts posting MORE cute videos of appreciating Dixie.
They became Insta official with a simple "<3" caption, and the post seems to be missing from their feeds now. Griffin also features right along Dixie when she gets her wisdom tooth removed.
A few months into their relationship, Dixie and Griffin play love interests in Attaway General, a YouTube show. Fans loved the duo's onscreen dynamic, and the show was quite a great hit.
In fact, the famous couple sneaked a kiss in the closet when playing Georgia and Will in the YouTube show.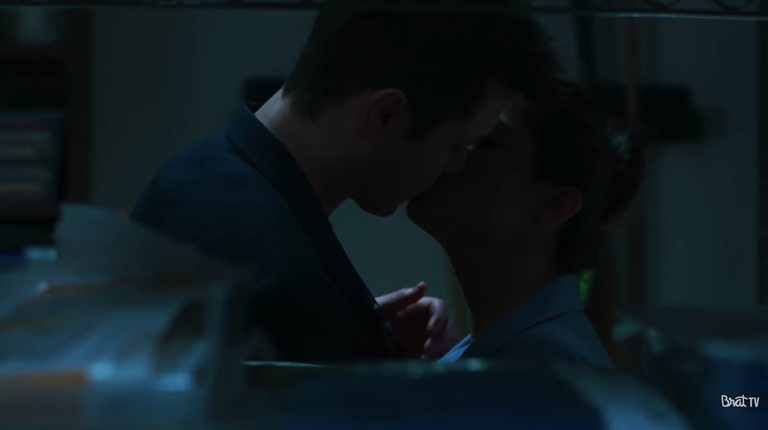 Though everyone knew that the duo was dating for a few months, Dixie kept their relationship under the covers. However, on June 12, 2020, Dixie almost confirmed their status.
But soon, on July 31, Grixie shippers were left shocked when Dixie unfollowed Griffin and also commented on TikTok about Griffin cheating on her.
And then, she posted this video titled "My Last Date with Griffin."
Her video started with the prelude, "Hey, so we actually broke up, but I had this video scheduled for today, so I'm posting it anyway."
And hence, the then TikTok 'It' couple came to an end.
Reflecting back on the relation, she said, "I'm not friends with him, really, but there's no bad blood. It was just a dumb, immature relationship. We shouldn't have been dating in the first place. We were cooler as friends, and just—we were like, 'Oh my god!' He was just dumb and immature."
Noah Beck: August 2020 to present
Dixie is now in a year-long relationship with Noah Beck, and the couple is happier than ever. They first featured together in Dixie's "Be Happy" video, where the couple was seen making out.
AND Noah admitted that he lived Dixie during the shoot! The couple went public in October 2020.
The couple is very much in love since, despite claiming that they want to keep their relationship private a few months ago. In a recent interview, Noah said, "The reason I love Dixie so much is that she's my best friend, and when we hang out, I just feel like I'm hanging out with my friend, but she's also...she's very attractive... I always tell her she has a dry sense of humor. She'll make a joke and not laugh, whereas I have golden retriever energy."