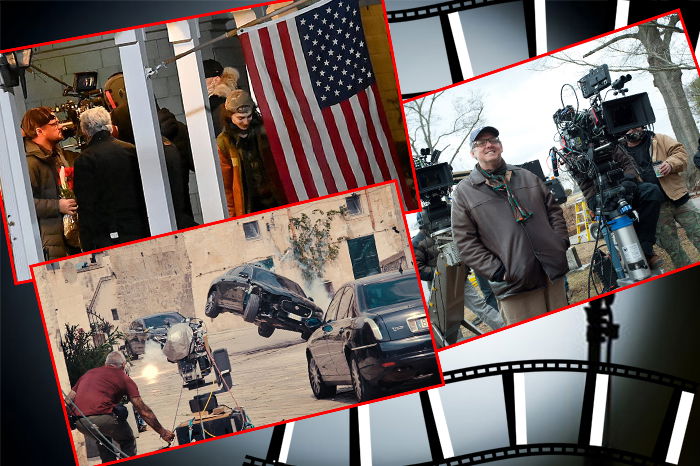 Linus Sandgren, the known Oscar-winning cinematographer, worked on both No Time to Die and Don't Look Up, two films from 2021 that managed to shatter many box office records. The cinematographer opened up about the techniques he used with both directors, Cary Joji Fukunaga and Adam Mckay, to bring their films to life.
Explaining how he and Cary Joji Fukunaga envisioned the latest Bond film to look and feel like, Linus Sandgren explained, "First, he and I talked a lot about how he wanted the film to feel like a great ride, in both a visual and emotional way. To try and blend what is considered normal in an action film, or in a Bond film, there'll be suspense, thrilling moments, and humor, but in this case, to cry."
He added, "Also, we discussed a lot about what Bond films, and what their world, should feel like. It's an adventure film, it's set in reality, so it should feel raw and real. But it should, also at the same time, be slightly heightened. Like, you go to places that you haven't been to, that exist but are exotic, and most people won't go there."
The story expanded on Bond's physical strength more than relying on the really cool gadgets at his disposal. He said that director Cary "was very much into creating, for example, stunts and such things – all very realistic and not anything that wouldn't be possible to do for real." "Therefore, a lot of it had to do with Bond actually fighting for his life, unlike when it's sometimes based on the abilities of his gadgets and technical solutions," he shared. "Here, it's more of his physical struggle. A metaphor for his inner struggle with this fight for his life."
The cinematographer made sure that the director's vision of relating the "location, environment, and time of the day" to Bond's inner turmoil could be translated onto the screen successfully. "We had those discussions, but we also wanted to really connect the cinematography to the film's emotional journey," he explained. "That is the reason behind why you make your choices; you don't just create the mood because you want to create a mood. It has to be based on the script and the story."
Narrating the story through the environmental elements did not come without its struggle. "A big challenge that I faced was working against nature to maintain a specific style. The Norway scene, in the beginning, for example, was so important that it was cloudy and still. So we could make the landscape feel moody, eerie, and dark," he shared.
As the scenes kept on changing and the director had a different perception of things, they tried romanticizing things and showcasing them just in the right tone. "I wanted to base it on naturalism and reality but heighten it slightly by stylizing real environments into something slightly different," said Sandgren.
If you have seen No Time To Die, you would know that the film is shot over varying locations around the globe, and it must not be so easy to continuously change sets and introduce new elements to the work. "We did a lot of scouting as we had a lot of locations, not in England. And because of that, logistically, we had to get the crew together and scout those locations, which was a big task to take on for production," he explained.
Even when they did find suitable locations, these places would not come in with all the built elements they wanted to capture on camera. Talking about the house scene from the beginning of the film, which also features the villain, Sandgren shared that they actually built the house in London because they could not find the likes of it in Norway and then shipped it to the location of the shoot. "So problems like that we caused for ourselves, "he joked.
The lake scene was also a bit of trouble as they needed to show an ice cover on the lake, but the falling snow kept on covering it. However, once they managed to remove the snow and let the ice be seen, the weather turned warmer, and it was difficult to shoot on the ice sheet with heavy equipment.
In another scene where they wanted to feature a fight scene in a rural town with some modern light works, the cinematographer shared that they changed the entire town's lighting. "At night, we even lit the whole town with these light sources that are like flames. We turned off all the lights in the town and then put in our own lamps across to light up everything," he added. "So we did stuff that you don't always do because it's just too much to take on for production."
The cinematographer also worked with Adam McKay to shoot Don't Look Up, which is doing wonders on Netflix records. Explaining how shooting "Don't look Up" differed from "No Time To Die," he said, "It depends on each director and what the story asks for, in my and the director's opinion."
"I don't feel right if I just grab a camera and we go out and shoot the movie, as I'll have no clue why I'm doing what I'm doing. For example, Don't Look Up is obviously part satire, but it's also really important," he elaborated. "That was the question I had for Adam from my point of view, I asked him, "Do you feel like this should be taken seriously, as well as being comical?" And, obviously, he wanted that. So I proposed that the approach should be like shooting a suspenseful thriller and the comedy will hopefully come through."
"Our goal was, "Let's just shoot as if we didn't light it." To show the real world in a naturalistic way, even more, naturalistic than No Time To Die. But then it was also important that Don't Look Up takes place all over the world," he revealed. "I know Adam's editor Hank Corwin loves footage from all over the world, like montages of footage. We wanted to integrate that."
"My choice to work on each project is a combination of the script and the director. But there are often other reasons, like if it's a challenge. I like doing things I haven't done before," said Sandgren, ending the talk.