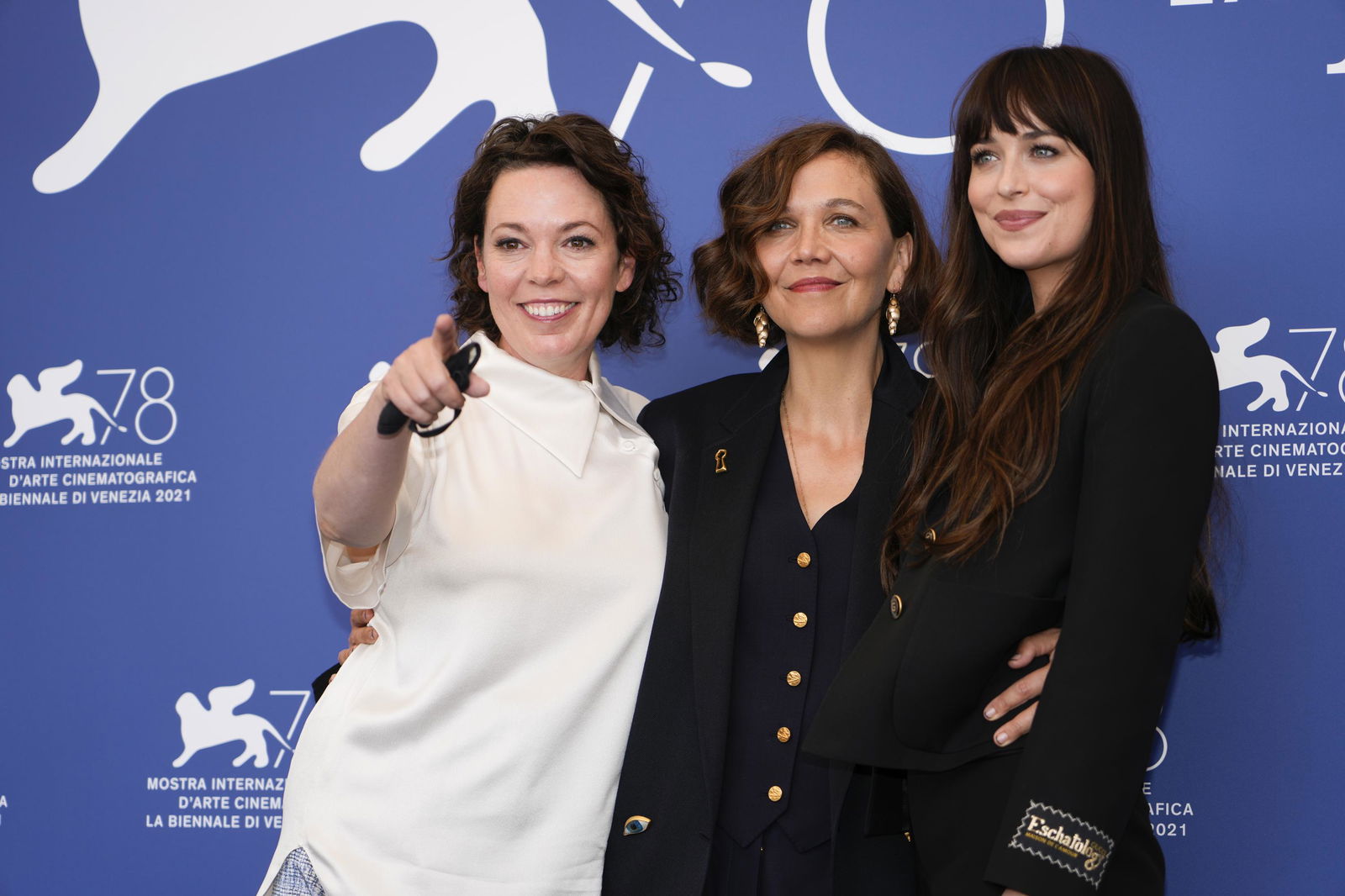 Actress Maggie Gyllenhaal, who recently made her debut as a director with her recent movie, "The Lost Daughter," which was released in theaters on December 17 and will be available on Netflix starting December 31st, is getting candid about how actresses are treated in Hollywood and what directing her husband felt like.
The Oscar-nominated actress who has starred in movies including "The Dark Knight," "Secretary," and "Stranger Than Fiction" spoke to the New York Times recently and mentioned that it is on a very "rare" occasion that an actress' idea or input for a scene or something is valued by the makers while making a movie.
Maggie said, "As an actress, it's very rare that somebody values my ideas. They will say they do, but people are irritated by actresses with a lot of ideas. I am not an idiot, so I mostly keep them to myself. " The actress turned director also talked about her female co-star, Olivia Colman, who stars in the movie, "The Lost Daughter," and shared, "Olivia really didn't like to talk about much. I wonder, actually, if it's because it was relatively recently that she got power as an actress if she feels similar to the way I feel. I remember asking Olivia if she liked to rehearse, and she said, "I don't, actually," and I totally related to that. "
Maggie Gyllenhaal also mentioned during her interview with The New York Times about adapting Elena Ferrante's novel that came out in 2006 to play as more of a horror-thriller on-screen. She shared, "I wanted it to be a thriller. The book is not really a thriller, but I sped that up because I thought it would ultimately give me more artistic freedom. I wanted to even dare myself to move it into horror, a horror movie about the internal workings of her mind. She's not bad, she's like you. And I liked the idea of having a classic structure to hang my hat on. I have found in the past that I get the most freedom of expression as an actress when there is a really clear structure. "
The debut director shared in her interview that a different vision of the movie she had made came to her when she was on the jury at Cannes this year and saw some really interesting movies. Maggie added, "I'm not sure I'll do that next time. I was on the jury at Cannes this year, probably two or three weeks after I finished my final mix. Looking at some really, really interesting films, I realized, "Oh, you can do whatever you want if you're following something truthful, and I don't think I knew that."
Maggie Gyllenhaal also shared with The View how she got over her hesitation in directing husband Peter Sarsgaard and shared, "I did think at first, 'Maybe it's not a great idea,' and then I was like, 'I've been with my husband for a long time. We've been through so much. I know my husband loves me. Who could do this better than him? ' Really, nobody. Sexuality is strange; it's a weird part of our job. The thing that makes the scene hot, I think, is that he's hot for her mind—her mind. What is sexier than that? He's like, 'I am into your mind.'... Really, that kind of sexy is irresistible. "
The director mentioned that she has massive respect for Peter Sarsgaard and that it was such a pleasure to direct him. Maggie added that Peter's presence in the movie is impactful, and she could not have made the movie without his support. "There are so many examples of women gracefully and intelligently supporting their husbands, and there are so few examples of men doing that for their wives. He's a really incredible example of that," Maggie added.
Talking to people about her husband's support, Maggie mentioned, "The film is about a lot of things, but one of the things that this film is about is how complicated it is to be a mother, so I don't think I could have really explored those things and all of the complications without knowing that my family was taken care of."
The Lost Daughter is an adaptation of the Elena Ferrante novella of the same name. It is about a British professor of Italian literature, Leda, who on her holiday encounters a family on the beach and witnesses the relationship between a young mother played by Dakota Johnson and her daughter. As she observes their relationship, Leda recalls her own struggles and challenges as a mother, which led to her divorce from her husband and two daughters. As Olivia Colman shared during an interview with the BBC, "I don't recall seeing a woman like Leda depicted on screen before. It's searingly honest, the depiction of not necessarily being a great mum. "
Olivia Colman, who in real life is a mother of two sons and one daughter, has experienced the challenges of being a mother along with balancing her career as well, and shared, "I've always felt that I'm a better mummy when I feel creatively fulfilled, so I'm very lucky. I get to do both things. I love my job and I get to spend lots of time with my children. But when young Leda doesn't feel like her partner is as appreciative of her brain and her abilities as his own, that's where things start to go wrong. I can really understand why she's at the end of her tether. She's not being seen and heard. "
ScreenRant's Mae Abdulbaki wrote in the review for the movie that stated, "The Lost Daughter is a deconstruction of motherhood and what becomes of the women whose identities become folded into such a role, whether they can ever be free of it, and how society will look down on anyone who deviates from what's expected of them as maternal figures."
Time's Stephanie Zacharek wrote, "At the core of The Lost Daughter is a daring and dangerous idea: It's an exploration of what motherhood can drain from a woman-a dramatic switch from the typical glassy-eyed bromides about how rewarding it is to bear and raise children. Buckley is terrific, her performance meshing so perfectly with Colman's that it's easy to see the older woman within the younger ones, and vice-versa. "