Actress Jessica Szohr who is famously known for her role as Vanessa Abrams in 'Gossip Girl' is recalling how she and Ed Westwick who played Chuck Bass on the show decided to keep their relationship private.
During the podcast interview with Chicks in the Office, Jessica shared that she and actor Ed Westwick did turn their reel life chemistry into real life and started to date but unfortunately the couple decided to go their separate ways in 2010 and eventually both of them realized that it's not easy to keep a relationship under the wraps especially when you're a celebrity or working on a show that basically attracts the entire limelight.
Jessica shared, "A lot of us did date and I remember when Ed and I started dating, we wanted to keep it super private. A couple months in—we had been together for quite a bit before it came out—we were going to go to a New York Knicks game and we went back and forth." The actress shared that the couple decided to step out as a couple at a major NBA basketball game because they realized that they cannot keep their relationship private.
The actress added, "Either we are going to live this private life and never leave our apartment, or we do it and we just keep our s--t as private as we can. It was either you stay home—and we were people who liked going to sporting events and concerts and plays and stuff. After a couple of months, it got old. We need to leave." Jessica shared that she is glad that their romance played out in 2008, pre-TikTok, blind items, and other things that we have today which eventually leads to making a life of a celebrity trickier and more difficult than it already is. She mentioned, "We were like kids because I remember they called and said we all need to have publicists and we needed to have security guards and we were like, 'Wait, this is crazy. We're just getting off work and trying to have dinner. That would have been really wild and crazy and scary."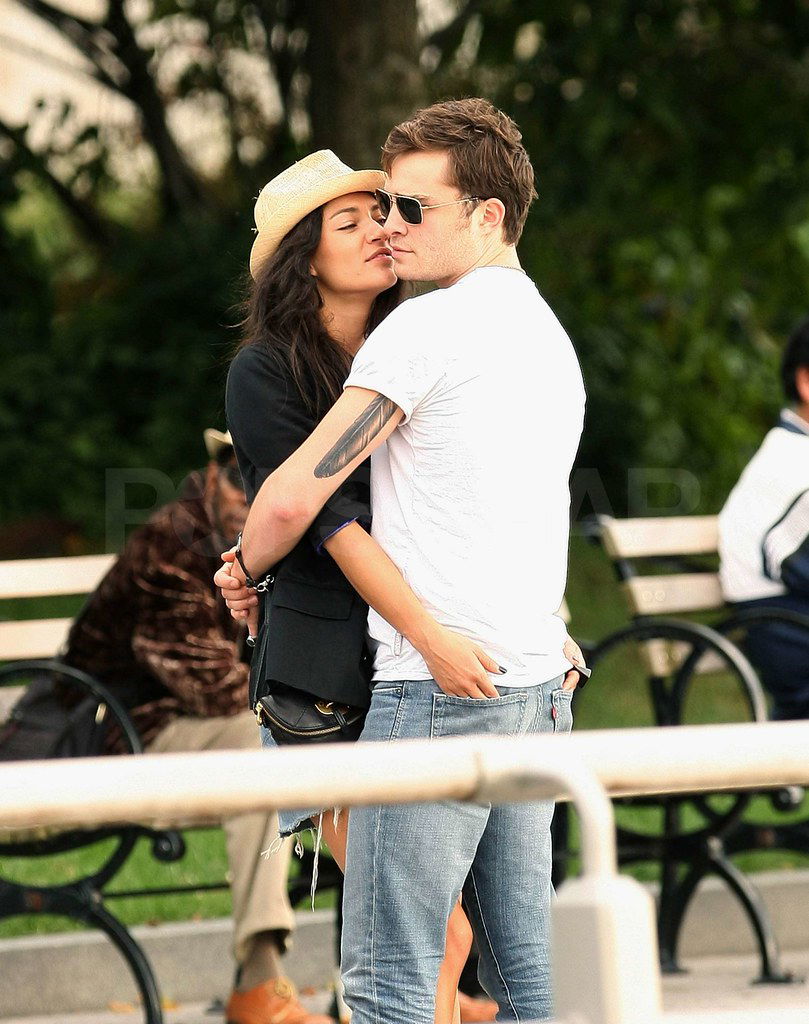 According to reports, Jessica and Ed broke up after Jessica was spotted getting a little flirty with one of his friends while the actor was filming in Europe. The New York Post reported at that time, "Jessica recently celebrated her birthday in LA and was being openly affectionate and flirty with Marco. They ended up back at the same hotel, but nobody knows what happened behind closed doors. Her flirty behaviour shocked a lot of their friends, so word quickly got back to Ed, who has been filming in Europe." After Ed got to know about the situation, he decided to end the relationship and was deeply hurt by her actions, even though she apologized and tried to talk him into taking her back but guess it was too late.
As for Jessica Szohr's current love life, the actress recently welcomed a daughter with longtime boyfriend Brad Richardson in 2021. Leighton Meester is married to Adam Brody and Blake Lively is married to Ryan Reynolds. All three actresses have kept their personal lives away from the spotlight as much as they can. Penn Badgley is also married to Domino Kirke whereas not much is known about Ed Westwick and Chace Crawford love life other than they ended their long-term relationships a while ago and are most probably enjoying the bachelor life.
Jessica Szohr who is a mother to 1-year-old Bowie and stepmother to Lexi stated that her daughters cannot see the show. In an interview with E! News, Jessica added, "Being a mom, when I watch it back I'm like, 'Well, we're never ever going to watch the show. In that first season, what goes down is insane." She continued, "Serena [Blake Lively] admits that she killed someone, Blair [Leighton Meester] loses her virginity to Chuck [Ed Westwick] in the back of a limo, Nate [Chace Crawford] has an affair with an older woman, Vanessa comes back, Dan [Penn Badgley] and Serena's relationship, Lily [Kelly Rutherford] gets proposed to. That's just season one and I've only said six things!"
During an episode on XOXO, Jessica Szohr sat down with Chace Crawford who played Nate Archibald on the show, and revealed that he and Leighton Meester who played Blair Waldorf had an 'instant connection' while auditioning. Chace shared that during the final audition he kept wondering who is going to play Blair Waldorf and added, "They let me into this massive waiting room. And there was this one girl in this chair at the very end, with her back to me...and I kind of went, 'Hi, let me introduce myself,' she turns around, headband on, it's Leighton. I assumed like, 'Oh, that's the girl! Like if she can act, I'm sure she can". Chace further added, "We kind of had an instant friendship connection. Easy to talk to."