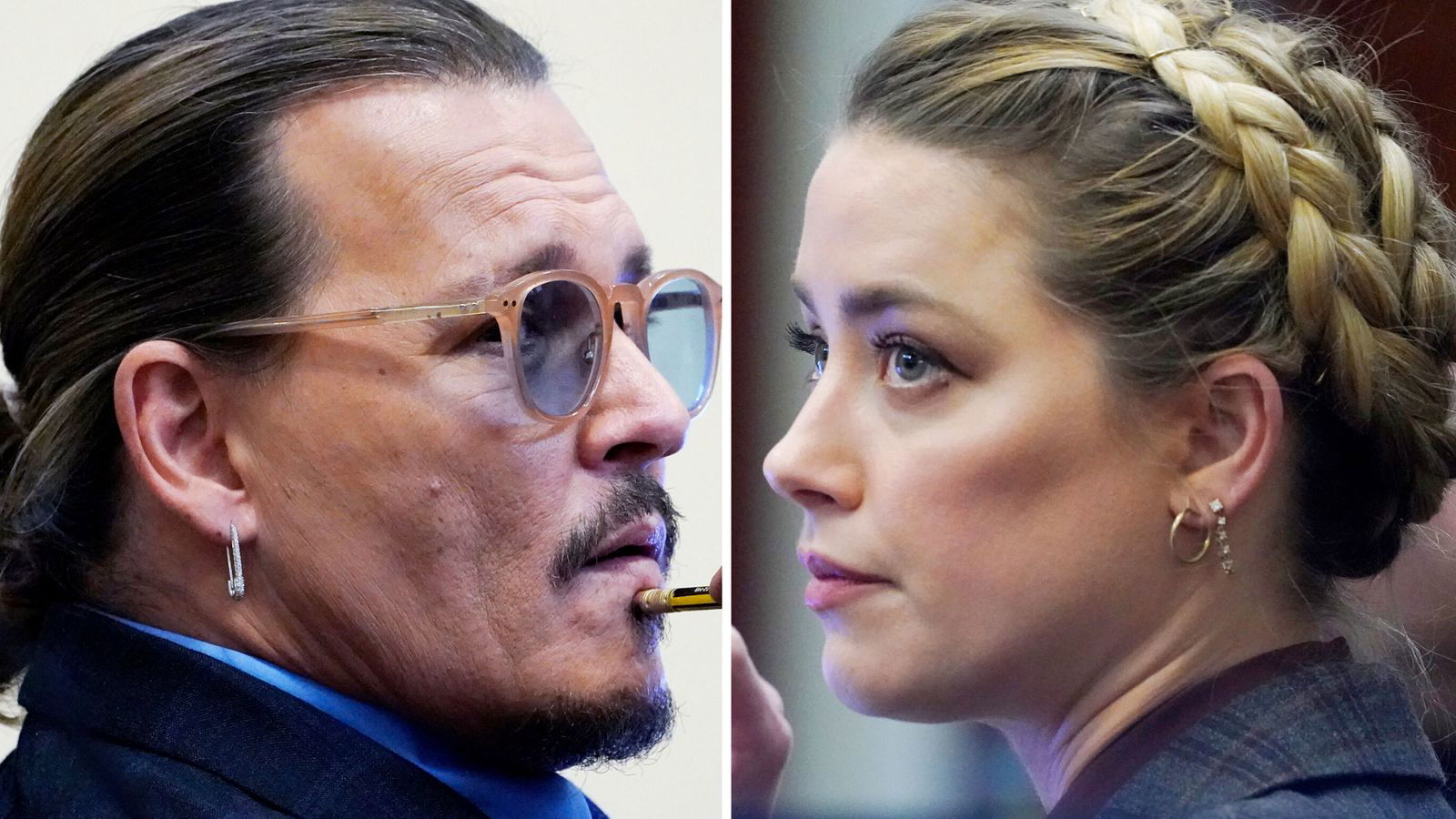 TRIGGER WARNING: Sexual Violence
Johnny Depp's team rested their case on Tuesday in the $50 million defamation trial against ex-wife Amber Heard in Fairfax County Court, Virginia over an op-ed that Amber wrote in 2018 for The Washington Post and recounted her experiences as a domestic abuse survivor.
Amber Heard's former nurse Erin Falati deposition continued on Tuesday before Johnny's team rested the case. Erin revealed that Johnny Depp was not aware of Amber Heard's use of illicit drugs and a male visitor at their house.
On Tuesday, Amber Heard's team had requested the judge to dismiss the case as according to them Johnny Depp had not proven his claims, but Judge Azcarate denied their request regarding two statements in the op-ed because there was a "scintilla" of evidence that a jury may find that they were defamatory.
The team called upon their first witness, Dr. Dawn Hughes, who is a New York-based clinical and forensic psychologist and an expert in domestic violence cases. She started to explain to the court that women who are in abusive relationships get into them for the right reasons, but slowly their partners start to turn and went ahead to narrate the instances where Amber Heard explained to her about the sexual violence she faced at the hands of Johnny Depp.
Dr. Dawn Hughes said that Amber Heard had reported the sexual violence to Bonnie Jacobs and recalled an incident that Amber told her where Johnny Depp was intoxicated and high and he threw Amber Heard on the bed, tore her nightgown off, and attempted to have sex with her. She added that he forced her to give him oral sex when he was angry and stated that these moments were not loving but rather dominant. Dr. Dawn Hughes mentioned that in one instance when Johnny Depp accused a woman of hitting on Amber Heard, he performed a 'cavity search' and said that he was looking for drugs. According to Dr. Hughes, Johnny Depp believed it was acceptable to take off Amber Heard's nightgown and push his fingers up her vagina to search for cocaine.
The forensic psychologist also mentioned an incident where Johnny Depp put his fingers in Amber Heard's vagina and moved her around violently while they were in the closet. She recalled the Australia incident, claiming that while Johnny Depp was beating and choking Amber while screaming that he hated her, Amber Heard was dissociating and going outside her body, hoping it wasn't the broken one. Dr. Dawn Hughes testified that sometimes when alcohol-fueled Johnny Depp would try to have sex with her and would not be able to perform, he would get angry at her and blame her.
Dr. Dawn Hughes mentioned in her testimony that Amber Heard suffered mostly bruising, cuts, and vaginal pain from the sexual assault. She also went ahead to say that Johnny Depp was extremely jealous and insecure if Amber Heard showed her breasts while filming a movie and did not want Amber Heard to act with certain people because of his jealousy. Dr. Hughes said that Johnny Depp would call every actor and director Amber Heard worked with to tell him or her that he had his eyes down on the sets and would try to control what clothes Amber Heard should wear.
The clinical and forensic psychologist went ahead to claim that Amber Heard did not feel safe to be herself and an actress because she would have to come home to Johnny Depp's anger for doing something. It was previously laid out by Amber's former nurse Erin Falati that Amber Heard also felt jealous and insecure when Johnny Depp was out filming movies. Dr. Hughes mentioned that she does agree that at times Johnny Depp would leave the room if he did not want to engage in an argument with Amber Heard.
Dr. Dawn Hughes mentioned that Johnny Depp accused Amber Heard of cheating on him with James Franco while they were filming for a movie, 'The Adderall Diaries', at the time. She went ahead to describe that situation for Amber Heard as like someone had sucked the oxygen out of the room for her and that is how many victims feel shame for the abuse, which has a compounding effect on them. Amber Heard's lawyer, Elaine Bredehoft, asked the doctor if penetration did digitally and with inanimate objects was considered abuse, to which she said that if it's non-consensual, it's abuse.
Johnny Depp's lawyer had accused Amber Heard of screaming at him during their rows, but Dr. Dawn Hughes mentioned that it is a normal reaction to being a victim and that women use violence in abusive relationships, but it is mostly for self-defense or to fight back. She shared with the court that after testing and interviewing Amber Heard for 22 hours in person, she had diagnosed her with PTSD and stated that Amber Heard reported that Johnny pushed, shoved, slapped, and choked her at times.
Dr. Hughes mentioned that Amber Heard had endured abuse from her father who also abused her mother and eventually the actress learned from a very early age on how to take care of herself in situations like this along with how to take care of someone who had passed out or nodded out from heroin. Amber Heard believed that she could love the people who'd hurt her.
Dr. Dawn Hughes' testimony goes against Dr. Shannon Curry's testimony, who diagnosed Amber Heard with borderline and histrionic personality disorders and grossly exaggerated symptoms of PTSD. There were times during Dr. Dawn Hughes' testimony where she read from her notes and was asked not to read from them as it's not allowed, and said that Amber Heard thought he could fix Johnny Depp, but she couldn't.
Amber Heard is on stand sharing her side of the story!