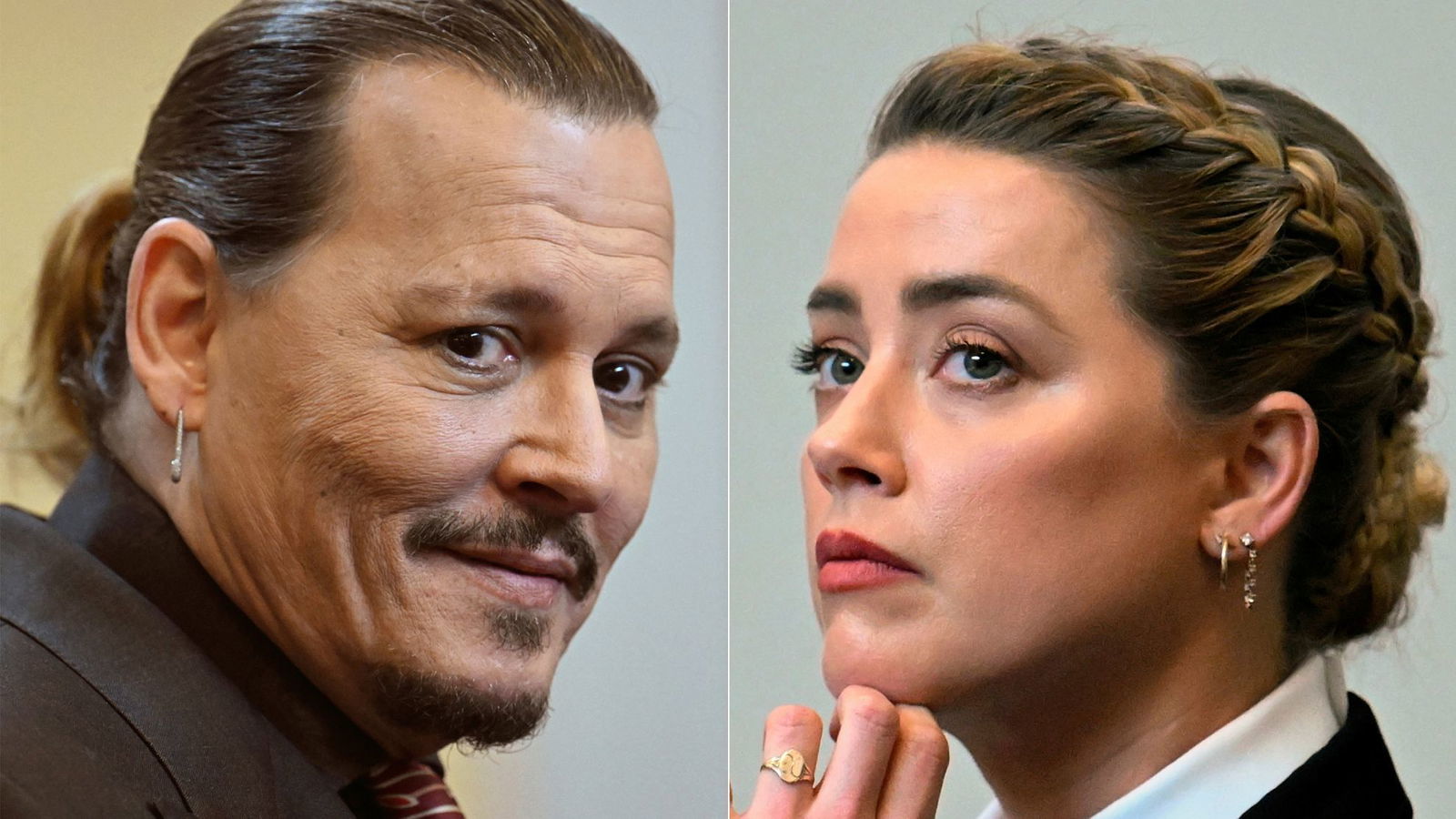 Johnny Depp and Amber Heard are currently fighting over a defamation lawsuit filed by Johnny Depp against his ex-wife over an essay that she wrote for The Washington Post in 2018 and described herself as a survivor of domestic violence and abuse.
On Thursday, the jury and the judge heard the testimony of LAPD detective Marie Sadanaga who is domestic violence coordinator for LAPD, in a pre-recorded video deposition in which she testified about the LAPD's protocol when it comes to responding to domestic violence. The LAPD responded to Johnny Depp and Amber Heard's LA pad in May 2016 for a domestic call but did not determine a crime has been committed. (The incident where Johnny threw a phone at Amber's face) Previously, two cops had testified about the same incident, and bodycam footage was also shown to the courtroom, and the officers stated that they did not see any injury on Amber Heard's face and the actress refused to cooperate with them.
Amber Heard, in her testimony, stated that she refused to cooperate because she was trying to protect Johnny Depp. Elaine Bredehoft asked Marie about what officers should do if they see any injury regardless of the victim's being cooperative, to which she said that they are obligated to do an investigation to determine if the injury was the result of the crime. Furthermore, Marie said that even if the officers determine that there was no crime, the purpose of domestic violence reports is that there will be documentation if something similar happens again.
Social Media expert Ron Schnell was called in to testify in person. He is an expert in the statistical and forensic analysis of social media for Berkeley Research Group. In his testimony, he mentioned that he examined negative hashtags on Twitter related to Amber Heard between April 2020 and January 2021 and identified that the majority of the tweets were negative about the actress. He looked at the hashtags #justiceforjohnnydepp, #amberheardisanabuser, #wejustdontlikeyouamber, and #amberturd, and found some of the public's comments on these hashtags were rude.
Ron Schnell also mentioned that between October and November 2020 there was sort of a big jump in the use of #johnnydeppisawifebeater, which was assumed to coincide with Johnny Depp's case in the UK, but there was also a spike in the use of #justiceforjohnnydepp and #amberheardisanabuser after Adam Waldman leaked a damaging audiotape about Amber Heard, which he admitted that he did in his deposition and echoed that Johnny Depp did not abuse Amber Heard in any form.
Johnny Depp's former psychiatrist, Dr. Alan Blaustein, also testified in a pre-recorded deposition where he mentioned that Johnny Depp had expressed his frustration with Amber Heard to him and compared her behavior to that of his abusive mother and called her a pain in the ass. Dr. Alan said that Johnny Depp found it very difficult to stay sober as his relationship with Amber Heard was crumbling and he would use drugs to cope with it.
Dr. Alan Blaustein in his video deposition also mentioned Johnny Depp's use of the ADHD medication Adderall and cited various incidents where the actor promised to stay sober but he could not. According to a text exchange between Johnny Depp and Dr. Alan Blaustein, Johnny told Amber that she was behaving like his mother and psychotic sister. Johnny Depp, in his deposition, mentioned that he was abused by his mother, Betty Sue Palmer, both psychologically and physically. Dr. Alan Blaustein's notes also mentioned that Johnny Depp had his doubts about getting married to Amber Heard as their relationship was a mix of love and disappointment. The former psychiatrist testified that he did not witness any sort of violence.
A Disney executive, Tina Newman, testified in a pre-recorded deposition that she had not seen any documents that referenced that Johnny Depp lost the role of Capt. Jack Sparrow after the op-ed was published and mentioned that it was never discussed. Amber Heard's former attorney, Michele Mulrooney, who represented Amber Heard in the couple's post-nuptial agreement negotiation, testified that Johnny Depp had once called her a bitch and was under the influence and added that he was at times very mean.
The last witness to be heard on Thursday was talent agent Jessica Kovacevic, who testified that Amber Heard's bad press had cost her career as there are several posts online that state negatively about the actress. The talent agent also mentioned that Amber Heard had lost a role in an Amazon movie with Gael Garcial Bernal and that a campaign she shot for Tod's was scrapped because of Adam Waldman's allegations. Jessica Kovacevi revealed that Amber Heard was supposed to be getting $2 million for her role in Aquaman 2, but her scenes were drastically cut short and the reason cited for them was the lack of chemistry between Amber Heard and co-star Jason Momoa.
According to reports, Amber Heard's team is planning to call Johnny Depp back on the stand for some more questioning, which, according to experts, could be a really bad move on Amber Heard's side. During one of the testimonies Amber Heard's acting coach Kristy Sexton was also called upon via pre-recoded deposition who stated that Amber Heard always faced an issue while crying and would show up during her sessions crying after having a fight with Johnny Depp. Kristy also mentioned that at times Johnny Depp would discourage Amber Heard about a role she was considering to audition for. They haven't worked together since 2017.
The trial resumes on Monday at the Fairfax County Court in Virginia, with closing arguments expected on Friday, May 27.