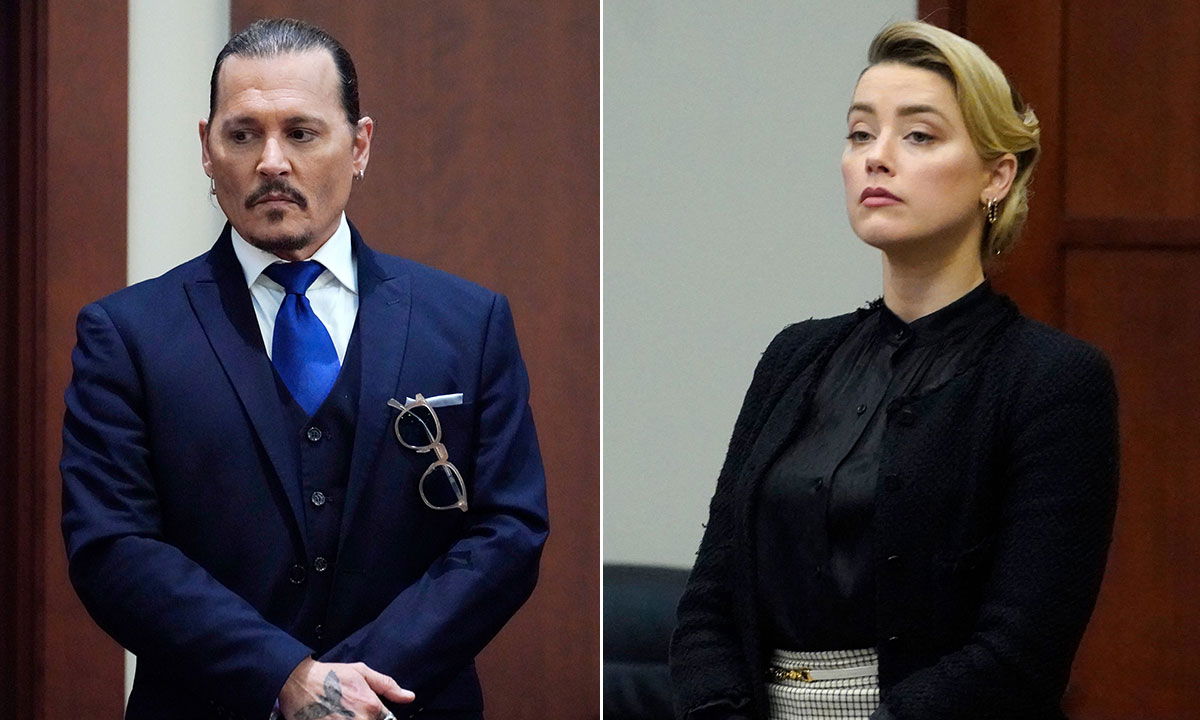 Johnny Depp and Amber Heard returned to the Fairfax County Court on Monday for the fourth week of their defamation trial over an op-ed that Amber Heard wrote in 2018, which led to damage of Johnny Depp's reputation along with the actor losing a couple of projects.
Richard Marks, an entertainment lawyer who worked in the industry and a technical forensics analyst, was also called upon to testify about how Amber Heard's op-ed had affected the actor's career and reputation. He shared that, as an expert, the op-ed when published created a "cancel culture situation," which leads to one's ability to get work in the industry as the production houses and studios would not hire someone who has negative publicity following them. He stated that Johnny Depp was caught in the same.
Richard explained that it's very important, especially in the last five years of the #MeToo movement, that production houses and studios do not want negativity and would not hire an actor who has been canceled. He clarified that illegal activity, criminal records, accusations of domestic abuse, and domestic violence are a few things that are negative and become hindrances for an actor trying to get hired. He also said that the op-ed was impactful because it was published in The Washington Post, which is the "flagship journal of American news."
Richard Marks pointed out that Amber Heard had been calling out Hollywood for support since 2016 when she accused Johnny Depp with domestic violence allegations. Richard added that this calling out to the industry on the eve of her biggest movie (Aquaman) was at the height of her fame and she used it. He dismissed the actor's reputation for arriving late on set by stating that the industry always had divas like Marilyn Monroe and once again established that the op-ed was devasting for Johnny Depp's reputation.
Amber Heard's lawyer, Adam Nadelhaft, read various headlines from various written articles aloud in the courtroom, and Richard Marks said that every actor has ups and downs in their career, and Johnny has a career that is decades old. When he was asked why the op-ed does not even mention Johnny Depp's name, Richard replied by stating that does she have another husband who abused her?
Later, intellectual property analyst, Douglas Bania, was called upon to testify, and he was the one who assessed the damage to Johnny Depp's reputation by analyzing online articles. Douglas shared with the court that before Amber Heard accused the actor of domestic abuse in 2016, most of the Google searches for Johnny Depp were about his characters and career, but post 2016, it changed to negative, and after the op-ed was published, the search went on to not only the allegations of 2016 but also his substance abuse.
While analyzing the Q score, Douglas shared that post the publication of the op-ed, Johnny Depp's positive Q score went down from 35 to 29, and the negative went from 11 to 15. He said that the public perception of Johnny Depp was damaged and people started to dislike him more than they liked him.
Amber Heard's nurse, Erin Falati, also testified via a video deposition, and the court showcased texts and nursing notes that explained Amber Heard's mental unrest. Erin shared that she was there to calm things down a bit and recalled an incident where Amber Heard was very angry after she thought that her phone had been hacked in 2014.
Erin mentioned in her notes that she had witnessed visible bright red blood appearing at the center of her lower lip that was bleeding on December 17, 2015. She also mentioned that Amber Heard told her that her head was bruised and had a lot of clumps of hair were missing but she did not witness the missing hair. The former nurse mentioned that Amber Heard was struggling post-divorce with Johnny Depp in 2016 as negative publicity surrounded her. Amber sent Erin a couple of pictures of her bruises, but the nurse mentioned that she was not sure as she was not an expert. It was also read in Erin's notes that Johnny Depp was not aware of Amber Heard filing for the divorce and was confused about Amber's desire to terminate the marriage.
Erin's deposition continued on Tuesday, where it was heard that she had texted Amber's sister Whitney to ask if Amber was okay post her trip to Australia, to which Whitney replied that Amber wants to kill herself. When Erin was asked if Amber Heard had ever expressed a fear of Johnny Depp, she said that she couldn't remember. Erin's notes were read in court, which said that Amber Heard had pangs of jealousy, insecurity, and anxiety when Johnny Depp was away on a movie set. Erin clarified that she has a vague sense of those issues popping up throughout the years, but she wouldn't say that they were a constant theme. The former nurse also stated that she had never witnessed any physical violence between the former couple but Amber Heard had mentioned to her that she was abused by Johnny.
Erin testified that Amber had a history of bipolar disorder, anxiety, ADHD, co-dependent issues, and occasional insomnia. In her notes, Erin mentioned Amber's birthday and mentioned that her mood changed when she is alone or with Rocky Pennington, and she was mad about Johnny being late. Talking about Coachella, Erin mentioned that the client (Amber Heard) had admitted to consuming illicit drug use and ingested mushrooms along with MDMA simultaneously after which she was sick and had been throwing up. The notes mentioned that she was high for at least 24 hours straight. (Starling Jenkins' testimony says the same)
Johnny Depp's last testimony was from Mike Spindler, a forensic accountant who testified that he had lost about $40 million in earnings post the publication of the op-ed. Amber Heard's lawyer requested the court to dismiss the case, which sparked angry exchanges in the courtroom with both sides making their arguments. Ben Rottenborn said that if the court agrees that Johnny Depp abused Amber Heard even once, she wins-it's that simple. Rottenborn said that the evidence that Johnny Depp abused Amber physically and verbally was overwhelming and undisputed.
Ben said that the defamation claim should be dismissed because Johnny Depp had failed to establish in the courtroom the falsity of the statement during his case. But Johnny Depp's lawyer Benjamin Chew said that the actor had provided with multiple credible witnesses, documents and authentic tape recordings of Amber Heard herself which not only ratified that requisite element but also went ahead to show that Amber Heard physically abused him. Benjamin said that Amber Heard is the abuser.
Rottenborn argued that if the case does move ahead, the court should not consider the headline of the op-ed should be struck as Amber Heard did not write it. Johnny Depp was also accused of failing to prove that Amber Heard acted with "actual malice" in writing the article, a requirement for a defamation case. Hence, Ben Rottenborn told the court it was a "gatekeeper of the First Amendment" and should dismiss the case.
Benjamin Chew argued that the most convincing and most disgusting evidence that came from emails sent by the ACLU to the Washington Post pitching the idea of the piece. In the email that was showcased earlier in the court, one ACLU executive approached The Washington Post editor and asked if they'd be interested to publish an op-ed written by Amber Heard, who, "as you may recall, was beaten up during her brief marriage to Johnny Depp".