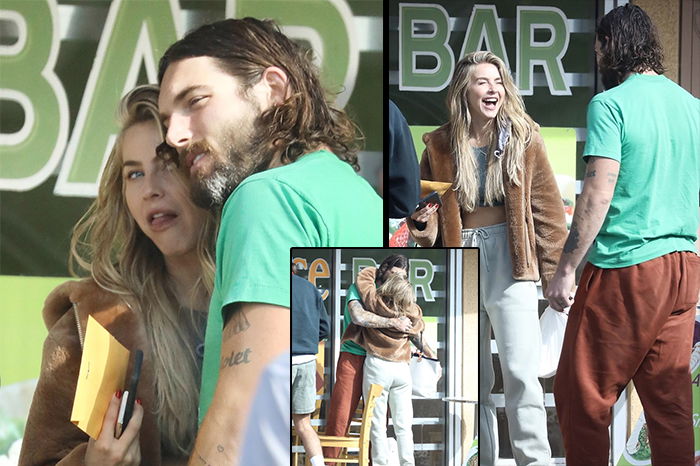 American dancer, actress, singer, and songwriter Julianne Hough was spotted kissing model Charlie Wilson after ending her marriage with former hockey player Brooks Laich and filing for divorce a year ago.
Julianne Hough was spotted outside a restaurant in Los Angeles on a Friday afternoon i.e., 19th November, and greeted and kissed her potential beau model Charlie Wilson before heading inside to pick up green juices and a brown bag of food. For her Friday afternoon lunch, the KINRGY founder wore a furry brown jacket over a gray sports bra and a pair of sweatpants and finished off her appearance with a pair of warm slippers. Charlie Wilson, meanwhile, sported a casual outfit consisting of a green T-shirt, copper slacks, striped socks, and white sneakers.
A source told PEOPLE that the dancer-actress-singer is enjoying her time with her new flame and is not rushing herself into a relationship just yet. The source added, "Julianne has not been dating Charlie Wilson very long but seems happy and enjoying her single life. She is attracted to him, but it's early and could just be a flirtation. She wants to be in a relationship, but has a busy career and intends to keep building on it."
PEOPLE revealed in May 2020 that Julianne Hough and her husband Brooks Laich had decided to split after three years of marriage. The couple released a statement at that time, "We have lovingly and carefully taken the time we have needed to arrive at our decision to separate. We share an abundance of love and respect for one another and will continue to lead with our hearts from that place. We kindly request your compassion and respect for our privacy moving forward."
According to reports, the couple had hit a rough patch in their relationship and decided to spend their quarantine separately, where Brooks Laich spent it in Idaho and Julianne Hough at home in Los Angeles. Julianne filed for divorce later in November 2020. A source close to Julianne Hough shared with E!, "She decided that at this point in her life she wants too much freedom to be married. She couldn't make a commitment to move forward, and it wasn't fair to Brooks. He wants a family and to move ahead with his life. They aren't on the same page. She loves him dearly and really wanted it to work, but she always ends up back in the same place, which is realizing she doesn't want to be married at this time in her life."
In August, Brooks Laich went official with his new relationship with CrossFit athlete Katrin Tanja Davsdóttir. Julianne Hough had previously been linked to actor Ben Barnes, but a source later confirmed that the pair have been friends for nearly eight years.
Julianne Hough recently returned on 'Dancing With the Stars season 30 finale as a guest judge as her brother Derek Hough who was tested positive for COVID-19 was under quarantine while the finale was shot. A source said at that time, "Derek is under quarantine and recovering, he will still very much be a part of the show, appearing virtually as well as in a pre-taped segment."
Julianne is a two-time Dancing With the Stars champion, having won the mirror ball trophy back-to-back in seasons four and five, then returning to the show as a judge for a few seasons before departing in 2017. The contestants were thrilled to have Julianne return on the sets as a guest judge.
Professional Jenna Johnson who was JoJo Siwa's partner mentioned during the time, "Julianne is the reason I started doing ballroom! So to have her judge this finale just means the world." Where Cheryl Burke who was a partner of Cody Rigsby said to ET, "I've known Julianne since she was 10 years old, so we go way back. It's always nice to have old contestants or old pros come back on our show and judge, so she is amazing, and she knows what to look for. She's a great replacement for Derek, so I'm really excited." The finale aired on 22nd November 2021 and Iman Shumpert and Daniella Karagach were announced as the winners, while JoJo Siwa and Jenna Johnson were announced as runner-ups.