Madonna "Queen of Pop" shared the trailer of a documentary film recounting the tour of her concert on Paramount+ in October 2021.
On her 63rd birthday, she formally declared her collaboration with Warner Studio which agreed to publish her full recorded music archive including her last three Interscope Album.
To celebrate the 40th anniversary of her recording career, she will inaugurate a series of document versions in 2022.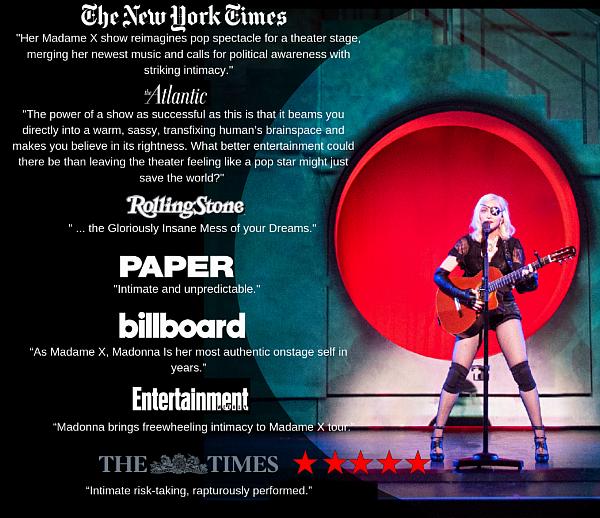 Madame X is the fifteenth studio album of the all-theatre tour globally, started on September 17, 2019, and ended on March 8, 2020. Music critics approved the album and praised its innovative way of composition. The archives which are put together were acclaimed with one of Billboard's gem live shows of 2019.
The album consists of several live music performers including Mike Dean, Mirwais, and Jason Evigan filmed until the concert's performances in Portugal. The album also promoted the Queen's children and many dancers from all over the world.
The documentary will reveal her combat with her injuries on hip and knee, owing to which she has to postpone and cancel some of her shows. The musician stated that she was in excruciating pain and with every song she sang on the stage, she prayed lord that she could play in the next show.
One of the reasons being her injury, there were production issues and pandemic spread in Paris which also led to the cancellation of 18 shows out of 75 decided shows. Due to Covid restriction, she had to finish three days before the final date of her concert.
Trailer details
The video opens up in a grayscale mode of Madonna taking a puff off a Cigar and viewing at the camera with a pair of glasses. A variety of spotlight is sparkled on the stage while the artist starts the 2019 single "CRAZY."
In between the video, a message is created for the audience that "Artist are here to disturb the peace" which is highlighted by many flashes of the spotlight.
The Grammy-award singer is spotted in various dresses in a small teaser as it shows clippings from many stage events. Also, the artist can be seen dancing covering the full stage along with the onstage back dancers.
Also, many statements at the backdrop were shown like "I Rise", "A New Democracy" and many more constitutional messages.