Priyanka and Nick is newly-wedded couple goals even after three years of their marriage. As the beautiful couple stepped out for a lunch date, fans couldn't help but drool over their chemistry. Priyanka and Nick are always head over heels on one another and they never leave a stone unturned for PDA. While indulging in a scrumptious meal, the adorable couple couldn't take their hands off one another and shared a sweet kiss on their date.
Beach Blanket Babylon restaurant in London, England is filled with love vibes of the husband and wife as they exchange love gazes. While Nick Jonas looked cute in a white jersey top paired with black trousers, Priyanka made the environment sultry with her long-sleeved top and pony look complemented by her statement jewellery and sunglasses.
As Jonas and Chopra are waiting to welcome their third wedding anniversary in December, the couple seems to be enjoying their honeymoon to full capacity even now.
Lovable messages and hashtagged couple goals comments poured in on social media on Nick and Jonas' cute image. As Madhu, Priyanka's mother sat right across them, even she couldn't stop the love vibes filling the place.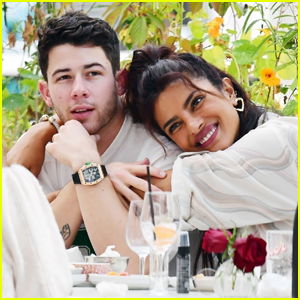 Like always, Nick and Priyanka had an amazing date and were not hesitant to show off their PDA in public.
Sharing the 'moment' with her fans, Priyanka wrote "my everything.. 3 years today. Seems like a blink and a lifetime at the same time. I love you" on Instagram. Within a few minutes of sharing the moment, the adorable images created a ripple effect on all social media platforms.
Just a week before the lunch date, Priyanka and Nick were seen walking hand-in-hand at the Crown London Aspinalls Casino. The couple were never short of giving the paparazzi some cute and 'worth viral' moments. As the couple flaunted their fashionable outfits at the Casino, they didn't miss the chance to flaunt their love for one another as well.
The romantic couple can either be seen spreading their love in public places or sharing their cute moments on social media. As the duo shared their engagement photos of 2018 celebrating their 3-year anniversary, the latest 'viral' moment had the fans drooling all over the couple. The couple with happy faces enjoying their moment at a waterside table is one of the most liked pictures on the internet. The picture captures the happy Priyanka Chopra flaunting her diamond ring with her hubby Jonas holding her hand with love-filled eyes.
Priyanka is always cozy with her 28-year old husband, while Nick is always caring for her 39-year-old wifey. Beach Blanket Babylon restaurant is a pleasant, comfortable, and romantic place for couples. A perfect spot for a couple like Nick and Priyanka to spend some quality time with one another as they escape the public gaze. But, how can the paparazzi and fans miss the wonderful chance?
Priyanka's sweet kiss on Nick's cheek is an envy for all singles and couples as well.