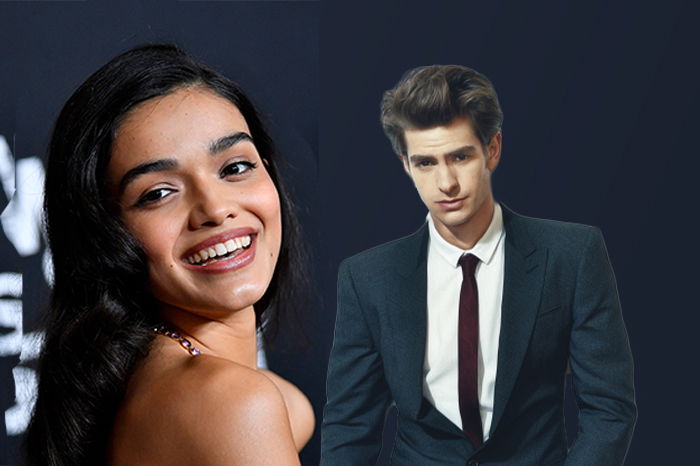 Two stars of the year Rachel Zegler and Andrew Garfield, recently bonded over their shared love for theaters and musicals, as Andrew Garfield appreciated Zegler's performance in West Side Story by saying, "You are in my favorite movie of the year."
The very pleased actress could only gush back, "You are in my favorite movie of the year," referring to his performance as Jonathan Larson in Lin-Manuel Miranda's film "Tick, Tick … Boom!" Needless to say, the actress is also a big fan of Garfield in Spider-Man: No Way Home, where he reprised his Peter Parker role.
But apart from loving his hit films, Zegler is also a fan of Garfield's work in HBO miniseries, Angels in America. "I watched you break onto the stage in "Angels in America" so brilliantly and beautifully," she said. "Then to watch you in a musical portraying someone that I hold so near and dear my entire life. I never thought I would get to see Jonathan Larson live again. I want to thank you for bringing Jonathan into this day and to the forefront of conversation," she said, thanking the actor.
"One of the amazing things about being a part of "Tick, Tick … Boom!" is that it is just continuing those ripples," Garfield said, gushing as Zegler complimented him and he returned it. "Just like you are continuing the ripples of Stephen Sondheim with "West Side Story." That's what's so profound about Jonathan. He woke up every morning and decided that he had to sit at the piano and create in the face of abject failure and poverty. With no one ever giving him his flowers, giving him the harvest that he so deserved."
Unfortunately, Jonathan did not get to live through his fame, and Garfield said that the fact "deeply' moves him. "It's testament to those of us that feel called and compelled to create and be artists, come what may," he explained."
The actor also shared with Zegler, "It makes me think about this moment for you, and how you must feel like you've gone in a certain way from zero to a hundred. You are meant to be doing musical theater. You are meant to be acting. You are meant to be singing; it's a vocation for you."
As the conversation headed this way, Zegler detailed her first experience with performance arts. She revealed that her first work on stage was Fiddler on the Roof when she was about 12 or 13. Though she said only about three words on the stage, she said that the live experience made her very happy.
"I was so in love with getting onstage and people reacting in real-time. There's an instant gratification to performance art. The vocation, filmwise, came from watching Steven Spielberg's work," she said. "I realized how important it was to so many people. Now I want to do film more than anything."
Garfield, himself shared what it was like for him to work in theater again. Though he has been in the acting industry for a long while now, he shared that getting the role in Tick, Tick, Boom! was essentially a novel experience.
"When Lin-Manuel Miranda first showed me the rough cut of "Tick, Tick," I became that 17-year-old drama student again. Suddenly, I wasn't a 38-year-old man that's been doing this for almost two decades," he revealed. "I was suddenly having a conversation with myself as a younger artist, wondering where I was going to end up and then ending up where I am."
The two actors then congratulated each other for their Golden Globe wins while Garfield acknowledged that HFPA is long overdue in change and needs to evolve its ways to become a better organization.
The West Side Story itself went through a few changes to where it is today. "The evolution of "West Side Story" has been a long one. In 1957, it was onstage for the first time with an incredible creative team, and yet it missed that cultural mark," she admitted. "And then the Bob Wise film in 1961 — it missed that cultural mark, besides Chita Rivera and Rita Moreno."
However, the story has tried to instill changes over time and evolve to better serve the culture. "This time around, we evolved to a place where we're properly representing the people that the story is about," she shared. "I think of the Globes. This is a step to get to a place where we're representing our audiences and representing the people who are behind the camera and in front."
Now Rachel Zegler gets to act in Snow White, and while the character has a strong connection with people of Latin descent, there have not been many Latin actors who portrayed the role.
"Never in a million years did I imagine that this would be a possibility for me. You don't normally see Snow Whites that are of Latin descent. Even though Snow White is really a big deal in Spanish-speaking countries," she explained. "Blanca Nieves is a huge icon whether you're talking about the Disney cartoon or just different iterations and the Grimm fairy tale and all the stories that come with it."
"But you don't particularly see people who look like me or are me playing roles like that," continued Zegler. "When it was announced, it was a huge thing that was trending on Twitter for days, because all of the people were angry."
"We need to love them in the right direction. At the end of the day, I have a job to do that I'm really excited to do. I get to be a Latina princess," finished Zegler.