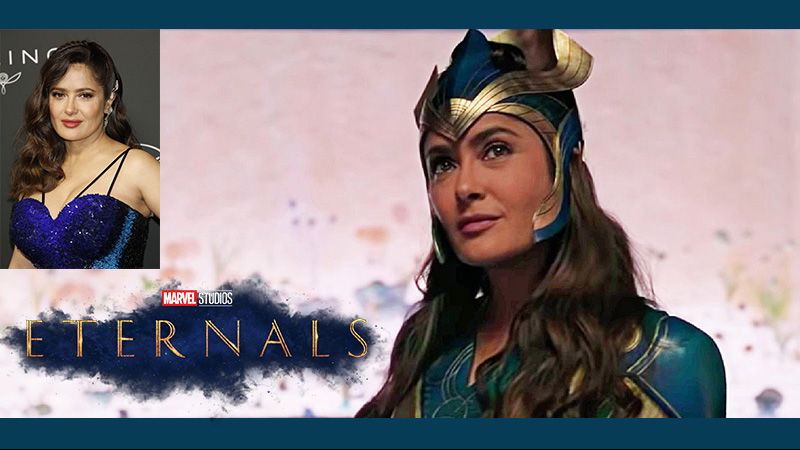 Salma Hayek the Mexican and American film actress, director, and producer recently revealed it to Entertainment Weekly regarding why she almost declined the role of Ajak in Marvel studio's one of the most awaited movie "Eternals "
Salma Hayek has had her share of struggles in the film industry, she has done few low-budget movies before getting her first huge break when she was cast in the movie Desperado (1995) opposite actor Antonio Banderas. The major turning point in her career was a biographical film, Frida a famous painter of Mexico in 2002 for which she was nominated for many renowned awards.
On being cast as Ajak
Salma who is well known for her beauty and for being one of the first Latina actresses to have a successful film career in Hollywood was offered the role of Ajak, the sensible and powerful leader of the Eternals on Earth.When offered the role she was a bit hesitant about taking it up. Salma Hayek was shocked to receive a role of a grandmother and jokingly said she is used to being asked to play an extra or an old prostitute.
When she heard the movie was going to be directed by Chloé Zhao she was ready for the meeting. The movie also stars renowned actors Angelia Jolie and Kit Harrington, Gemma Chan, Lauren Ridloff, and others.
About Salma's Character
All the Marvel fans are in for a treat as Eternals will be introducing a lot of new superheroes to them. One of them is Ajak the leader of Eternals, In Marvel Comics, Ajak is a man who leads the Eternals in different battles, Ajak has been associated with the Marvel Universe for a long time.
Ajak the character was created by Jack Kirby. Eternals are a bunch of superheroes who are a race of immortals who have superhuman powers. They are secretly living on Earth for thousands of years, and reunite again to battle their mortal enemy Deviants.