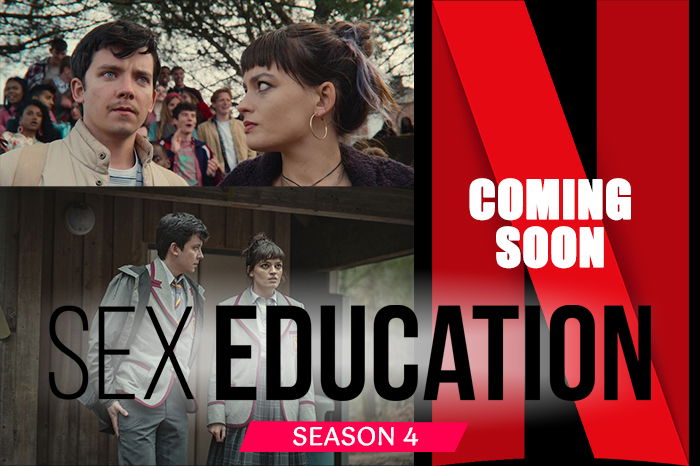 Sex education season 4 is coming soon!
The Netflix hit series had soon taken over the internet with its rolling out of the first season itself. But now, with the news of the fourth season in action coming out, fans can not help but be excited to see what more is in store in the latest season of the series. Here is everything you need to know about the released date, cast, and more probable seasons of the show!
In a Twitter post earlier this fall in September, the series' fourth season was finally confirmed! As the first and the second season had rolled out earlier in the years 2019 and 2020 in January, keeping aside the September release of the third season due to Covid, fans are nurturing high hopes of getting to see the fourth season early in the next year, too.
However, as you can expect, shooting the fourth season has been no cakewalk either. The shooting schedule of the series has been "slow and painful" due to the pandemic restrictions as shared by the show's creator, Laurie Nunn. When talking with the Evening Standard, she also added, "Everybody really had to dig quite deep – there were a lot of emotions swirling around."
Hence, a January release next year will be a far-fetched idea, considering that we just got to finish the third season of the series. So, fans can expect to watch the fourth season somewhere around the fall season, again.
Sex Education season 4 cast: Everyone who is starring
First and foremost, Gillian Anderson will once again be returning to the series after her character's very near experience with death. Jean, played by Anderson, hanging by the bare thread of life as she suffered a postpartum hemorrhage, and fans were mostly scared senseless that maybe she might not make it. Luckily she did and is now back!
The series will star the star regulars in their usual roles. Emma Mackey as Maeve, Asa Butterfield as Otis, Ncuti Gatwa as Eric, Connor Swindells as Adam, and Aimee Lou Wood as Aimee. Also, returning: Kedar William-Stirling as Jackson, Dua Saleh from season three as Cal, Patricia Allison as Ola, Tanya Reynolds as Lily, and many more!
We might also get to see Anne Marie Duff reprising her role as Maeve's mother Erin and Hannah Waddingham, the Emmy Winner from Ted Lasso returning to take over the role of Jackson's mother Sofia, again! However, there are no high chances of getting to see Headmistress Hope actress Jemima Kirke ( Girls ) again. The character had wrecked a lot of havoc in Moordale high only to be nicely hindered by the kids of the school.
And of course, there is also 'Goat.' Talking about the series with Digital Spy, Wood shared, "How the day was going to go was all dependent on her. Because honestly, I had no control over that goat. And I didn't want to. I wanted her to lead the way." New characters will also be introduced in the next season, two of whom will be trans, Abbi and Kent. They are being referred to as a "power couple," and Abbi channels "90s Winona Ryder vibe"! Abbi was forced out of her home by her very strict and religious parents and now has to live with Kent and his family.
Abbi's character bio reads as follows: "Abbi is the leader of her group and the queen bee of her college. She's sunny, magnetic, generous, and loyal." Kent, who is trans-masculine, luckily comes from a family that accepts him as he is, but he is struggling with the concept of being a popular kid at his college. Kent is "goofy, forgetful, and a great listener" and is currently together with Abbi.
Sex Education season 4 plot and spoilers: What will happen?
Maeve and Otis are presently not a thing, even after his very elaborate voice message, which of course, she did not hear as Isaac had deleted it. Hence, things got awkward as Otis thought Maeve did not want him, and Maeve thought that he was a big arrogant fool. Also, Otis went on to date Ruby.
But Isaac conceded that he deleted the voice message, which made people think that Maeve and Otis would finally happen. But Maeve picked off to 'Murica' with the aim of making her "disgustingly big brain even bigger." Still, as a fan, you could hope. Nunn shared the interesting dynamic of Maeve and Otis' relationship when talking with Glamour.
She said, "I think what's really lovely about writing the Otis and Maeve romance is that underneath it they are also really good friends who have a lot of respect for each other." "I liked writing that scene and getting Otis to a place where he was able to put his emotions aside and just say, 'I am really proud of you, and obviously we will work out whatever we are, but right now you just need to pursue your goals and ambitions.' I think that shows a lot of growth in him as a character, but also in their relationship," she continued.
"No matter what happens for them in the future, they've got that real grounding of respect and friendship underneath it, and it was really nice to kind of get them back to that place because it's been a bit tumultuous."
While the fourth season is in sight, the show will probably not run for many more seasons. Butterfield told Digital Spy, "I think it's a relatively simple story this one," and added, "Obviously we're in college, so there's that time constraint. I don't think this show would ever go for 10 seasons. But I don't know. Until I read the rest of season three, it's very hard to tell." "I don't think it needs more than four or five. But who knows."