Getting to meet your ex's new boo is the height of awkwardness, but Hollywood celebrities are just built differently. Who could imagine becoming best friends with their ex's new love, but these celebs really reimagine modern relationships for us?
Back in the good old days when Game of Thrones was still airing, Taylor Swift had shared she was 'bending the knee for the Queen of the North,' making a reference to Sophie Turner's iconic GoT character. Sophie Turner also happens to be Taylor Swift's ex's wife and was together with Joe Jonas when she worked in GoT. Similarly, Sheree Zampino was one of the first celebrity guests on Jada Pinkett Smith's Ted table Talk, and while Smith is the wife of Will Smith, Zampino happens to be his ex.
While breakups are never pleasant, these celebs surely make being friends with your past boo's lovers look cool. Read further to know all the deets on these celebs and their unconventional relationships:-
Lenny Kravitz and Jason Momoa
Lenny Kravitz and Jason Momoa are just the stuff from dreams with all their gentlemanliness and exceptional manners for their lovely families. Kravitz was married to Lisa Bonnet back in 1987 and continued all the way to 1993. In those years, the couple brought home their daughter Zoe Kravitz, who is now starring in the latest Batman movie.
Now Bonet is married to Jason Momoa, and the two families are enjoying the best of familial bliss. Both Kravitz and Momoa refer to each other as 'brothers' and are frequently seen supporting the other's career. Momoa once bought Kravitz what he called an "amazing bone skull ring," while Kravitz accompanied Momoa when the latter had to perform at the SNL.
Talking about his ex's present husband, Kravitz shared, "I met Jason when they got together, and I love him, he loves my kid, and I love their kids, and we're all one big family. It's beautiful."
Miranda Kerr and Katy Perry
Miranda Kerr shares her kid with Orlando Bloom, who is now with Katy Perry, and the two ladies couldn't be more in awe of each other. The former couple was together from 2007 to 2013 and share a son, Flynn. Now years later, Kerr has married Evan Spiegel, the founder of Snapchat, and Katy Perry is engaged to Orlando Bloom.
The two couples are very respectful of each other, and during a November 2020 interview at Drew Barry's talk show, Kerr shared that she 'adores' Katy Perry. "I adore Katy, and I just feel so happy that Orlando has found someone that makes his heart so happy because at the end of the day, for Flynn to have a happy father and a happy mother is just the most important thing," said the model.
She added, "I'm just so grateful that Orlando and Katy found each other and that I found my incredible husband and that we all really respect each other."
The two lovely ladies also went on to have an Instagram Live session together in April 2021, and the two talked about becoming mothers and their respective relationships.
Perry said, "One of the great things about being close to Miranda is I get to try out all her products, especially when her son comes home with them in his backpack."
Drew Barrymore and Alexandra Michler
The two ladies refer to each other as having "won the lottery" as they found each other. Drew Barrymore and Will Kopelman were together before Kopelman married Michler in September 2021 and share two daughters together.
When Barrymore talked with Dax Shepard on his podcast Armchair Expert, the actress shared that she has a strong relationship with his ex's wife. The actress said, "I just feel like I won the lottery with her, like, I really did. I feel like I'm lucky that there's this new beautiful soul that came into our lives."
While the actress said that she is not in the line to be BFFs with Alexandra Michler, the lady didn't refrain from using some strong words suggesting how much she loves Michler. In fact, she said that Michler "knows that I absolutely worship the ground she walks on, and I'm her biggest cheerleader."
Demi Moore and Emma Heming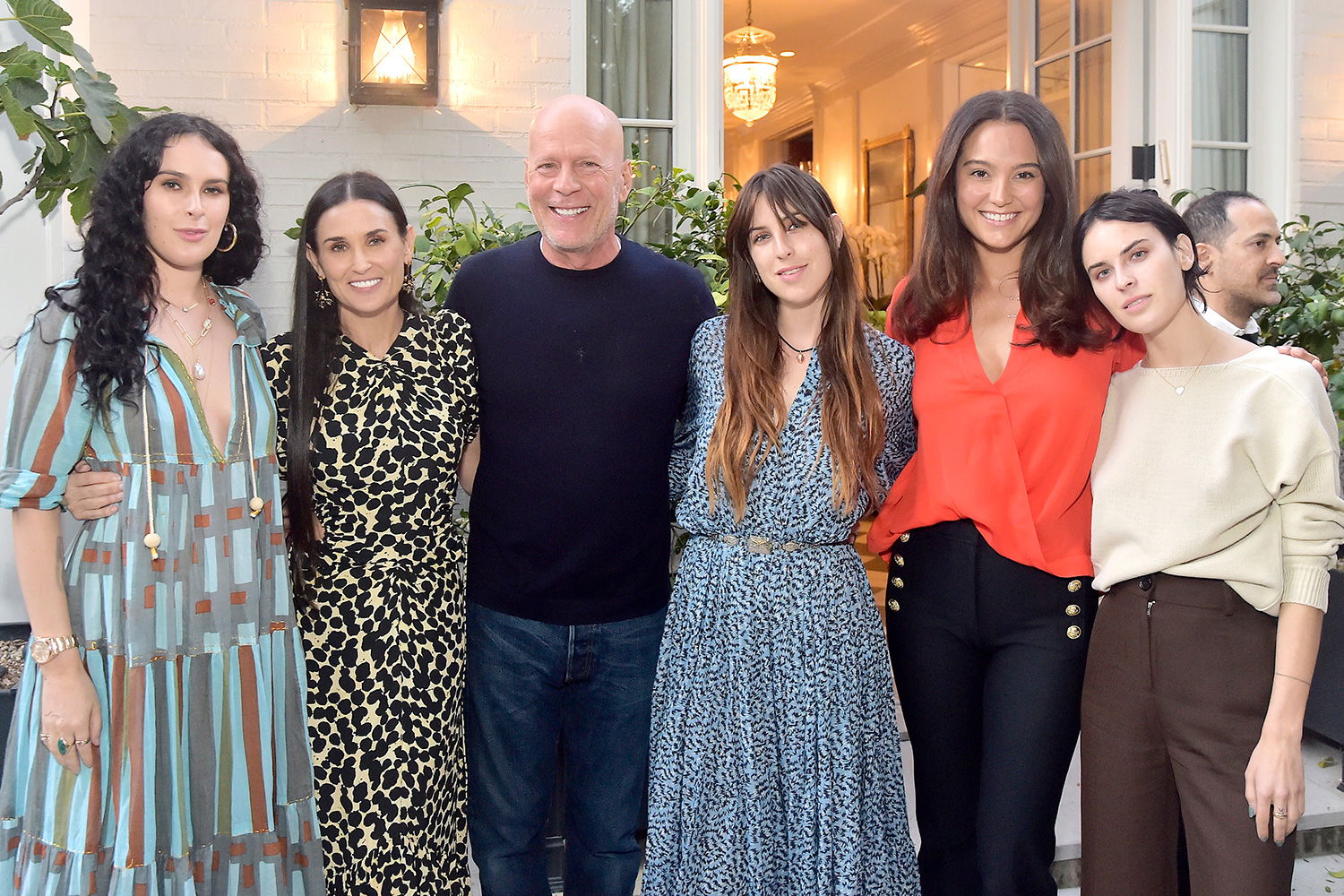 The actress and the model call each other 'sisters' and their relationship couldn't be any better. Demi Moore was in wedlock with Bruce Willis for 13 years from 1987 to 2000 after they eventually divorced. Now, the actress is a die-hard fan of Willi's new wife Emma Heming and dedicated a post to the latter through an Instagram post and named her as one of the women who inspired her.
Moore wrote in the post: "Our children are sisters, and yet there is no name for what our family connection is to one another. We are mothers united, sisters bonded on this crazy adventure of life. Emma is a beautiful mother dedicated to her family, an absolutely gorgeous woman, and now she can add business entrepreneur to her resume."
Heming herself also shared a loving post for Moore back in 2021 and labeled the star as one of her favorite people.
Gwyneth Paltrow and Dakota Johnson
It would be such an honor to be called 'absolute gem' by Gwyneth Paltrow, and Dakota Johnson got the pleasure of being called just that. Johnson is now the lover of Paltrow's ex-husband, Chris Martin, who is also the lead man of the popular band Coldplay. The former couple still hangs out with each other at times and sometimes even without their new partners.
Gwyneth Paltrow appreciates the new lover of her ex and shared a sweet post for Dakota Johnson's 20th Birthday back in 2019. She captioned the post: "Happy 30th birthday to this absolute gem" and shared it along with a heart emoji. Then in January 2020, Paltrow opened up more about her relationship with Johnson when talking with Harper's Bazaar. She said, "I love her. I can see how it would seem weird because it's sort of unconventional. But I think, in this case, just having passed through it iteratively, I just adore her."
Sarah Silverman and Molly McNearney
Sarah Silverman has a great relationship going on with her ex Jimmy Kimmel even when their romantic relationship is over. While the two are definitely close friends, Sarah Silverman is also on great terms with Molly McNearney, who happens to be Jimmy Kimmel's present wife.
Silverman and Kimmel had dated for seven years from 2002 to 2009 when they ultimately split up, and then Kimmel started dating Molly McNearney. The two tied the knot in 2013, and the relationship unexpectedly expanded to Silverman too, who is now happily friends with McNearney. Silverman can be seen on Kimmel's live show quite frequently and once even joked that she is waiting for the end of Kimmel and his wife's 'tryst.'
McNearny was extremely open about her dynamics with Silverman, even back in 2014, when she told Glamour, "She is incredibly funny and talented and very good on the show. She's always so kind to me, she's so warm, and I just admire her on so many levels, personally and professionally." The comedian returned the sweet favor in January 2019 when she posted a picture with Kimmel and McNearney and wrote: "Good Time."
Busy Philipps and Samantha Bryant
It takes a special kind of family bond to go on a holiday together with your ex and his new lover. But it looks like Busy Philipps, Colin Hanks, and Samantha Bryant are managing just fine. Philipps and Hanks were friends back in Uni, and then they had started dating, as Philipps revealed when she guest-hosted Live with Kelly the past year in December. In fact, Hanks was also a part of the show and was a guest.
The American actress shared that she is now super close to her ex's wife, and she revealed, "He was my college boyfriend!. We are very, very close friends now – his wife and I are tight, he and my husband hang out. We go on holiday together. He's real excited that I'm here." Now, Philipps has been together with screenwriter Marc Silverstein since they tied the knot in 2007, while Hanks is married to Samantha Bryant, a publicist, from 2010.
Taylor Swift and Sophie Turner
The two ladies are definitely the best BFF pair seen in Hollywood, ever! Their relationship runs so deep that Sophie Turner once even posted a song that Taylor Swift wrote about Joe Jonas, who is now the latter's ex and Turner's wife.
Swift and the Jonas Brother's boy band's lead man dated for a hot minute in 2008, and now Joe Jonas is happily married to Sophie Turner since 2019 after having been dating since 2016. For a fact, Taylor Swift released a song about how she always picked apart "the boys who broke her heart," but now she is sending "their babies presents." Significantly, the song was released around the time Sophie Turner had her baby daughter with Joe Jonas in July 2019.