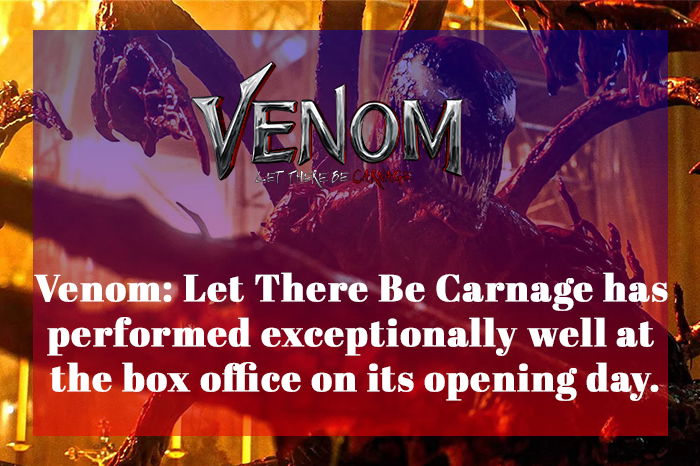 Venom: Let There Be Carnage has performed exceptionally well at the box office on its opening day. The film went bonkers on its opening box-office night with even competing with the likes of Marvel Studios Black Widow and Shang-Chi and The Legend of Ten Rings.
Based on reports and sources by Deadline, the superhero film earned a whopping total of $11.6 million at the box office on its opening night 30th September.
Venom Let There Be Carnage's box office performance on its opening day clearly indicates that the film will supremely reign at this opening weekend's box office collection as it was projected and estimated by several critics and studio itself that the superhero epic will earn over $60 to $40 million at its opening box-office weekend.
Recently, actor Tom Hardy, while promoting the film shared some details about his character Eddie Brock and how he would like to see him evolve in the future.
He said, "I like to see Eddie Brock as a professional coward. Sort of a vain, lazy, narcissistic everyman in many ways... I think he's a noble soul, but I just think he's come to a certain path when Venom appears. And it's horrendous."
Hardy added, "You have this primal beast who says we should do absolutely anything we want because we can. And it doesn't matter about consequences because it's insignificant, which is like the greatest therapy you could ever have, except, you know, it means running around biting people's heads off and ripping buildings apart."
As the film is released fans are busy discussing the various details of the movie, one such detail is its shocking post-credit scene that surprisingly features fan-favorite superhero Spiderman.
The post credit-scene begins with Eddie and Venom while resting in a hotel room the alien symbiote starts revealing "80 billion light-years of hive knowledge across universes would explode your tiny little brain," the gnarled voice of Venom says, offering his human host a taste of "just the smallest fraction of the things we symbiotes have experienced."
After which suddenly the room rumbles with both of them realizing that something fishy is going around them. Later on, Venom and Eddie discovers that they might just be another universe when the duo sees on the television J Jonah Jameson is exposing Peter Parker also known as Spiderman.
The English Tom Hardy while attending a promotional event of Venom: Let There Be Carnage shared that how the idea of his voice as Bane in the Dark Knight Rises came into his mind.
He said, "That was actually a really cool choice that Chris [Nolan] made. Bane quintessentially is Latinx in origin...and I'm not. So I looked at the concept of Latin and found a man called Bartley Gorman, who's a Romany gypsy. The king of the gypsies, in inverted commas, is a bare-knuckle fighter and a boxer. And he said [doing Bane-like voice], "When I get into a ring with a man, and we want to wipe you off the face of the Earth, and he wants to kill me." And I was like this is great. And I showed Chris. I said Chris, we can either go down a sort of arch Darth Vader route, straight just neutral tone villain voice, or we could try this. And this I've been thinking of just in case we've got to consider the roots and origins of Bane. But we could get laughed out of the part of it, it might be something that we regret, but it's your choice ultimately. He says, no I think we'll go with it. And that was that. And we played with it and made it a bit more fluid, and now people love it [laughs].
The director of the film Andy Serkis will next be featured in DC's upcoming superhero film The Batman in the role of Alfred, Serkis talked about his character in the film during an interview.
He said, "I would say that's not far from the truth," the star said. "It's very much about the emotional connection between Alfred and Bruce. That's really at the centre of it. And it is a really exquisite script that Matt has written."
Serkis was quick to add some kind words about Michael Caine's rendition of the character in previous films. "He [Caine] was fantastic. His Alfred was legendary, I couldn't even begin to go there, really. You find it for yourself. It's like playing these iconic roles in Shakespeare, you go back, you revisit them and you have to make it your own, and see what it is about the character that connects with you and your personal Venn diagram."
Last week, similar details were also revealed by him about The Batman film, while attending an event for Venom 2.
Actor/director Serkis said, "I've been totally forbidden to speak about The Batman, of course," Serkis began. "But what I will say is that I'm pretty certain Matt Reeves, who is a very dear friend of mine and of course we've worked together on the Planet of the Apes movies, I know for a fact he's making a pretty amazing picture. I really think it's going to be special."
The English actor Serkis was also seen in the superhero franchise Marvel Cinematic Universe films playing the role of Ulysses Klaue in multiple films such as Avengers: Age of Ultron released in 2015 and Black Panther released in 2018.
Based on the Marvel Comics Sony Pictures Venom: Let There Be Carnage is a film directed by Andy Serkis and produced by Columbia Pictures along with Marvel Studios and Tencent Pictures. Sony Pictures is in charge of distributing the film.
The film has a huge list of superstars such as Michelle Williams in the role of Anne Weying, Naomie Harris In the role of Frances Barrison, Stephen Graham in the role of Mulligan, Tom Hardy in the role of Venom also known as Eddie Brock, Reid Scott in the role of Dan Lewis and films main villain Woody Harrelson in the role of Cletus Kasady also known as Carnage.