Kelly LeBrock is an American actress and supermodel who debuted in the industry alongside Gene Wilder in "The Woman in Red" in 1984. She was merely 16-years-old when she started modeling, and at the age of 19, she starred in a 24-page spread in Vogue magazine. Later, she worked 30 days a year for Christian Dior on a contract basis, and soon Kelly became one of Eileen Ford's most sought-after models.
Almost two decades ago, after a highly publicized divorce from Steven Seagal in 1996, the actress-model bid adieu to the industry with no intention of returning on-screen. She took this step to live a simple and paparazzi-free life, but in her most recent interview with Fox News, the actress-model is opening up about the same.
Kelly said, "Hollywood wasn't a place where I wanted to raise my children. My divorce was very much in the press. And I'm just not a Hollywood girl. Never before, I never really liked the attention. I wanted to have dirt on my nails and be in the outdoors. " The actress also mentioned that she did not keep up with the media during her time off the limelight either, because she wanted to keep her family away from the paparazzi.
The actress added, "So I quit my career and moved to the wilderness, where I lived with no television for 25 years. I did the best that I could as a single mom. I have three wonderful children. I could always go back to my career. I could never go back to my children. Some people can do both. But I already had the fame and was done with it. " Talking about the fame she got when she was young, Kelly LeBrock shared that being famous at a very young age did nothing good for her but only brought trauma, anxiety, and stress to her life for which she was not ready. The actress added that being famous is not for everybody.
Kelly LeBrock shared her insights about the digital age too, where social media is very important, and she added, "It's gotten out of control." I don't want any part of it. I don't have a computer. I have internet, but it's bad service. And I like it that way. I'm very happy. " Talking about raising children out of the spotlight, she said, "The divorce wasn't easy for the children. It was a difficult divorce. I wanted to shield them from the press. And they developed quite nicely. And that's all that matters to me at the end of the day. "
Kelly is now returning on-screen with gangster comedy "Tomorrow's Today." She shared that in the past two decades, there have been times when she had an urge to return to work, but when she thought about it once, the urge or little itch would go away. Furthermore, she mentioned, "I've been offered a TV series and sort of the way I would be interested in doing it would be to write with the writers." It's a cop thing. And I think these New York cops need some sort of comic relief. I don't think there's enough of that. So if I do anything, I'd like to bring some relief. "
In Tomorrow's Today, Kelly is going to play the character of a grieving mother and the ex-wife of a former gangster as she helps him reform. It's a role Kelly LeBrock wrangled on her own. When she was asked what drew her to play the character, she said, "I'm a professional ex-wife*." [Director] Timothy [Hines] is very persistent, and he assured me that he would take very good care of me and make me look great. But I also think he put together a wonderful little film for little money. I read the script, and it had potential. It had a heart, and Timothy was working on it constantly. And in the end, it's a nice little story to tell... [Co-star] Greg [Kritikos] is such a doll. He's quite the character. And the rest of the cast was warm and incredible. It was a good experience for me". She added that she has three remarkable children, and she has had her own experiences where she has faced possible and potential tragedies with all three of them. Her experiences with them have touched her heart deeply, and thus, she was able to play the character with the utmost honesty. Kelly added, "I wanted to show how grief can sometimes be subtle and quiet. It never leaves you, even when you try to be private about it. "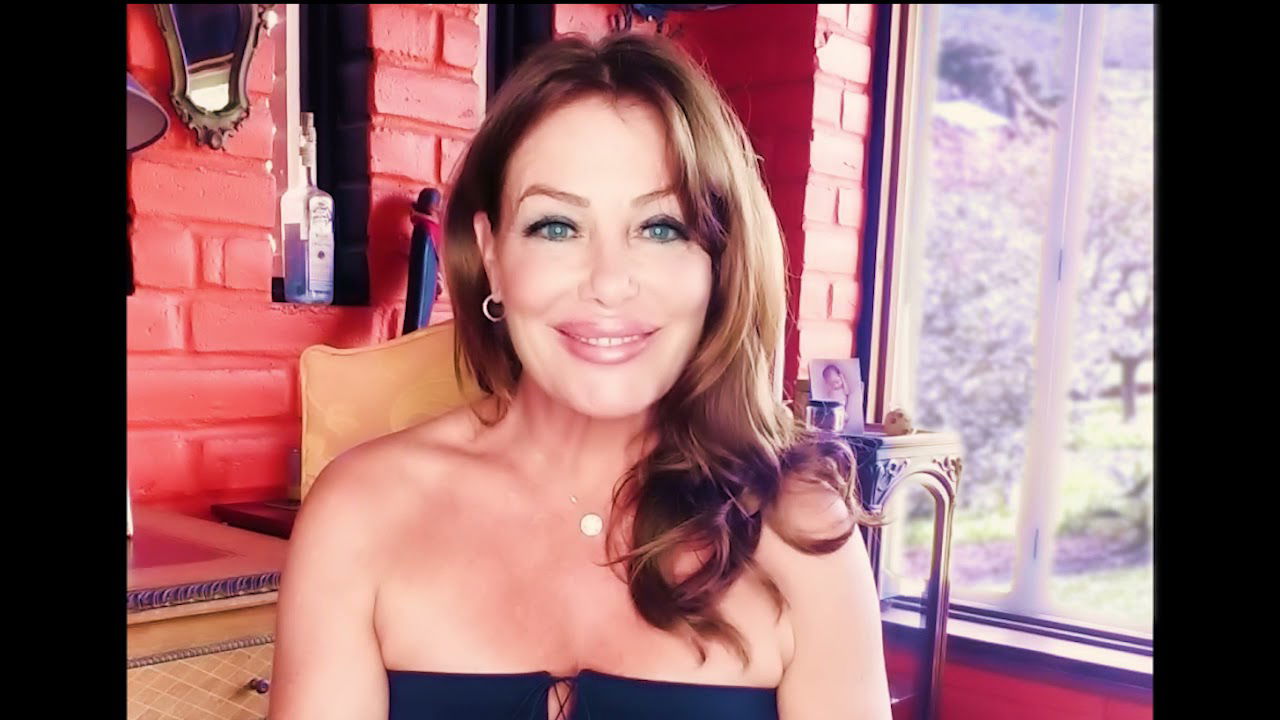 Kelly answered the question about being selective with her choices at the moment and what kind of roles she'd like to take up with, "I don't even really have an agent. To be honest with you, I can't be bothered. I just want to ride my horse, eat good food, and drink lovely wine. I want to enjoy the rest of my days. I'm a grandmother to three amazing grandchildren. I want a simple life. I don't care about doing movies anymore. There has to be something really special in the script for me to say yes. There was something special about this script. I do love to cook and eat foods that are healing, beneficial, and very tasty. Perhaps there might be a cooking show that somebody's interested in doing with me. "Kelly's Kitchen" – I like the sound of that. But I live in a very beautiful place, and I'm perfectly content. I'm dating, and I hope to find my last partner. That would be wonderful".
Kelly LeBrock was referred to as a sex symbol back in the day, and when asked if that title ever hurt or helped her, she said that she did not mind it either way and jokingly added that it's better than being ugly. The actress-model further mentioned, "Hello, let's start right there. But you've got to be goofy too. It's absolute nonsense that after a certain age, you're no longer allowed to be beautiful. You can be beautiful at any age. It's up to us as women to feel beautiful and say, "I'm beautiful." The skin wrinkles and eventually we are left not with youth, but with our experiences. And that, to me, is more beautiful and sexy than some sweet young girl who doesn't have much to say. We need to believe we're beautiful. If you don't believe it, how is someone else going to understand it?
Kelly's daughter ventured as a model in 2017 and told the publication that the only piece of advice she'd like to give her is "don't be anybody else." The actress, who is all set to return on-screen, takes immense pride in sharing that her children are grounded and are good with themselves, which brings her so much peace.
Information Source: Fox News