SPOILERS AHEAD
As 'Grey's Anatomy' prepares to return, Kevin McKidd gets candid about his character's possible future after ending the previous season on a cliffhanger.
Kevin McKidd who plays Dr. Owen Hunt on 'Grey's Anatomy' spoke to People Magazine about his character and the possible future of his character as the audience saw the ending of the previous season was left on a cliffhanger.
Kevin said, "I love the character of Owen, I play him. But also, I sometimes get mad at him. I'm like, 'What are you doing, dude? Like, why did you do that?' But that's part of why I love Owen." In Thursday episode of 'Grey's Anatomy, Dr. Owen Hunt who survives a near-fatal car crash accident reunites with Dr. Cormac Hayes played by Richard Flood at the hospital, and when Cormac thanks him for urging him to escape the vehicle, Owen replies, "You could thank me by forgetting what I told you." To which Cormac replies back to Owen explaining, "If I do that, then I'm an accessory to a crime."
Taking back to what Owen said to Cormac during the time the two of them were in the car was the fact that Owen had administered medication to a patient (Noah) to help him die. Owen tries to justify his action once again to Cormac by stating, "Noah was dying, you know that. He qualified for a Physician-Assisted Death." Cormac urges Owen to own up to his action and tell the Chief the truth and says, "You saved my life and I have to spend what's left of it looking after my boys. I can't go to prison. Come forward. Tell Bailey what you've done, what you plan to do next. The longer you hold this secret inside, the worse it's going to get. Tell the truth so I don't have to."
Talking about his confession in the car to another doctor, Kevin McKidd states that Owen confessed because he was pretty much sure that he is not going to survive the crash but he did. Kevin explains, "He genuinely did not expect still being alive after that fall. I understand why he did it. He's very impulsive and goes with his gut. Sometimes that's a great thing, and sometimes that gets him and the people around him in trouble. I do get that he really wanted to honor the promise he made this veteran who served his country and Owen's very connected to that promise."
The actor admits that when someone in the medical field does not go along with the protocols then things are going to go haywire Owen is pretty much on that path right now and things could go bad for him especially his relationship with his wife Teddy Altman played by Kim Raver. Kevin shared with the publication, "You have to go through the correct protocols and Owen is not exactly going through the correct protocols, the way he's been handling this. He's kind of not just broken the rules, but he's also put his own family, and Teddy, and everybody kind of in jeopardy if it ever came out. And that causes big, big problems for him and Teddy. It will take some time for them to work through, because rightfully, Teddy is like, 'Why are you doing this without even consulting me, your wife? Which is, again, a very valid point. So we'll see that coming unraveling as this season progresses."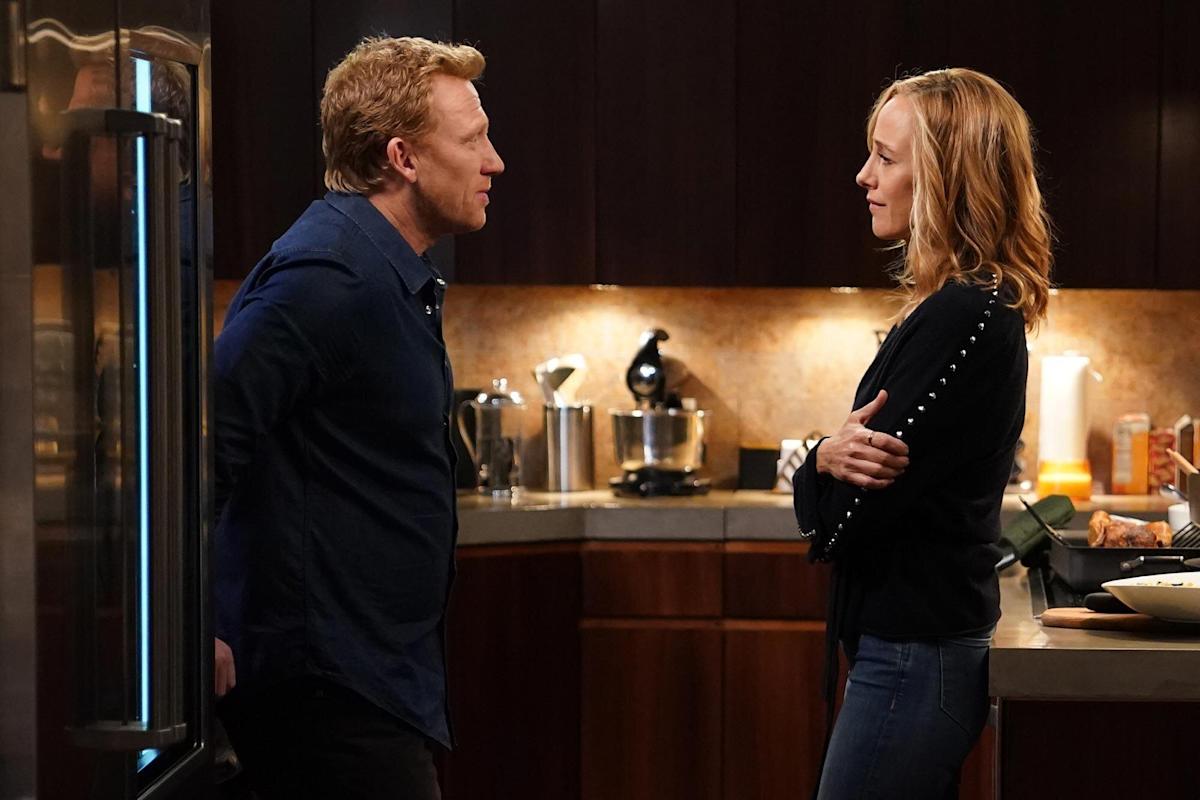 Kevin McKidd who has been vocal about the wonderful experience he has had while portraying Dr. Owen Hunt on the show since he started in 2008 and so many amazing experiences that the characters bring along, the actor just seems very grateful. He said, "Most actors dream of having a job that's going to last three years [and] this thing lasted all this time. I've been here for so long that I can't imagine life without this. Obviously, it will at some point end, but the way I feel about it is I'm just going to savor it until that day comes and really try and be conscious of what blessing this is because this will probably never happen again in my career."
Kevin lastly adds, "Grey's Anatomy has had this global reach and everybody loves it and it really can affect some change, too. It creates conversation, it teaches people about certain issues. It does so many things. I'm proud to be part of it." While Kevin seems stoked to play Owen on-screen, the lead actress, Ellen Pompeo who plays Dr. Meredith Grey has expressed her desire to not continue her acting after Grey's Anatomy.
Back in August, the actress hinted during a podcast interview that she is okay with hanging her acting hat post Grey's Anatomy. She said, "I'm not saying I'll never act again, I very well may, but I'm not super excited about continuing my acting career. The acting, even though I haven't done a million different roles, I feel like I've done it. Sitting around in trailers, traveling around, shooting this in Atlanta, shooting that in Vancouver. I have no desire to go sit in trailers at 11 o'clock at night and wait to shoot scenes and have ADs knock on my door and tell me when I can eat lunch. You know, it's for the young at heart. It's for the youth!"
Well, she hasn't decided on leaving Grey's Anatomy yet even though she mentioned that she has been trying to convince the makers that the show must end, the show got renewed for season nineteen in January. So maybe she's going to stick for a while.