The three-hour finale of The Bachelorette season 18, titled "After the Final Rose," premiered on Tuesday, where it was revealed that Michelle Young picked Nayte Olukoya as her soul mate and broke up with Brandon Jones.
The finale, which was shot two months ago where Nayte proposed to Michelle, and she said yes, was premiered on Tuesday, but one question that baffled a lot of people was when Michelle said that she loves Brandon Jones but did not pick him instead of Nayte. During the live After the Final Rose special, Brandon and Michelle came face-to-face to talk about things, especially why she didn't pick him but Nayte.
Brandon Jones said to Michelle Young, "I'd rather listen and rather hear your side because, from what I saw, I guess I have my views and opinions, but I'd rather hear your side, so I can get the whole clarity. I guess I just wanted to know what was going through your mind because I know there's a lot that didn't happen or didn't show. "
Michelle responded by saying that she was able to give everything she had (emotions and feelings) on the show. She added, "I truly didn't believe that I would be one of those people who would be able to fall in love with two people. That's just not something that I ever thought was possible. "She continued to explain to Brandon her side of the story by stating, "I shared my thoughts and feelings with you. Those were my true, honest thoughts and feelings. I cared and I do care about your feelings. I care about you as a person. I decided to share that I was in love with you. I wasn't sharing that because I had already made a decision. I was sharing that because there was something that I had been holding back and because I didn't think I was capable of falling in love with two people. It was really hard for me to honestly come out and talk about that. "
Brandon and Michelle's breakup during the finale was described as "heartbreaking and tough," and to this, Brandon added, "I knew you were going to break my heart. I knew you show your emotions through your eyes and everything you do with them. And when I walked up, I saw your heart was pointing in different directions. "
Brandon later confessed to the elementary school teacher that he was a little confused after he sent her home and added, "Breaking someone's heart isn't easy, but I just felt like you had to push Nayte to that point. It was just kind of confusing when you never had to question me, but you had to keep questioning him. But again, sometimes we don't understand what our hearts are telling us. Sometimes you just know what you want. "
It has been reported that a lot of people were amazed at Michelle's decision to go ahead with Nayte and break up with Brandon, but they believe that the breakup was hard on both individuals. Before leaving, he left a note on her door before the final night, which said, "You will never have to ask me for my love." On the final day, Brandon expressed his love to Michelle with his last emotional words, "I truly believe that you're the missing piece I've been searching for my entire life and I don't want to spend another second without you." I don't want to walk another day without you. I don't want to wake up another morning without you. I would truly be the luckiest man to walk this earth if I got to walk it with you. "
In the end, the runner-up of the show, Brandon Jones, wished Michelle Young nothing but happiness and mentioned that he would always be there for her if she ever needed him. Brandon also told the host that he felt certain that Michelle would choose him over Nayte. He told the host, "I think just going in, I thought I was so certain. Ultimately, I just wanted the best for her. I just wanted her to be happy. I wanted her to truly find her person because, going into this, she did express that she was scared of not finding her person. And so I'm glad that she did. Congrats to her and Nayte. The biggest thing for me was coming to the understanding that she did find her person, she did find happiness. So I'm thankful for that."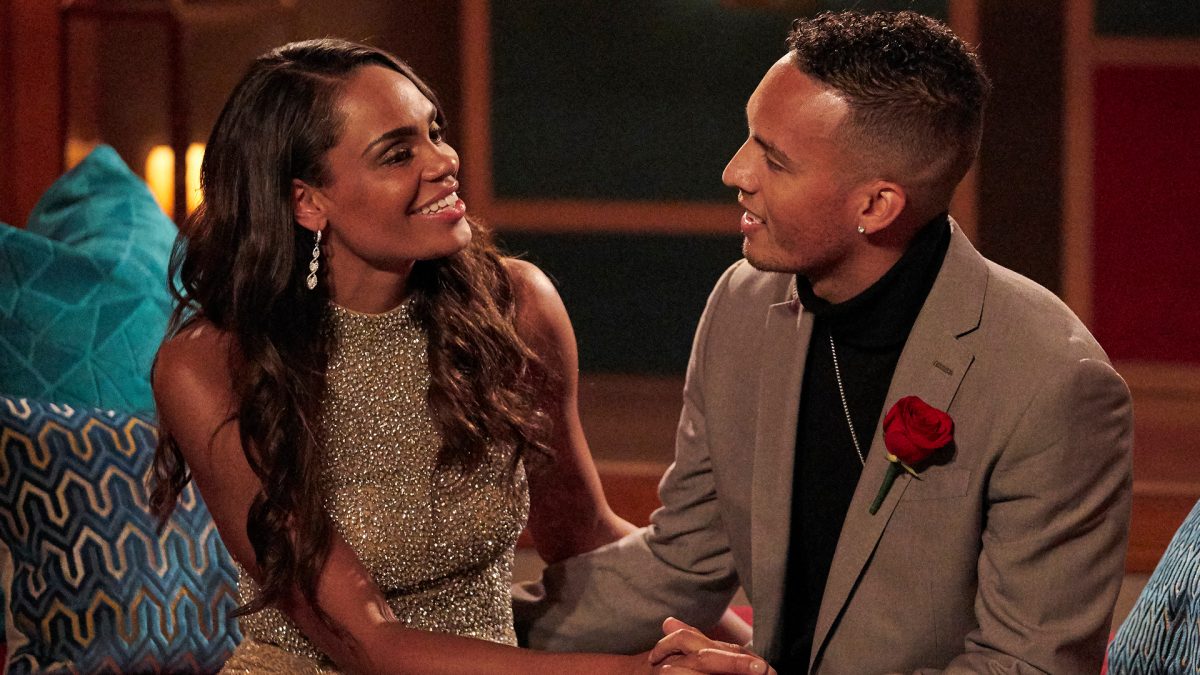 Brandon lastly added, "I will always, always, always love Michelle. Unfortunately, I don't think it would be respectful to love her in that manner anymore. I want her and Nayte to truly be happy. I will always love her, I will always care for her, and I'll always put her first. " Kaitlyn showed a beautiful picture of Brandon reflecting on the beach after his and Michelle's breakup. Brandon said the beautiful sunset was God's way of telling him that everything would be okay. It was also reported that when Brandon met Michelle's parents, they told her that Brandon was easy to connect to and wanted him to be the one, even though she later clarified that the entire family was happy with Michelle's decision, and they very much liked Nayte.
On Michelle and Brandon's last date, she did tell him that she was falling for him but was not 'right there, but later, when he took her into the bedroom to give her his favorite sweatshirt, she told him that she felt like she was "in love" with him.