Zendaya Coleman has enjoyed a great time starring in hit series like the forever amazing Euphoria and, of course, will always be remembered as Michelle "MJ" Jones. At the age of 24, she has done great work in the cinema world and now has a movie franchise to her name. While her on-screen acting sure does its magic, it is Zendaya on the red carpet that steals the hearts of her fans.
Zendaya is this gen's fashion icon, undoubtedly. A force to be reckoned with when it comes to both her acting skills and fashion sense, Zendaya never disappoints on the red carpet. Whether it is Met Gala, the MTV VMA awards, or any other red carpet event you can think of, Zendaya always has a fit to woo with. While she might have a great ensemble of designers at her beck and call, fashion sense can't be bought with money, but Zendaya sure knows how to style herself. She possesses a timeless style that feels fresh with each and every new look that she rocks on the red carpet.
What is most fascinating with her red carpet styles is that she is never afraid to try an unconventional look, but she rocks your traditional ball gowns ever the same. Yet, when on the red carpet, her style could range anywhere from silhouettes enhancing gowns, patterns, and outfits with enough shimmer to blind you. But if that doesn't convince you enough of her unique design, then you need to see a few of the metallic wardrobe collections that she rocked on the red carpet. She even wore armor at the Met Gala. Yes, real armor!
Zendaya's Met Gala armor dress\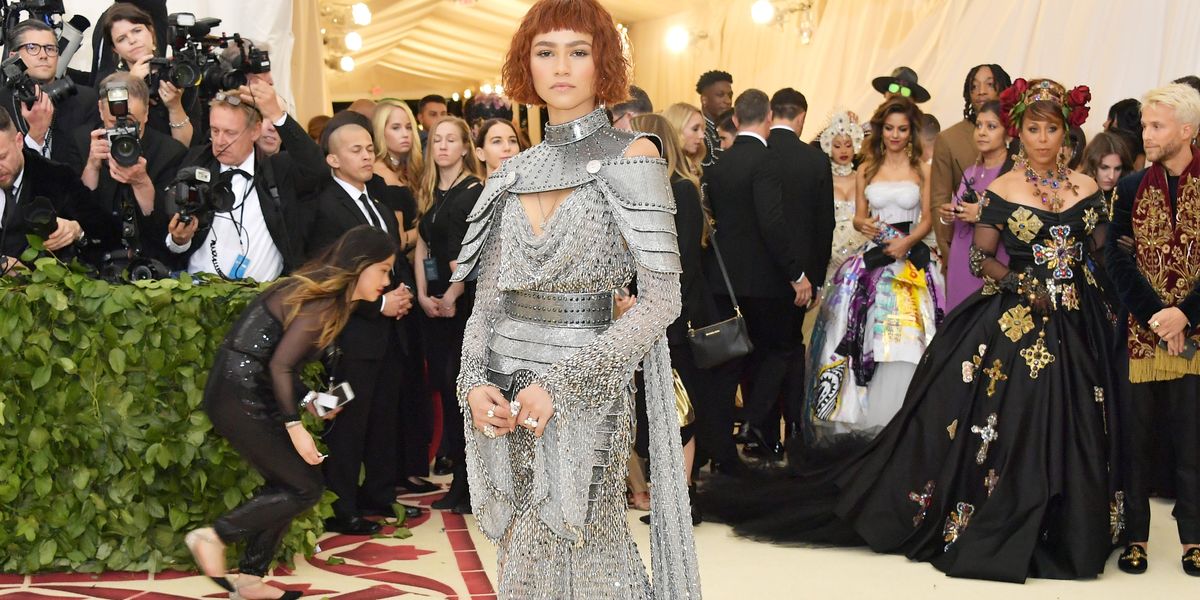 The extremely anomalous dress at the 2018 Met Gala event consisted of full-body armor made out of real metal. The look was so widely successful and appreciated that she experimented with a few more metal looks in consecutive years, and to be honest, she completely rocked it!
The Euphoria actress dazzled in chain mail armor at the 2018 Met Gala, which gave off strong Joan of Arc vibes. The custom Versace dress ran backless and featured a thigh-high slit adding such oomph to the look. The cowl neckline featured two shoulder cutouts at either side, and she looked no less fierce than a warrior who could slay just with their stunning looks!
The dress came with silver tassels embellished throughout the Versace gown and an additional attached piece she wore around her neck. The neck armor consisted of a high metal plate intricately decorated and ornately draped over her shoulders. The tiered accessory armor came with attached sleeves that completed the look. Her accessories included a pair of peep-toe stilettos because what could match better with silver than gold? Her fingers were adorned with elaborate rings, and the look was carried to perfection with a red wig styled into a short wavy bob.
Critics Choice Awards armor dress
What's better than a single armor dress? Two of those!
Zendaya's first armor dress was such a hit; she decided to carry on with the theme and add in a little more twist for something even more sophisticated and chic. Full with straps and an armor that looked like it was welded to her bosom, the beauty dazzled in a bright pink armor top and skirt set. The brilliant pink ensemble by Tom Ford featured a breastplate, specifically customized for the Spiderman: Far From Home Actress. The captivating fit of the armor was achieved by modeling the breastplate to Zendaya's body shape. The beautiful breastplate made for what the simple skirt lacked, and yet the combination was alluring at best. She majorly kept herself devoid of any additional accessories than the metallic armor, but her hair was done into gorgeous dreadlocks, which totally pulled off the look together.
Woman in Film Annual Award Ceremony bodycon dress
Taking her love for metal wear a notch ahead, Zendaya was recently seen in a grey and gold embellished Loewe bodycon dress. Styled by Law Roach, the look for the award show was definitely sensational. The Dune actress carried the grey-gold contrast fabulously and did well with the gold plate molded into the grey fabric. The stylist was himself in awe and took to sharing the actress's exquisite style on his Instagram account. He wrote: "She was the Queen… @zendaya wearing @loewe SAY SOMETHING??", urging the designer to share his thoughts on the look.
The look was paired with gold earrings that went well with the dress and matching metallic Christian Louboutin heels. Additional points to her makeup artists for balancing all the shine with talented strokes of their brushes.
Zendaya is not shy when it comes to making a statement with her outfits, and she truly is the 'queen' of the red carpet. Totally open to styles that no one else can fathom, the actress does great with all that she is endowed.