Kylie Jenner's highly anticipated 'Kylie Swim' line debuted on September 17th, 2021, and was nearly sold out within hours. The beauty mogul's swimwear, which costs approximately $80, and the sarongs around $45, has received a lot of flak for the poor quality of material used to make it.
Customers who ordered the much-anticipated and much-hyped swimsuit online turned to social media to voice their thoughts on the swimwear and chastised Kylie for selling out the "low-quality" items for such a hefty price. They didn't hold back in stating that Kylie's brand was expertly advertised, prompting them to purchase the products but the better version of it is available in Target.
Jessica Anderson, one of the business founders and proprietor of the '93 Play Street' swimsuit label, gave a TikTok video review of Kylie Swim. She expressed her dissatisfaction with the swimwear because it is see-through. "I've seen what it takes to make swimwear behind the scenes, and the idea that no one spotted this blows my mind,"Jessica continued. "It boils down to a lack of honesty on my part as a business owner and entrepreneur."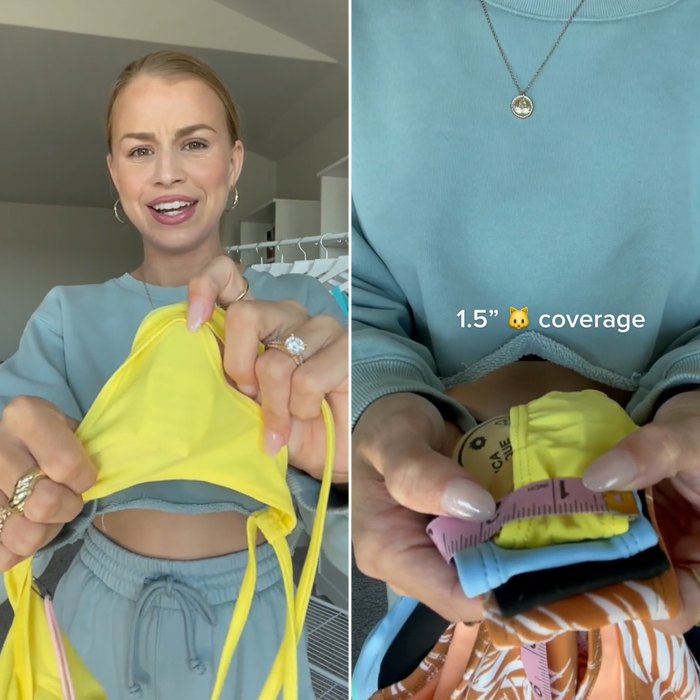 People who have ordered Kylie Swim are spending their hard-earned money on products, and they do not deserve such low-quality products, according to the business owner. Jessica put a bodysuit underneath the swimwear to show the quality and fit to her fans. Jessica also compared the swimwear with the ones in Target and Aerie and stated that fabric that covered the crotch area in Kylie's swimwear is just '1.5 inches'. One of the customers complained that her sarong was too heavy to knot properly and kept falling down. No one would feel comfortable wearing the swimwears because they are see-through.
Many clients who have received parcels from the beauty mogul have taken to social media to highlight the misery they are experiencing as a result of believing in the Kardashian-Jenner Clan's marketing. "Kylie swim has a true PR disaster on TikTok right now,"one of the users remarked on her Twitter account.
Cut it out swimwear is around $80, while conventional triangle bikinis are around $40. They also noted that the swimsuit might require nip covers and that one should be waxed or lasered because any hair down there will show because the front of her swimwear is as narrow as the thong back. (1.5 inches)
Some admirers have published a photo of the swimsuit on social media, demonstrating that the products are created with poor tailoring and stitching, causing loose threads to catch in their fresh new garment. People who were expecting Kylie to release her swimwear collection soon were greatly disappointed by the shoddy stitching and loose threads, as she had done an excellent job marketing and modeling her swimwear.
Customers have chastised Kylie Jenner, claiming that she developed the swimwear for HER physique, not the typical woman's. "It's impossible for me or anyone I know to fit inside these without something slipping out. I'm not sure why she released these, given how few bodies could fit into them," the client continued.
Kylie Swim has once again sparked debate on the Internet regarding people pandering to "unrealistic body types."People then went on to compare Kylie's swimwear line to her sister's, Kim Kardashian West's, claiming that Kim's "SKIMS" is of such high quality with such perfect fitting. They went onto claim that Kim has always strived to create a product that is functional for her clients.
Users quickly drew attention to the fact that when Kylie's initial 'Kylie Cosmetics' line was released, it was a disaster as well, and after getting widespread criticism, she had to work on the goods to correct the errors. She eventually improved the products but a lot of bad publicity had already been spread about it by then.
The return policy on the website specifies that if the products are in new, unworn condition, they can be returned within 14 days of delivery. Customers must submit photographic confirmation that the product they received is damaged or defective, along with all original tags and sanitary liners, according to the policy. The products will be replaced or a refund will be issued as soon as possible.
Kylie Jenner has launched her new line, Kylie Baby, after announcing on Instagram that she is having her second child with Travis Scott. She began developing the brand in 2018 after struggling to find safe skincare for her daughter, Stormi.
The website is now up, including mild shampoo and conditioner for newborns, as well as a bubble bath and soothing moisturizer. Kylie Baby also has hooded towels, a brush and comb set, travel bags, and other items, some of which are already sold out. Kylie mentioned that her daughter approves every product.
Announcing to the world about her new venture, Kylie added, "Kylie Baby was my way of creating products that I could develop from the ground up to be exactly what I wanted for my babies, so that you can have our tried and tested formula favorites for yours. Bath time has always been our special time together and my favorite part of the day, it's so amazing for us to now have these products that she helped me create, to make our bath time even more special. I'm so proud of what I have created for Stormi and for all of you to use on your babies."
Kylie Jenner, a self-made millionaire businesswoman, claims that her new 'Kylie Baby' line is "pediatrician-tested, hypoallergenic, tear free, vegan, paraben, sulphate, and silicone free, scent free, gluten free, and cruelty free."
It would be fascinating to see how Kylie Jenner handles the scenario of receiving such harsh criticism for her bikini line from her consumers and whether she will do anything about the things that have already sold out. She is yet to comment on the backlash.