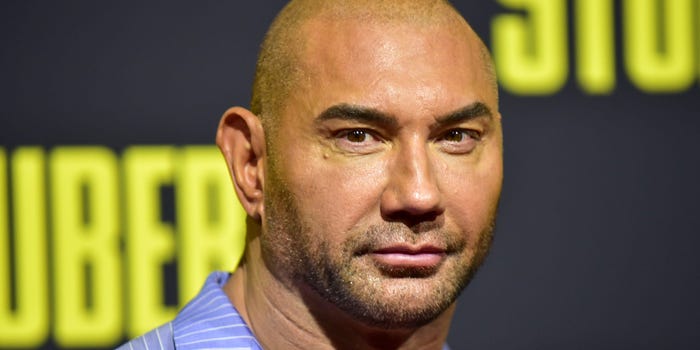 Drax from Guardians of the Galaxy is a Marvel superhero, played by Dave Bautista, that made quite the impression on filmgoers in the first 'Guardians' movie in 2014. When Bautista returned to the role in 2017's Guardians of the Galaxy Vol 2, Marvel fans could not get enough of the former WWE star. However, Dave Bautista will not voice Drax in Marvel's upcoming What If...?, which features a number of Marvel superheroes, including Drax. It is now official that Bautista will not voice the role of Drax in What If...?, Disney Plus's upcoming Marvel superheroes animated series, with the news being confirmed by the former WWE star and actor on Twitter.
Bautista shares a healthy rapport with his fans on Twitter, and when fans noticed Bautista's absence on the cast line on of the upcoming What If...?, they had questions, and Bautista had a prompt response on the microblogging platform. Earlier in the week, a fan asked, "Hey, Dave!! Why won't you be voicing Drax on #WhatIf?" - and Bautista was quick to respond, "Let's start with I was never asked." Fans were reasonably miffed by the news, with one fan commenting, "Well that's just rude!"
The news took the director of the Guardians of the Galaxy franchise, James Gunn, by surprise as well. The director of The Suicide Squad simply responded, "What." Dave Bautista has made no public statements on the apparent snub by Disney, neither has James Gunn. In the past, Bautista has been surprisingly candid about working under the Disney umbrella, saying in an interview with express.co.uk, "I'm kind of just there. I'm a hired actor, I'm told what to do, I'm directed what to do. There's not a massive amount to contribute to the character."
On the other hand, while narrating his experience on the sets of Netflix's Army of the Dead, he said, "It felt much more of a relaxed process on Army of the Dead. I felt much more like I was collaborating or contributing rather than just working for someone." The former WWE wrestler added, "On the Marvel films I feel like I'm working for someone. I always feel like it's still a job. I never went to work on Army of the Dead thinking: 'I can't change things up, I can't do things differently, I can't add this.'"
While some speculate that Disney's snub was brought on by Dave's candid statements on working with the production company, others reason that Disney's decision was financial, with Bautista's fee being the issue. Marvel fans are excited about the upcoming What If...?, but for now, they miss Dave Bautista as Drax.