It is safe to say that Pamela Anderson has fallen in love a fair share of times. From her five husbands, divorces, many lovers, and boyfriends, the actress has managed to command a piece of headlines for her relationships since she ascended to stardom in the 1990s.
Just 5 years ago in 2017, the actress had told W magazine, "Love is the most important thing in the world. Everything else is meaningless, really."
Well, she did manage to fall in love a couple of times later. Most notably, she tied the knot five times in the interim of her relationship histories, beginning with Tommy Lee in 1995, to whom she remained wedded until 1998. She then married Kid Rock, and the two stayed together for two years, from 2006 to 2007. However, the same year she switched husband and married Rick Salmon, and they two could also get to enjoy only a year of wedded bliss together, initially. They again came together in 2014 and separated for good after a year in 2015.
Then she held a private, very secretive lockdown wedding in 2020 where probably legal bindings were not invited. Hence, her short wedding with John Peters ended in just about two weeks. Peters was Anderson's boyfriend from about 30 years ago, and the two had reunited in the first onset of the pandemic and later married for a short while.
Only a few months later, Anderson revealed that she had walked down the aisle once again, this time with her bodyguard, Dan Hayhurst. The surprise came when she again decided to end her marriage of only a little more than a year with the bodyguard and confirmed the divorce news in January 2022. It might be a bit tricky to keep up with the flourishing love life of Pamela Anderson. So, here is a full relationship timeline to make things easy.
Tommy Lee
The very hasty relationship of Tommy Lee with Pamela began on a beach in Cancun, Mexico, where the two eloped to marry only after knowing each other for 96 hours. The couple then welcomed home their two sons, Brandon Thomas Lee, in June 1996 and Dylan Jagger Lee in December 1997. But just a year after the birth of their second son, the couple divorced in 1998.
The two went through many issues together before they eventually separated as Lee was accused on the allegations of spousal battery and was sentenced to 6 months of jail time in 1998. The musician had pleaded no contest in the case. Another of their biggest scandals has to be their honeymoon sex tape, which was stolen from their home back in 1995 and then uploaded on the internet. Additionally, another of Anderson's sex tapes was also with Bret Michaels, the Poison singer.
Marcus Schenkenberg
Apart from the celeb's many weddings, she also got to dabble in a few choice engagement rings, one of which she received from Marcus Schenkenberg. The couple was engaged for a brief while back from 2000 to 2001. Surprisingly, their relationship was mostly private.
Kid Rock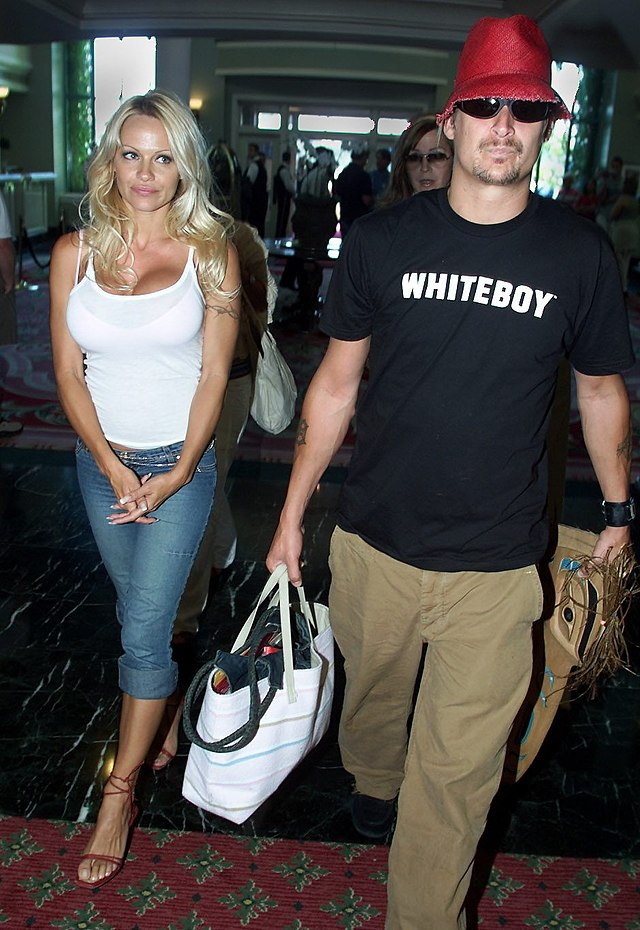 Soon after calling off her engagement with Schenkenberg in 2001, the Dancing with The Stars alum began her romance with singer Kid Rock in 2001. The couple got engaged the next year but then called it quits the following year, in 2003. But soon enough, they came together again, and this time they tied the knot abroad on a yacht near St-Tropez, France, in July 2006. A few months later, Anderson shared the heartbreaking news of her miscarriage, and only 17 days later, she revealed that she will be getting a divorce.
Rick Salomon
The two had a Las Vegas wedding at The Mirage in October 2007. Just a few months into their married life in early 2008, Rick Salomon and Pamela Anderson annulled their wedding. However, the two tried playing their luck again and reconciled their love in 2013. They married once again in January 2014 but finalized their divorce in April 2015 after having split up in July 2014.
Adil Rami
The Blonde and Blonder star took a fancy to Adil Rami, the French soccer player, in 2017, but two years into their relationship, Anderson accused Rami of "living a double life" through an Instagram post. However, Rami firmly stayed adamant about the fact that he did not abuse or cheat on Anderson during their time together.
Jon Peters
The Anderson-Peters history dates a long time back, reaching all the way up to the 1980s. At the time, the two came together and had started dating each other. Later they moved in together in Los Angeles, but when Jon Peters proposed to Anderson, she rejected him, stating their massive age gap of 22 years as the reason. However, The Home Improvement star and the producer did come back together by the end of 2019 and soon married in a secret wedding ceremony in Malibu in January 2020. As they had yet not bonded their marriage in any legal bonds, they quit the wedding just two weeks later.
Dan Hayhurst
The same year in 2020, Anderson said "I Do" to her bodyguard in December. They held their Christmas Eve wedding in the backyard of their home and led a pretty low-key ceremony. The star had told Daily Mail a month after her wedding, "I'm exactly where I need to be — in the arms of a man who truly loves me."
But in January 2022, Us Weekly revealed that she will be divorcing her fifth husband. A source shared, "She was the one who ended her marriage to Dan. There was no final straw. She simply fell out of love."