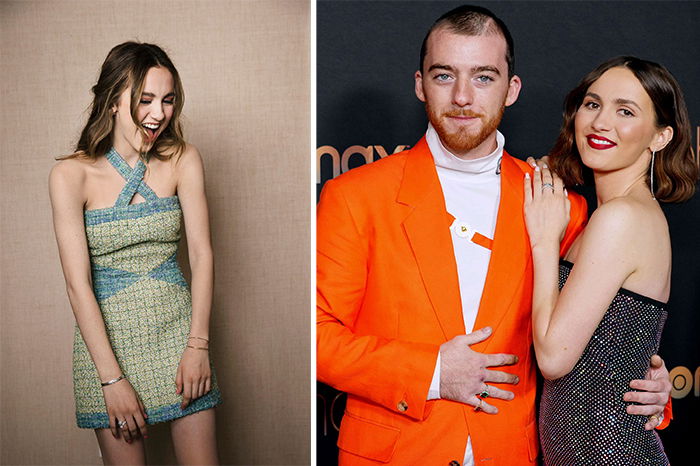 Season two of HBO Max's 'Euphoria' is intresting, intense and dwells into the areas of teenagers that one cannot imagine. It simply gets dark and intense with every episode and Zendaya has mentioned in her interviews that the show is for mature audiences. But there are two people who have been the talk of the town since first episode and have created their little fandom.
We're talking about Fezco played by Angus Cloud and Lexi Howard played by Maude Apatow. The fans have been anticipating for the duo to connect and start a romantic relationship on the show but since the romance is a little far from where we see, a friendship is surely developed in the most honest form between the two.
Finally Maude Apatow addressed the most talked about storyline of the season two, Fezco and Lexi's link up and shared, "I don't fully remember how that happened. When Sam and I were talking about all this stuff, just on the phone kicking around for hours, that came to be. I can't remember specifically how that went down. Once we started talking about it, it totally made sense. And Angus and I, in real life, have a funny friendship. It all just happened. It all felt right as soon as we started talking about it." She also hinted that she sees their relationship growing in season three if things do not go haywire in the finale episode. Maude said, "I don't wanna spoil anything, but I think it is just very refreshing when the relationship feels so like innocent and sweet, like in the last episode they don't even kiss. They just hold hands, and it's building really slowly. And I think in contrast to a lot of the things that happen on the show that are so extreme, it definitely stands out. But I love working with Angus. I think Angus is such a great actor, and we just have so much fun working together. So for selfish reasons, I hope we get to do more scenes together because it's fun. He's just a great partner. He's so present and talented, and yeah, I just love working with him, so I totally would love to keep working with him."
The couple struck up a romance on the show after a New Year's party (episode one) and later was seen enjoying a sweet moment while watching Stand By Me. Maude said, "It's so nice to see people like it that much. I can't even describe how crazy it is to go on Instagram and people have made the most like incredible drawings of us, and these dramatic edits of our love. It's so funny. But yeah, it's a crazy positive reaction. I knew people were gonna like it, because it's pretty sweet, but I wasn't expecting this many people to like it. It's crazy."
Maude went ahead and appreciated co-star and reel life sister, Sydney Sweeney and said, "Sydney and I are very close. It's the same thing, but acting with Sydney is so easy because she's so good. So it's always a privilege to get to act alongside actors who are that good because it just makes your life so much easier. It's amazing getting to watch her work because her work ethic is so strong, and she's always so prepared, and she's just — I don't wanna say she's like a beast, but I don't know how else to describe it. She's just amazing at what she does. We have such a great relationship. So that never was an issue, and we were so happy that we had more scenes together this season because I think they sort of implied all the things about their relationship in season 1, or just little details of it, and then we got to go deeper this season."
Asking about how much Lexi plays a significant role in Rue's life (played by Zendaya), Maude shared, "This season you see more about how Cassie and Lexi's dad was an addict too. And I think she's able to put up with [Rue] because she's had experiences dealing with addicts in the past. Rue is her best friend. When her dad left, she couldn't make sense of that abandonment, and at first, when Rue started doing drugs, I think she thought about it in the same way. She made it her responsibility to save Rue because she didn't want Rue to leave her, and then through the seasons, and through working on the show, she realized how to have boundaries with her, and know what's her responsibility and what isn't. Because I think her whole life, with her family and Cassie, she's always given so much of herself to helping them that she's just completely forgotten to take care of her feelings and issues. But [in] the finale, there's a really good scene with Lexi and Rue that I think is important, and ties everything up in a nice way. It's all leading to this, and the play helps open that conversation that Lexi has always wanted to have, but hasn't been able to."
Euphoria airs Sundays at 9 p.m. on HBO. Episode 8 is going to be the final episode for season two.