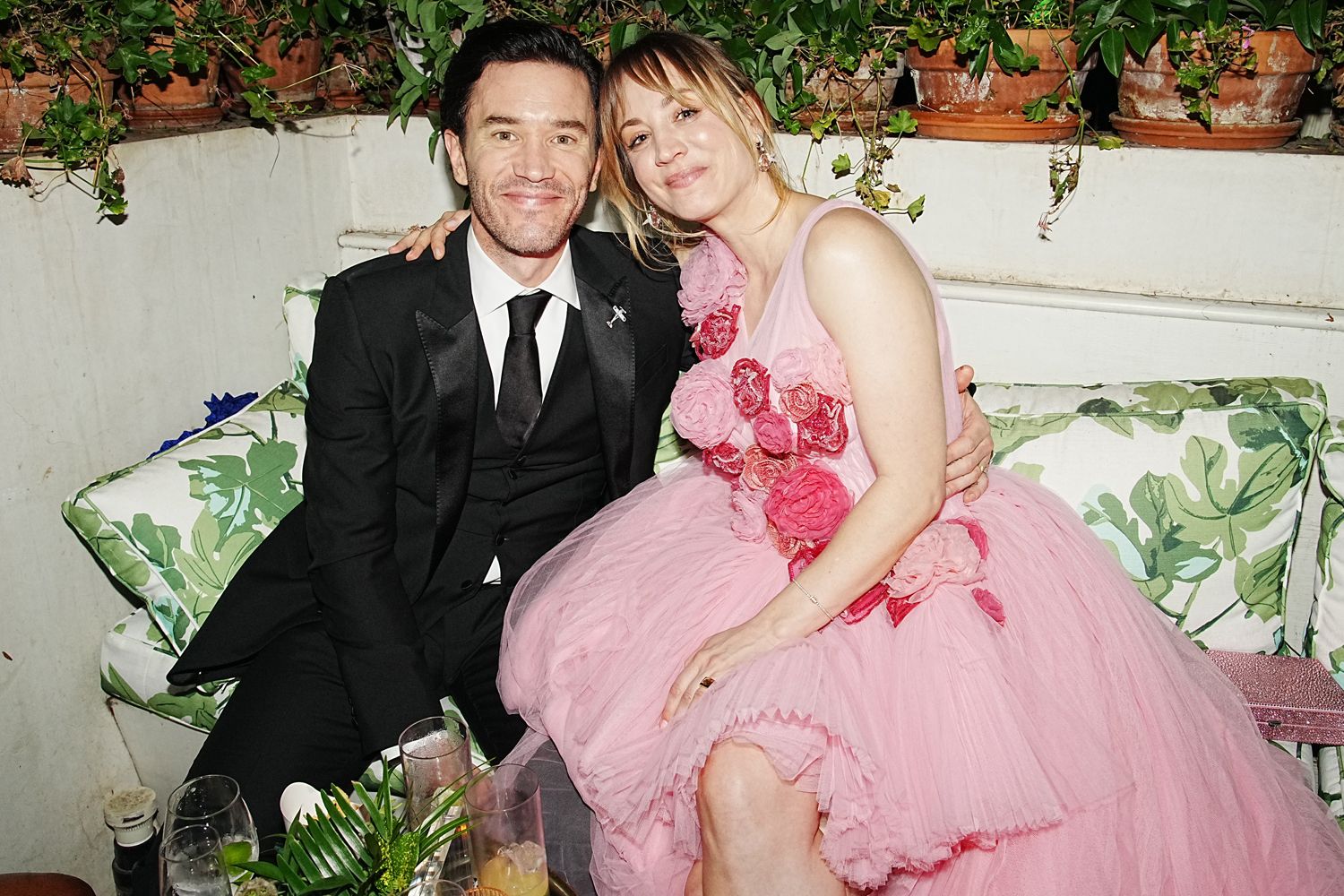 Kaley Cuoco and Tom Pelphrey are expecting.
Kaley Cuoco and Tom Pelphrey took to social media to announce that they are soon going to be parents to a baby girl.
Kaley Cuoco revealed in a couple of photos that they will soon be parents to a baby girl, and they are beyond blessed and overjoyed. Kaley Cuoco also shared photos of her positive pregnancy tests, her and Tom Pelphrey holding mugs that read Mama Bear and Papa Bear, along with picture of onesies for their soon to be born baby girl, and Kaley Cuoco's growing baby bump in her post. Fans were quick to express how happy they were for the actress and her partner as they sent in a lot of love and heart emojis for the new parents-to-be.
A source close to the couple said that it's a crazy time for them, but they are very excited to welcome their child, and Kaley knows that Tom Pelphrey is the right person. The source added that the actress cannot wait to be a mother and the couple has had so much love and support from everyone since their announcement.
Kaley later shared some of her favorite pregnancy moments, including one with stunt double Monette Moio in which she disclosed that she was sick while filming and Monette had to start taking care of her, be her, and perform everything as if she wasn't pregnant. Fans can see the actress slightly curled up on a bed with her eyes closed in another photo she shared, which she shared along with a nauseous emoji sticker. The actress addressed her morning sickness once more, writing that she experienced it every day in between sets.

After Kaley announced her divorce from then-husband Karl Cook, Kaley Cuoco and Tom Pelphrey made their first media appearance together when they sat hand-in-hand to watch producer Greg Berlanti earn his star on the Hollywood Walk of Fame.
Kaley's friend Zosia Mamet shared with ET that she had met Tom Pelphrey and she approved of him as her best friend, adding that he loves her like nobody's business and that is everything that matters to her. In September, Kaley Cuoco and Tom Pelphrey made their official red carpet debuts at the 2022 Emmy Awards.
According to insiders, the couple was in good spirits throughout the event, as they appeared loving and had some light touches showcasing cute and delicate PDAs on the same night they made their red carpet-debut as a couple. Kaley Cuoco held Tom Pelphrey's arm as they talked near the stage, and the couple sat at their table with their bodies and chairs facing each other lovingly, as if they were in their world entirely. When a photographer approached them, Kaley Cuoco cheerfully replied, "Sure!"
On asking how the couple met, Kaley shared with USA Today that they have the same manager, Andrea Pett-Joseph, so they met at Ozark's premiere, in which Tom Pelphrey plays Ben Davis. Kaley said that she went inside and was excited about the event. She met him and added that it was love at first sight. She said that they immediately connected and she feels like she has known him her whole life, but she was not ready for him, but now she is ready to build a life together.
Kaley Cuoco after her divorce from Karl Cook had shared that she would never get married again but is ready for a long-term partnership. Tom Pelphrey recently spoke to ExtraTV where he said that they are beyond excited for their baby girl to arrive and very grateful that everyone's healthy.
Congratulations to the couple.