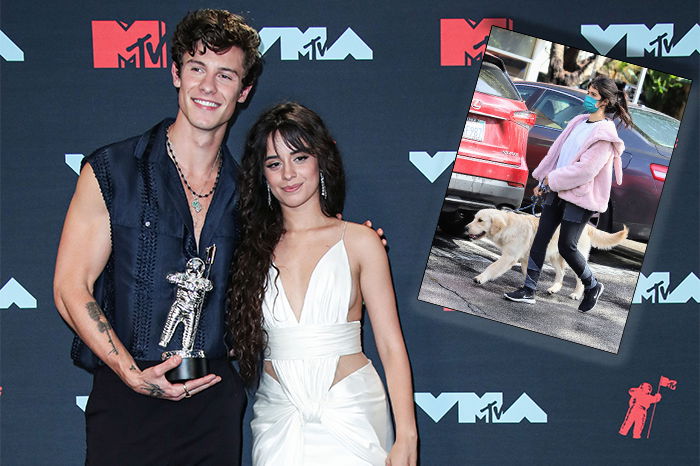 Shawn Mendes is taking the loss of his furry buddy worse than the pain of breaking up with Camila Cabello, his long-time boo. He has been feeling the loss of his dog, Tarzan, worse than ever as Camila got to take the pet with her.
The star is now heartbroken over his breakup with his girlfriend. Shawn Mendes, aged 23, and Camila Cabello, aged 24, had been dating for two years before eventually splitting up late in November. Their breakup news came as a big shock to fans, especially because the two have been going pretty strong for a long time without any news of things getting difficult between the two.
Now, Hollywood Life has revealed that Shawn Mendes has been immensely affected by his separation from the singer, but not because he got broken up with, but because he had to let go of the dog that he shared with Camila Cabello. While the star is trying to bring back things onto the track and deal with the heartbreak, he is being separated from his canine friend that has really been eating at him since the two split up.
An insider close to Shawn shared that the singer is "trying to move on" and might even drop new music soon enough. The source revealed, "Shawn is trying to move on with his life, and he is getting ready to drop a single and go on tour," they continued and added, "Although he is in a good place in his head over the breakup with Camila, there is one aspect of it that he is not okay with, which is being separated from his dog, Tarzan!"
The couple had brought home their new addition to the family just one year ago, on November 3, 2020. Sharing the happy news with his followers about the two becoming dog parents, Shawn shared photos and videos of their new pupper. The cute little blonde baby snuggled with Camila as Shawn drove the car to get home with the baby."Hi Tarzan," he had captioned the post, and besides Tarzan, Camila and Shawn were also pet parents to Leo, A Shih Tzu, Eugene, a chihuahua and Thunder, a German Shepherd dog. The couple was regularly seen taking their many dogs out for a walk around their neighborhood in the company of each other.
Because they had brought home Tarzan together as a couple, they had bonded over him, and Shawn especially developed a likening to the little puppy. The source said, "Shawn and Camila got Tarzan together, and Tarzan had become like a child to Shawn. Now that he and Camila are broken up, she has Tarzan, and he is really upset over the separation from him. He really misses Tarzan greatly."
Making matters worse, it is Camila who gets to enjoy and flaunt the company of Tarzan as she deals with her own heartbreak resulting from the Shawn Mendes split. She has shared a handful of posts dedicated to her little pooch, Tarzan, and said that the furry buddy has been trying to cheer her up this whole time. In a recent video post of Camila, the singer was seen petting Tarzan. The November 25 post shared on Thanksgiving this year included Camila's gratitude for all she has.
The post was accompanied by a heartfelt caption, which read, "I have a lot to be thankful for, but I'm especially grateful that I gotta the whole squad trying to hang with me while I meditate. Happy gratitude day everybody!" The singer also appreciated her big fan base for their support during the hard times, as she continued, "I'm very thankful for all of you on here who send me love, listen to my music, and support me on this creative/ life journey! Even though I haven't met a lot of you, you guys show me love, kindness, and support, and I'm sending it to all of you right back."
It was a big shock for the fans of the couple to hear that they have decided on splitting up and calling an end to their relationship. The announcement came on November 17 where the couple posted a heartbreaking caption confirming that they are no longer together. The post read, "We've decided to end our romantic relationship, but our love for one another as humans is stronger than ever. We started our relationship as best friends and will continue to be best friends. We so appreciate your support from the beginning and moving forward."
However, the couple has taken leave from each other's Instagram handles and does not follow each other anymore. On the other hand, Shawn is eager to find a solution where he will get to have the split custody of his pooch, Tarzan. The source had revealed, "Shawn just wants to see his dog, and he would like to work out some sort of arrangement with Camila where they get to split custody of Tarzan. Shawn really feels that this would be best for the dog."