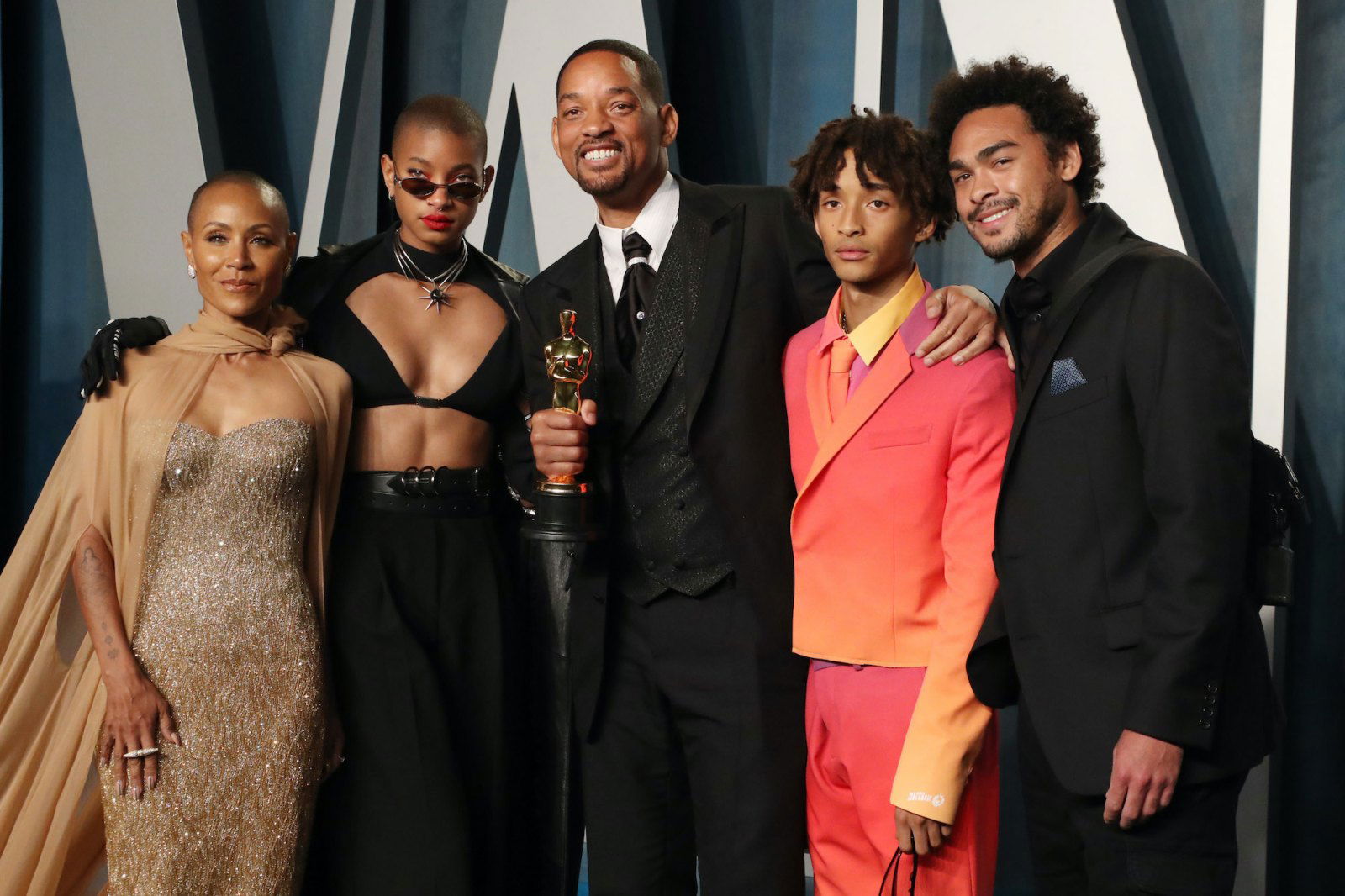 The Smiths are proud of Will Smith.
Will Smith recently took to his social media to apologize to actor and comedian Chris Rock for the Academy Awards 2022 altercation and mentioned in the video that he had also reached out to Chris Rock, who is at the moment not ready to talk about it and will reach out to Will Smith when he feels like it. Will Smith stated in his video that he is going to wait for Chris Rock to reach out to him until then he is going to work on himself and try to be a better person.
According to Hollywood Life, Will Smith's family members are very proud of him for apologizing to the actor-comedian publicly once again and explaining to the world how these past four months have been for him. In the video the actor clarified that his wife Jada Pinkett Smith did not ask him to act or react the way he did on-stage but it was his own decision. Will Smith went onto clarify this as some of the people assumed that Jada urged Will to take a stand for her.
Will Smith's wife, Jada Pinkett Smith, is proud of her husband's public apology and sources revealed that she feels that in addition to the written apology that just a few days after the event Will Smith expressed on his social media, a video apology where Will Smith mentioned that he was sorry for his behavior and the way he responded was far better at expressing the truth that his heart harbors. Will Smith stated, and the sources corroborated, that the actor wishes he could take it all back, but he is powerless to do so, so he will attempt to mend the wounds moving forward and try to do better.
The sources close to the family mentioned that Will Smith is aware that the impact of the shocking moment that took place in March was broadcast live and he knows that there are consequences for his actions. He and his wife have had lengthy discussions about it. It's not an example he wants to set for his children, and Jada is aware that the actor is capable of more. Will Smith reveals in his video why he postponed his public apology for three months.
One of the sources added that the actor had decided to wait because he wanted the apology to be received as a sincere one and not forced because of the image. Will Smith struggled with the decision to wait as he did not want the apology to come off as inauthentic or disingenuous. Will Smith needed some time away from social media and everything to do some soul-searching and wanted to wait until he responded to what had occurred on that stage in front of everyone.
The actor understands that there is a possibility of Chris Rock not accepting his apology as he understands that the slap did not only affect Chris Rock but also his family, friends, his career, and probably every part of his life. In the video, Will Smith apologized specifically to Chris Rock's mother and expressed his deep regret for his behavior. Will Smith is aware that he cannot change what has already occurred; all he can do at this point is make amends, demonstrate his contrition, and go on.
Talking about the kids, Willow and Jaden Smith were firstly never involved in the matter but being related to Will Smith and Jada Pinkett Smith, the kids did get a lot of heat and backlash from the audience and also in terms of their career and within their friendship following the incident for supporting their father. But now the public apology means so much to them as well as they hope that people would be able to understand that the apology although came late but it was sincere and came from a place of love. The kids now believe and hope that everyone can start healing and move on from here.
Will Smith also apologized to Questlove who won the award just right after Will smacked Chris Rock on stage when he was expressing why he hates failing people because it damages his psychological and emotional well-being to know that he did not live up to their expectations of him. Will added that he is trying to be remorseful without being ashamed of himself and know that he is a human being and can make a mistake before saying that he is trying not to think of himself as a piece of shit. The Academy banned Will Smith from attending any Academy related events for ten years and the actors very gracefully accepted the punishment stating that he knows that he was wrong and was ready for the consequences.
Chris Rock has not yet commented on the public apology, but a source mentioned that the comedian-actor has no plans as of now to either accept the apology or reach out to Will Smith to have a conversation regarding what had happened. Chris Rock, at the moment, is focused on his comedy tour and wants to focus on that.