Kim Kardashian-West is doing great with show hostings and comedy gigs for being 'a girl with no talent.' The American entrepreneur and reality TV star delivered some pretty hilarious guffaws while at the Saturday Night Live show last hosted on the previous weekend.
She served spoofs as Rochelle, a Bachelorette looking for love in a beautiful backless sunflower yellow gown, and looked pretty much Kourtney's twin in her favored black dresses. Yet, the looks that managed to serve the maximum sass surely were Balenciaga gowns.
Continuing her infamous relationship with Balenciaga, a French luxury high-fashion house, Kim chose to don their ready-to-wear ensemble during the hosting debut. She wore three Haute couture, curve-fitting dresses that Kim so likes and served three beautiful looks during the event.
The star looked chic and elegant as she posed in her three bright pink dresses that drew attention to her exquisite style. The monochrome dresses soon became a sensation on the internet, with more and more people pouring in to show how much they loved the looks.
Apart from her three seriously cool yet hot pink dresses, Kim made rounds on social media for her SNL debut's opening monologue. Hilarious and yet painfully honest, the star took digs at her family, their exes, their parents, and then their relationships and exes. But her is more on those gorgeous pink dresses that have everyone totally swooning:-
Choosing to wear not one but three monochrome looks from Balenciaga, a French fashion house she has long relied on when she has to slay with her effortless, chic, ready-to-wear style, Kim experimented with styles while staying in the same genre.
She breezed onto the show wearing a velvet catsuit that she featured during her extremely funny monologue. The other dresses were a long pink anorak coat and a curve-hugging spandex catsuit which came with a coat. The queen of bodycon dresses bordered on a cute barbie meets the hottest character you could think of from a video game.
The pink velvet Balenciaga catsuit
Kim descended to the SNL set in an extreme pink catsuit from Balenciaga featuring a turtleneck and heels. The jacquard patterned vibe of the catsuit fit right in with Kim's opera-style pink gloves and completed the trendy look. She went in for her regular middle part hair for styling her look as usually seen in all her cool looks and chose to opt for a minimally accessorized look. She opted for simple yet gorgeous crystal drop earrings, the only jewelry she had on her for the part.
Her makeup consisted of the classic Kardashian nude lip, so favored by all the sisters, she had heavy lashes set on with full mascara wings, a contour to match on fleek, and of course, the only bit of skin that she showed glowed like crystals.
Pink anorak Balenciaga coat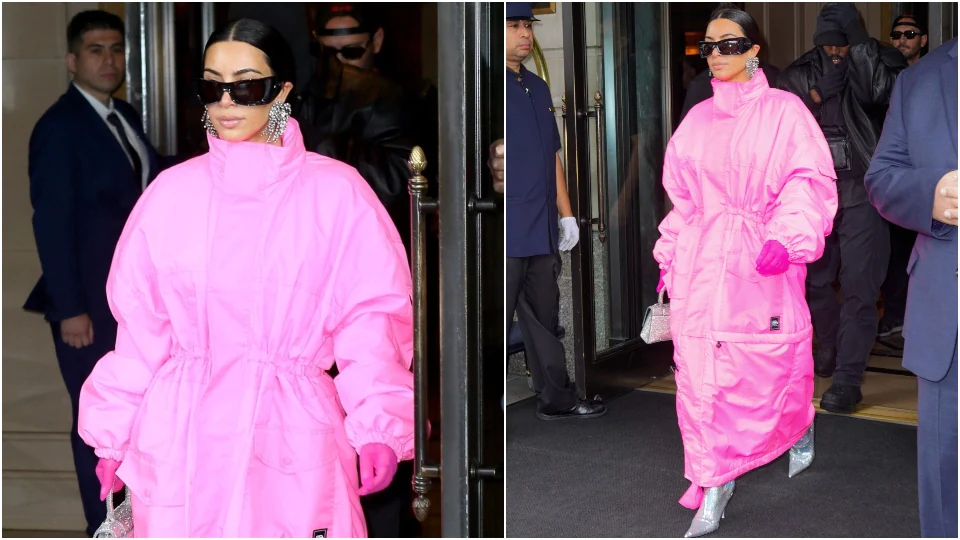 Before Kim had made it to the Saturday Night Live stage with the now-iconic pink dress, she had already worn another of the pink ensembles that she would be debuting that night. Heading to the set with ex-husband Kanye West, Kim wore a long anorak Balenciaga coat in blush pink. The oversized build of the coat cut a nice contrast with her sporty makeup and high collar of the coat.
The look was paired with a pointed pair of boots whose silver shimmered in the night air, carried a top handle bag embellished to dazzle, sunglasses from the retro past, and her chosen crystal earrings. The otherwise estranged couple were also seen together before reaching the set, where Kanye fixed Kim's coat.
Pink spandex Balenciaga Catsuit
Already having served two majorly pink Balenciaga looks that startled the internet, Kim fir into another of her tight enough to bruise bodycon catsuit from Balenciaga, of course, this too in pink. Leaving the set of the Saturday Night Live show after giving an outstanding performance, Kim headed out in the latest of the three pink looks that came with heels built right into the floor-length coat. The coat featured pink feathers fluttering at the sides and looked like a chic going to a disco in a 70s bar. Again she debuted a pair of crystal earrings, her iconic middle part, and glowy, dewy makeup.
The star made a good impression on the audience with her night show debut, and several were left amused witnessing the funny side of her that she never showed before. Taking turns to roast her family, Kim had said that she is "more than the picture her sisters show their plastic surgeons," building on the speculations of the family's long relationship with body augmentation.
The star also joked about her mother not inviting her to the premiere of Kim's only one movie, which funnily enough was her leaked sex tape. The joke came with reference to years' worth of rumors saying that Kris Jenner herself leaked the video while the momager continues to deny having done that.