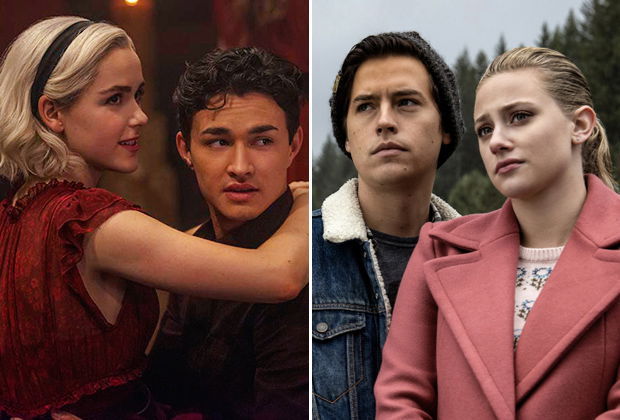 Riverdale has been forever a bit bizarre. From homicide to serial killers, long-lost twins, and sons, the series is known for its weird plotlines. Nothing was weirder than the Gargoyle King episodes that seemed to descend into the supernatural, right? Well, Riverdale is officially going to get weirder this time with some assured supernatural stuff promised for viewing starting from November 16 this year.
Greendale, the town full of super-phenomena, is just a few kilometers over from Riverdale. Home to the Chilling Adventure of Sabrina's witch members, the place houses some great magical people, and yet the worlds of the two series did not interlink into something beyond logical as of yet. But now, there might be something more.
The exciting news was recently revealed by Warner Bros. TV that stated a crossover between the two shows. But really, it was a long time coming. After five seasons of Riverdale already having been aired, Kiernan Shipka will enter into the seemingly normal world of Riverdale and, of course, will be portraying her iconic role of Sabrina from Chilling Adventures of Sabrina. Notably, Chilling Adventures of Sabrina and Riverdale are both shows adapted from the Archie comics, and hence, a crossover was something that was inevitable.
The announcement by Warner Bros.TV was made public through the production house's official Instagram handle. The post featured a photo of Kiernan Shipka, aka Sabrina sitting on a chair and looking over her shoulder. The chair debuts her character's name Sabrina Spellman along with Riverdale written on its back. The iconic crossover came with the announcement that read, "looks like someone is making the road trip from Greendale to Riverdale… See you in season 6, @kiernanshipka." We can't wait!
Kiernan will now be making an appearance in the 6th season of the show. Five eventful seasons have already been aired, with the 5th season having premiered its season finale just in the first week of October. Luckily, fans won't have to wait another year for the production and the airing of the show. The much-anticipated season will come to your TV screens after just a month of the 5th season from October 6, 2021.
Chilling Adventures of Sabrina, for its part, has released two seasons in its entirety of airing. The series is adapted from Sabrina, the Teenage Witch. Showing some quite horrific plotlines and visuals, the story is rich in horror, cult activities, the supernatural, and witchcraft. Needless to say, Sabrina herself can't quite digest the ongoings of the terrible happenings of the series. What's even more terrible is that her father is trapped in the body of her boyfriend.
After she battled her father Lucifer, the Dark Lord portrayed by Luke Cook. The spirit got trapped in a human prison which is, of course, her very loving boyfriend Nicholas Scratch, played by Gavin Leatherwood. And now, her beloved boyfriend is subject to endless torture at the hands of Madam Satan. She, hence, can't make peace with herself that she is the reason for her boyfriend's sacrifice and that he is still burning in the underbelly of hell.
And then the Riverdale's characters are going through some special ordeals of their own. Remember all of Betty's detective prowesses? She is pretty great with finding people who are leaning to the sides of crime and even figured that her father was the serial killer killing off the citizens of Riverdale. And then, her long-lost brother came and introduced her to the many pleasures of being an FBI agent, not after she questioned if she herself could be a killer.
But, she kept up with the great work and finally was promoted to the rank of Special Agent at the FBI. The character portrayed by Lily Reinhart has garnered a lot of love and support from countless fans globally and has found a career-defining character in Betty Cooper. After graduating to the new post of Special Agent, Betty undertook the task of reopening the field office of the FBI in Riverdale and has come to be known as TBK.
But she is not the only one with major changes in her life. Her best friend Veronica just found a piece of chilling evidence against her dad that provides proof that Hiram Lodge, played by Mark Consuleos, has committed murder. The villainous actor has a long record of sinister activities, from introducing drugs into whole towns, acquiring cheap labor, inciting murder and riots, messing up with prison reforms, and leaving no opportunity unturned to dispose of his daughter's boyfriend. The father-daughter duo was commonly seen in head-on combat as one tried to push the other off the edge.
The final straw is when Veronica learns that Hiram had sanctioned the firing at the Pop's diner, a peaceful place used by Riverdale folks to socialize and dine. Hence, her on-again and off-again boyfriend, Archie Andrews, played by KJ Apa, decides to chase the criminal out of their sweet little town. What's surprising is that Hiram will actually not be returning for the next seasons, mainly because Mark will be exiting the show forever. But he does leave behind a bomb planted under Archie's bed, of course.
So, look out for your two favorite shows to make an iconic crossover soon!