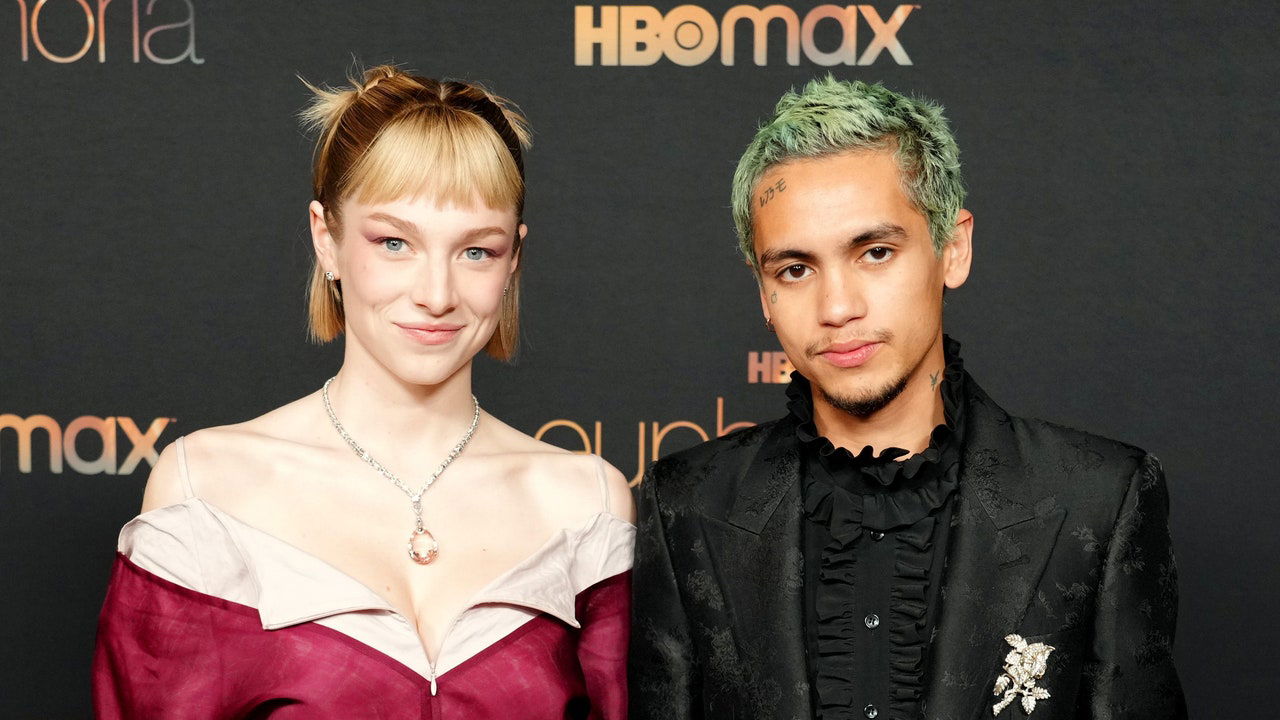 Dominic Fike opens up about his love for Hunter Schafer.
In his recent interview with GQ, Dominic Fike opened up about his girlfriend and co-star Hunter Schafer for the first time. The actors who met on the sets of HBO MAX's 'Euphoria', where Dominic Fike plays Elliot and Hunter Schafer plays Jules, were initially linked up when they were spotted holding hands during a dinner date at The Nice Guy in West Hollywood.
The couple confirmed they were together in February after Dominic Fike shared a picture of them kissing on his social media, wishing to celebrate their birthdays. The two of them were also spotted together at the Vanity Fair Oscars party in Los Angeles in March. Neither of them publicly commented about their relationship at the time.
During an interview, Dominic Fike not only acknowledged their relationship but also described how it came to be. Working on the program accelerated their romance, according to the actor, who said that in certain situations, the relationship speeds since you're vulnerable with someone right away, which takes a long time. According to the actor, some people fall in love months or years after meeting, but for them, it was as if they formed an affection for one another while filming and everything happened so quickly.
Dominic Fike said that he and Hunter Schafer got to know each other quickly and added that they are very much in love and they try to meet each other whenever and however they can. The actor recalled the time when he went to a Prada store in Soho eight times in four days to not purchase anything but just to see Hunter Schafer's face in the ads in the windows, and added that it's the best part of stopping by the shop on Broadway.
Dominic Fike also recently received backlash for the comments he made about Amber Heard, stating that he envisioned hot Amber Heard beating him up, and the clips of the singer-turned-actor saying it mid-concert has gone viral. Fans did not find these comments funny and said that this is disgusting no matter how people view the defamation trial, and it's a weird thing to say about a potential abuser/victim. Some said that Dominic Fike should not have made light of or romanticized domestic violence because all of this sounds weird. Amber Heard is currently in a defamation trial battle with ex-husband Johnny Depp where the former couple have testified in detail about the domestic abuse they endured throughout their relationship.
When Zendaya, who plays Rue, and Hunter Schafer, who plays Jules on the show, were told about Dominic Fike's character Elliot, the actresses were confused about what would happen with their storyline, and Hunter shared with Variety in an article that Zendaya and she were on the same boat about Elliot, but eventually, they saw more of what that character could bring to the show, story, and script and everything became interesting and exciting.
On the other hand, Dominic Fike was excited to enter as a third wheel for Rue and Jules and shared with Variety ahead of the Season 2 premiere that he could not wait to see where his character and story would go along with the people, which included the hate messages he'd get on his social media for coming in between Rue and Jules.