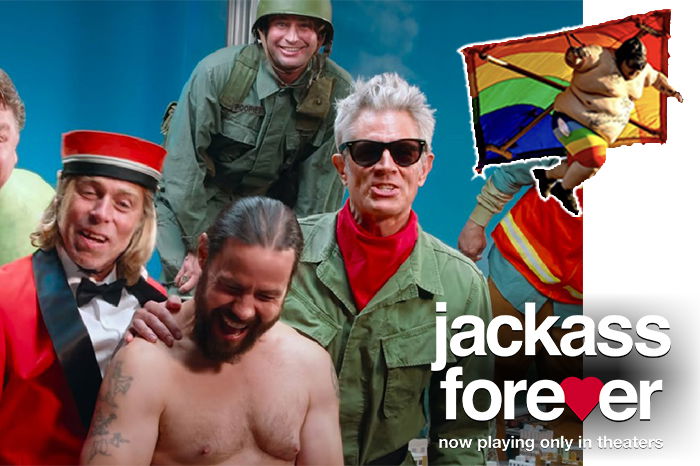 Jackass Forever is back after a decade's wait and, during this time, managed to bring up a new cast and ideas that propelled the film into Oscar nominations. The new additions into the series, Zach Holmes, Jasper, Rachel Wolfson, and Sean "Poopies" McInerney, talked about everything from their various injuries on set, paranoia, and hopes for the franchise with Screen Rant.
Sharing the exciting moments when they finally processed that now they were a part of the iconic Jackass franchise, Zach Holmes shared that it took him to fly over a cactus to finally realize that he is in Jackass. For Jasper, the career-defining moment was a different one. "I would say, my moment is during the treadmill bit, you know what I'm saying? Because after the treadmill bit Steve-O leaned over and was like, "I didn't think you was going to do it, but you showed me." I was like, "Yeah!" That was pretty cool," revealed.
Talking about the specific treadmill scene, Jasper explained that it gave him the biggest injury from any of the other stunts in the franchise. "It happened so fast. I don't remember falling. I just remember... just, I was on the ground, like, "Oh my head!" It was just so quick," he admitted.
Rachel Wolfson shared, "For me, I think the day we did the taser, which was in the quiet game. Because I think they either thought I was going to cry or not do it, and neither of those things happened. I definitely saw their faces, and some of their attitudes changed towards me after that."
"For me, it was my first stunt ever with them. All the cameras... and it was called the hot sauce challenge. I don't know if I can talk about it," said Sean 'Poopies' McInerney of his own enlightening moment on Jackass. "But, I was looking at the cameras and all the boys were around me. I'm like, "Dude, I'm on Jackass." My first stunt, I was like, "This is crazy." But yeah, it was awesome. Dream come true."
Especially now that the cast has seen what happens when you walk into porta-potties on the set, they know that they have to stay as far away from those as they can. "I won't go near a port-a-potty off set," announced Wolfson.
However, Jasper was a bit more cunning and figured out a way around the glitch. "I used to cheat," he said. "I used to actually sneak away and go to the production's bathroom, so they couldn't get me. That was my whole thing, I would sneak away."
Zach Holmes added, "Yeah, I would just try to hold it in all day."
Being on the sets of Jackass where anything can explode, blow out or lead to disastrous results, along with the practical pranks the creators of the series pull on the cast, the show crew is totally terrified and just realized what 'paranoia' is in reality. "You thought you knew what paranoia was, and then you started working on "Jackass," and you realize you don't know what paranoia is," said Rachel Wolfson.
The actors also made it crystal clear that they are very happy with the movie franchise and want to continue working on that. Poopies began saying that the cast does not have any interest in the series but is keen on movies. On the other hand, Rachel Wolfson excitedly said that she would do just about anything with Jackass even if it was a TikTok series. And yet, Sean "Poopies'' McInerney joked, "I am a movie star only."
Out of Jasper, Sean "Poopies" McInerney, and Rachel Wolfson, McInerney suffered the worst of injuries on the sets of Jackass. "I had two surgeries, and yeah, my hand got bit by a shark. That was probably the gnarliest thing I think," he revealed.
Talking with Thrillist, Johnny Knoxville also shared a surgery he had to undergo before the film that stopped him from a scene that he really wanted to do. "I had a hernia surgery right before we started filming again, so I couldn't take any trauma to that region for a while," he explained. "But Ehren did a great job with it, and I think it's funnier with Ehren in it because he complains a lot more, and it's so funny."
Ehren and Knoxville particularly have a love-hate relationship between two and they work pretty well in that dynamic. "He's the nail, and I'm the hammer. It works out really well that way," began Knoxville, explaining how he and Ehren work things out. "Ehren's great, but sometimes he can just—you'll be on the set with him, and he'll say something to annoy you, and you'll yell at him or something, and then you go home and go, "God, you know what? I'm sorry I yelled at Ehren today. I'm going to go to the set and be super nice to Ehren tomorrow." Then as soon as you get to the set, he'll say something annoying, and you'll be yelling again within the first two minutes."
It is mandatory to note that Knoxville created an amazing collection of tasks that ranked well throughout the Jackass franchise. Sharing how the process of utilizing his many ideas for the series work, he elaborated that they work by prioritizing the ideas. "We would rate them by stars. Five stars, four stars, three stars. And then we'd go through that list and think, "Okay, well, we can't just go all five stars, because some things might be sort of alike on that list," he recalled. "And then you go, "We'll shoot this and this." Because you never know it's going to work. It's just our best guess what's going to work is what we end up filming."